Tsai arrives in Houston for transit stop
VIP TREATMENT: When the president visited Houston's Museum of Fine Arts, she was escorted by police officers and the museum was cleared for three hours
President Tsai Ing-wen (蔡英文) on Saturday arrived in Houston for a brief transit stop on her way to Central America, a routine stopover that has been closely watched by Beijing after US president-elect Donald Trump spoke with her by telephone early last month.
Tsai touched down in Houston after setting out from Taiwan earlier in the day on her way to Honduras, the first leg of a nine-day trip. She is also to visit to Nicaragua, Guatemala and El Salvador, in that order.
Tsai was met at the airport by US Representative for Texas Blake Farenthold, American Institute in Taiwan Chairman James Moriarty and Taiwan's Representative to the US Stanley Kao (高碩泰).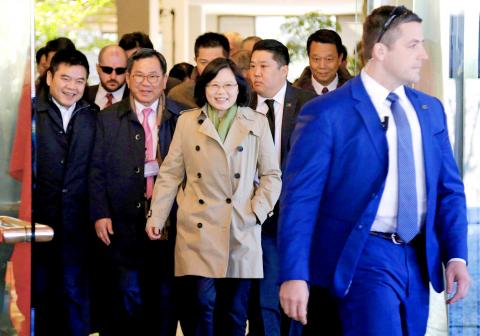 President Tsai Ing-wen, center, on Saturday leaves the Omni Houston Hotel during a transit in Houston, Texas.
Photo: Reuters
The US Bureau of Diplomatic Security adopted high-level security measures for Tsai's stopover.
When Tsai visited Houston's Museum of Fine Arts, traffic controls were imposed, and police officers escorted her, while the museum was cleared for three hours.
Tsai also visited a Formosa Plastics Corp (台灣塑膠) facility in Point Comfort and a Nan Ya Plastics Corp (南亞塑膠) facility in Wharton. She was accompanied by Farenthold.
Tsai is scheduled to stay in Houston for one night after attending a dinner in her honor which is to be attended by several US officials, including Farenthold, US Representative for Texas Al Green, Moriarty and about 600 expat Taiwanese.
Moriarty was quoted by a Democratic Progressive Party legislator as saying that he would continue to promote good relations between Taiwan and the US, as the two nations share common values.
The Houston stop has taken on a new significance since Tsai's telephone call with Trump last month. It was the first reported telephone call between a Taiwanese president and a US president or president-elect since 1979.
Tsai is scheduled to make a stopover in San Francisco on Jan. 13, after leaving El Salvador on her way back to Taiwan.
It is Tsai's second overseas trip since taking office on May 20 last year. Tsai visited Panama in June last year.
Comments will be moderated. Keep comments relevant to the article. Remarks containing abusive and obscene language, personal attacks of any kind or promotion will be removed and the user banned. Final decision will be at the discretion of the Taipei Times.