Smoking to be banned in nightclubs, cigar houses
The government is planning to ban smoking in bars, nightclubs and cigar houses, and place restrictions on e-cigarettes similar to those on tobacco products, Health Promotion Administration (HPA) officials said.
The law bans smoking at most public places, but permits it at cigar houses as well as bars and nightclubs that are open after 9pm for people above the age of 18.
Smoking is also allowed in certain indoor areas of hotels, restaurants and shopping malls that are equipped with separate smoking partitions with independent air-conditioning systems.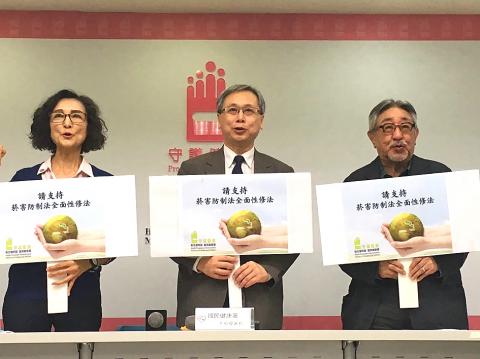 Health Promotion Administration Director-General Wang Ying-wei, center, announces a draft amendment to the Tobacco Hazards Prevention Act at a news conference in Taipei on Thursday.
Photo: Lin Yen-tung, Taipei Times
However, a draft amendment to the Tobacco Hazards Prevention Act (菸害防制法), which was announced by the ministry on Wednesday, seeks to ban smoking in all those places, HPA official Lo Su-ying (羅素英) said.
Lo said the change follows international trends and is based on findings that indoor partitions cannot effectively prevent cigarette smoke from spreading through the air.
The amendment would also ban e-cigarettes in the same way as tobacco, and make it illegal to provide them to people under the age of 18, with violators subject to a fine of up to NT$10,000 (US$313), Lo said.
E-cigarettes have emerged as a new threat to people's health and could expose minors to smoking at an early age, Lo said, adding that the amendment would also ban e-cigarette advertisements and sponsorships.
According to HPA statistics, at least 20,000 Taiwanese die from cigarette-caused illnesses each year.
More than 40 percent of Taiwanese men aged between 31 and 50 are smokers, a much higher percentage compared with 24.9 percent in Singapore, 22.5 percent in Norway, 19.9 percent in Hong Kong and 19 percent in New Zealand, statistics showed.
The John Tung Foundation, an organization that focuses on public health issues and tobacco control, said it is glad to see the draft amendment, but urged the government to raise fines.
Yau Seu-wain (姚思遠), a law professor and chief executive officer of the foundation, said tobacco manufacturers and importers are only fined between NT$5 million and NT$25 million for violations, even though their total revenues are "about NT$160 billion per year."
Yau called for suspending the operations of tobacco manufacturers and importers for up to three years and doubling their fines to between NT$10 million and NT$50 million if they are caught illegally advertising or promoting tobacco products three times.
The HPA said it would collect opinions for a period of 60 days, before sending the draft amendment to the Executive Yuan and Legislative Yuan for review.
The proposed amendment follows a slew of new regulations in Taiwan to tighten smoking restrictions.
Beginning on Dec. 26 last year, smoking has been banned on sidewalks near 267 schools in Taipei and has been banned at all 932 bus stops in Taipei as of Sunday last week.
Comments will be moderated. Keep comments relevant to the article. Remarks containing abusive and obscene language, personal attacks of any kind or promotion will be removed and the user banned. Final decision will be at the discretion of the Taipei Times.