Hung may face at least two challengers
'SERIOUS CONSIDERATION': Former vice president Wu Den-yih said that he must 'shoulder a portion of the burden of responsibility' when the party is in distress
Chinese Nationalist Party (KMT) Chairwoman Hung Hsiu-chu (洪秀柱) might face at least two challengers in the party's chairperson election in May, as former vice president Wu Den-yih (吳敦義) and KMT Vice Chairman Hau Lung-bin (郝龍斌) are expected to announce their bids at separate news conferences on Monday.
Wu, who briefly served as interim KMT chairman in December 2014 after then-party leader Ma Ying-jeou (馬英九) stepped down over an electoral defeat, yesterday confirmed, although ambiguously, that he is interested in vying for the KMT chairmanship.
"Despite being only an opposition party at the moment, the KMT must nevertheless do its utmost to scrutinize the ruling party to ensure that our nation can continue to improve and develop. Many of my fellow party members are looking to me to fulfill those expectations," Wu said yesterday.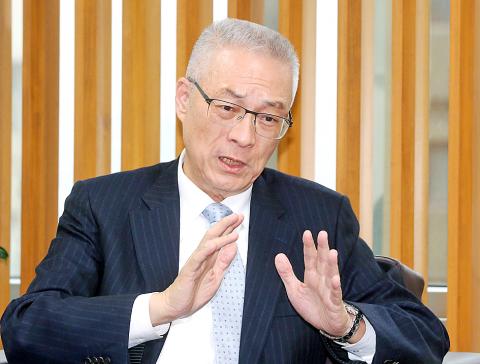 Former vice president Wu Den-yih speaks to reporters during a visit to Harvard University's Fairbank Center for Chinese Studies in Cambridge, Massachusetts, yesterday.
Photo courtesy of the Taipei Photojournalist Society
Wu said as both the nation and the party had offered him significant assistance when he served as KMT vice chairman, premier and lawmaker, he must "shoulder a portion of the burden of responsibility" when the party is in distress.
"That is why I must give serious consideration [to joining the chairperson race]. I shall have some news for you on Monday," Wu said.
Wu's office later announced that the former vice president will hold a news conference at 10am on Monday to make an announcement, but did not disclose what the conference would address.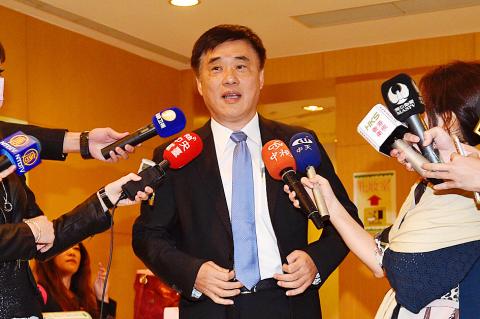 Chinese Nationalist Party (KMT) Vice Chairman Hau Lung-bin takes questions from the media before attending a conference yesterday.
Photo: George Tsorng, Taipei Times
Meanwhile, at a public forum in Taipei yesterday, Hau said he will make an announcement once he makes up his mind, after he was asked whether he intends to run for the KMT chairmanship.
The more people join the chairmanship race the better, Hau said.
It was later rumored that Hau also plans to announce his candidacy on Monday.
When reached for verification, Hau's office neither confirmed nor denied the rumor, saying only that more information might be released today.
The KMT's upcoming chairperson election has been dogged by controversy since the party headquarters last month unexpectedly moved forward the race from July 20 to May 20, before passing the decision through a meeting of the KMT's Central Standing Committee without a quorum.
Hung announced that she will run for re-election during an interview with the Chinese-language United Daily Evening News published on Sunday last week, when she said she "has an incurable sense of mission toward the KMT and cross-strait ties."
Hung was elected party chairwoman on March 26 last year to serve the remaining term of the KMT's sixth chairman, Ma, who won re-election on July 20, 2013, before stepping down on Dec. 3, 2014, to take political responsibility for the KMT's defeat in the nine-in-one elections that year.
Ma was succeeded by New Taipei City Mayor Eric Chu (朱立倫) on Jan. 19, 2015, who resigned on Jan. 16 last year after losing the presidential race to the Democratic Progressive Party's Tsai Ing-wen (蔡英文).
Comments will be moderated. Keep comments relevant to the article. Remarks containing abusive and obscene language, personal attacks of any kind or promotion will be removed and the user banned. Final decision will be at the discretion of the Taipei Times.