Beijing bans local, foreign artists: report
BANNED? Netizens were surprised to see Vivian Hsu on the blacklist, while Chthonic said it was not news, as the band has been on a blacklist for more than a decade
A blacklist is reportedly circulating within the Chinese music and movie industries that demands that producers and impresarios refrain from including the named individuals in their productions.
According to a report by the Chinese-language Apple Daily, Taiwanese director Wu Nien-jen (吳念真) tops the list, which also includes Taiwanese artists Bobby Chen (陳昇), Dwagie (大支) and Vivian Hsu (徐若瑄), as well as the bands Chthonic (閃靈樂團), Fire EX (滅火器) and Luantan A-hsiang (亂彈阿翔).
The list also includes Hong Kong artists who allegedly support the democracy movement in the territory, such as Denise Ho (何韻詩), Chapman To (杜汶澤) and Anthony Wong (黃耀明), as well as artists in the US, Japan, South Korea and Australia, the Apple Daily reported.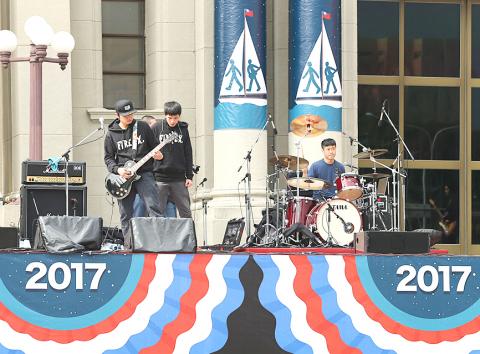 Fire EX yesterday rehearse for the New Year's Day flag-raising ceremony in front of the Presidential Office Building in Taipei.
Photo: CNA
However, as the list includes some disbanded groups its veracity has yet to be confirmed.
In response to the report, Wu, who featured in a TV commercial aired by the Democratic Progressive Party ahead of the presidential and legislative elections earlier this year, declined to comment.
"China is such a country... We do only what we feel is right and we are not surprised at being blacklisted by China," Fire EX's manager said.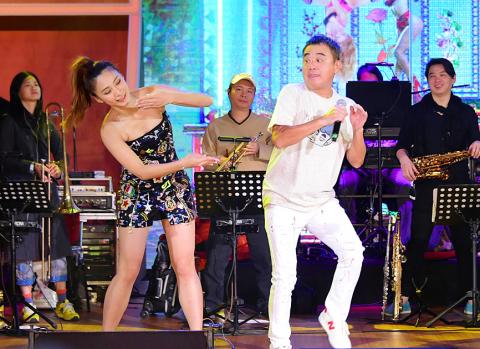 Bobby Chen, front right, dances at a dress rehearsal at the Taipei International Convention Center on Thursday ahead of his two year-end concerts, scheduled for yesterday and today.
Photo: Hu Shun-hsiang, Taipei Times
Dwagie, who often raps in Hoklo (commonly known as Taiwanese), said there is no right or wrong in terms of whether a singer chooses to pursue a career in China.
"A musician is supposed to tell the truth and a rapper must stand true to their moral integrity," he said.
While it would be nice to be able to collaborate with Chinese musicians, "it really doesn't matter to me if I can't go" to China, he added.
Doris Yeh (葉湘怡), a member of Chthonic who advocates Taiwanese independence, said in a text message that the list is not news, as Chthonic has been on a blacklist for more than a decade, adding that the band has not been affected that much.
Most netizens reacted with surprise to see Hsu's name on the blacklist, as she is not known for having made political comments.
Some said her inclusion might be due to footage of the 2010 Tokyo International Film Festival in which Hsu said: "Japan is like a stepmother to me," a comment that might have hit a nerve with the Chinese.
Hsu's manager yesterday said there would be no comment on unsubstantiated rumors and reports, while Hsu issued a statement saying that the veracity of the alleged list has yet to be confirmed and that she has not appeared in China for a long time.
Luantan A-hsiang's manager said the group would not respond to unsubstantiated rumors.
The Mainland Affairs Council said it does not approve of political intervention in cultural activities.
Taiwanese artists performing in China help promote mutual understanding of the respective cultures on either side of the Taiwan Strait, the council said, adding that it hoped China would continue to guarantee and respect the freedoms of Taiwanese artists.
Additional reporting by Shih Hsiao-kuang
Comments will be moderated. Keep comments relevant to the article. Remarks containing abusive and obscene language, personal attacks of any kind or promotion will be removed and the user banned. Final decision will be at the discretion of the Taipei Times.