China blamed for VAC boss' Singapore snub
China was behind Singapore's decision to deny entry to Veterans Affairs Council (VAC) Director Lee Shying-jow (李翔宙), the council said yesterday.
Lee, who visited Thailand earlier this month, planned a stopover in Singapore to visit veterans of Taiwan's armed forces residing in Singapore, but he was denied entry to the city-state despite a tacit agreement that the visit had been approved.
Lee's status — he has served as deputy minister of national defense, an army commander, director-general of the National Security Bureau and as a senior presidential adviser — reportedly prompted concern.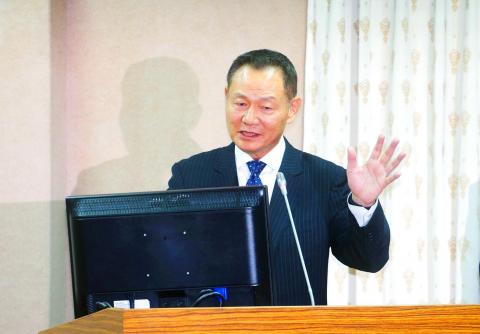 Veterans Affairs Council Director Lee Shying-jow gestures during a question-and-answer session at the Legislative Yuan in Taipei on Nov. 30.
Photo: CNA
VAC Deputy Director Lee Wen-chung (李文忠) yesterday attributed the incident to China's interference during a question-and-answer session at a meeting of the legislature's Foreign Affairs and National Defense Committee.
"[Lee Shying-jow's planned visit to Singapore was aborted] likely due to Chinese Communist Party interference," Lee Wen-chung said. "Relations between Singapore and China are tense, so Singapore does not want to create more trouble."
There has never been a visit by a VAC director to Singapore, Lee Wen-chung said, adding that most of the council's foreign visits are to the US, where a majority of the overseas veterans' clubs founded by the council are located.
Lee Shying-jow's visit to Thailand was to pay his respects and present a commendation to the family of Sung Ching-yun (宋慶雲), a Taiwanese agricultural expert who helped farmers in northern Thailand phase out poppy cultivation and transition to other economically viable crops, Lee Wen-chung said.
In related news, Lee Wen-chung said eight retired military officials, including former army commander-in-chief Cheng Ting-chung (陳廷寵), are to visit China on Thursday next week to attend a "cultural event."
While the nominal event organizer is a private calligraphy business, the "actual event organizer is usually the Taiwan Affairs Office and relevant agencies," Lee Wen-chung said.
The council has contacted the retired officials and warned them against making any political comments or doing interviews, he said.
"There is no regulation that stops former military officials visiting China [once a three-year travel restriction expires]. The government could consider imposing a longer travel ban on retired military officials," he said, adding that key personnel who have had access to highly sensitive information should be placed under a screening mechanism on a permanent basis.
National Security Bureau Third Division Director Lai Yun-cheng (賴蘊誠) said that several of the retired military officials have canceled the visit due to the negative public perception of the trip.
The attendance of retired lieutenant general Wu Sz-huai (吳斯懷) and former generals Wang Wen-hsieh (王文燮) and Hsia Ying-chou (夏瀛洲) at an event in Beijing chaired by Chinese President Xi Jinping (習近平) last month provoked a public outcry and raised concern over national security, with legislators proposing imposing stricter travel restrictions and disciplinary measures on retired military officials.
Comments will be moderated. Keep comments relevant to the article. Remarks containing abusive and obscene language, personal attacks of any kind or promotion will be removed and the user banned. Final decision will be at the discretion of the Taipei Times.