US ELECTION: Taiwanese experts weigh in on Trump
'END RESULT': Donald Trump is a businessman and he might consider using Taiwan as a bargaining chip, former National Security Bureau director Tsai Der-sheng said
Leading international relations academics and former high-ranking diplomatic and security officials yesterday discussed the possible effects of Donald Trump's election as US president on Taiwan-US relations
"Our consensus is that we have no idea what he is thinking," pan-green Taiwan Thinktank member Lai I-chung (賴怡忠) said as panelists debated whether Trump's promised shake-up of US foreign policy would sacrifice Taiwan's security interests.
"This is the least familiar we have ever been with a US president-elect," former National Security Bureau director Tsai Der-sheng (蔡得勝) said at the panel sponsored by Taipei Forum, while expressing concern over Trump's emphasis on reaching new deals to protect US interests.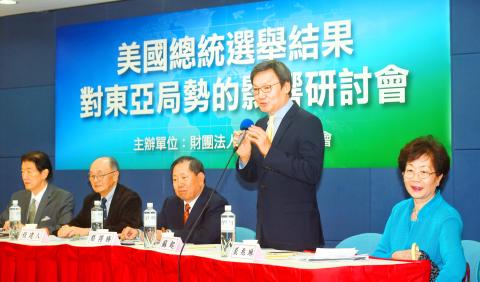 From left to right, former representative to the US Shen Lyu-shun, former minister of foreign affairs Cheng Chien-jen, former National Security Bureau director Tsai Der-sheng and former Mainland Affairs Council chairman Su Chi yesterday attend a panel organized by Taipei Forum in Taipei on the possible effects of the results of the US presidential election on East Asia.
Photo: Fang Pin-chao, Taipei Times
"I am concerned that Taiwan will end up as a bargaining chip, because Trump is a businessman who cares primarily about his interests," Tsai said, adding that the nation should watch out for possible abandonment by Washington.
"As long as [Trump] sees it as being in the interests of the US or himself, he will be willing to hold discussions on anything," he said. "Businesspeople only want to talk about the end result and Trump could be willing to use different means as long as he gets the result he wants."
"The reality is that Taiwan already has very little strategic value to the US — far less than we often imagine," former Mainland Affairs Council chairman Su Chi (蘇起) said, rejecting a statement by Academia Sinica research fellow Joanne Chang (裘兆琳) that Taiwan is the "crown jewel" of the US' East Asia policy.
Chang earlier said that Taiwan is crucial for the efforts to foster China's democratization.
"Taiwan might be China's crown jewel, but it is not the crown jewel of the US, so there is always the possibility that if negotiations break down, the US will put us on the table," Su said, adding that he is "alert but not worried" about the possibility of Washington abandoning Taiwan, calling for close attention to be paid to negotiations between the US and China over places of geostrategic importance.
"We have to realize that cross-strait relations are not just a game of ping-pong with China and they also include other factors besides our direct relations with the US," he said.
"Negotiations between the US and China would not start out talking about Taiwan, but we could end up getting swept into negotiations over North Korea and the Middle East," Su added.
"The reality is that we have always been a bargaining chip — or at least the US has never ruled out that possibility," former minister of foreign affairs Chen Chien-jen (程建人) said, while dismissing abandonment concerns on grounds that current ties already meet US interests.
"We have not been let go because the US has not been willing to let us go, not necessarily because we have held on tight," he said.
Former representative to the US Shen Lyu-shun (沈呂巡) said robust support for Taiwan in the US Congress would help guarantee good relations, adding that at least some of Trump's closest advisers had advocated close ties with Taiwan.
"I feel confident, because if people like [former US House of Representatives speaker] Newt Gingrich, US Senator Jeff Sessions and [former US ambassador to the UN] John Bolton end up serving as Trump's advisers on Asia-Pacific affairs, we should have a lot of opportunities," he said.
Comments will be moderated. Keep comments relevant to the article. Remarks containing abusive and obscene language, personal attacks of any kind or promotion will be removed and the user banned. Final decision will be at the discretion of the Taipei Times.