HK lawmakers defy oath ban, sparking unrest
Two newly elected pro-democracy lawmakers yesterday defied an order barring them from taking their oaths after being disqualified earlier for insulting China, sparking more unruly scenes in Hong Kong's legislature.
After Yau Wai-ching (游蕙禎) and Sixtus "Baggio" Leung (梁頌恆) of the Youngspiration party entered the Legislative Council's main chamber, the body's president ordered them to leave, but the two refused.
Half a dozen other pro-democracy lawmakers surrounded them at their desks to block security guards trying to remove them.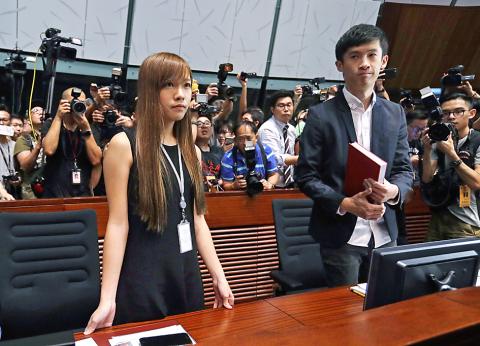 Newly elected Hong Kong lawmakers Yau Wai-ching, left, and Sixtus "Baggio" Leung are surrounded by journalists inside the Legislative Council chamber in Hong Kong yesterday.
Photo: AP
After half an hour, the session was adjourned until next week.
At a swearing-in ceremony two weeks ago, Yau, 25, and Leung, 30, modified their oaths in an act of defiance by using a derogatory word for China.
Yau also slipped in an expletive.
The two were part of a new wave of young pro-democracy legislators elected last month amid a rising tide of anti-China sentiment, with many Hong Kong residents concerned about Beijing eroding the territory's wide autonomy.
Legislative Council President Andrew Leung (梁智鴻) has barred the pair from taking their oaths until a court rules next month on a legal challenge filed by Hong Kong's government, which wants to stop them from taking office.
Yau yesterday criticized Andrew Leung, telling reporters that he used "a reason without any legal base" to prevent the pair from being sworn in.
New lawmaker Nathan Law (羅冠聰), who advocates self-determination for Hong Kong, said that while he might not endorse the pair's behavior when they first took their oaths, they should be allowed to sit as elected lawmakers.
"What we are trying to protect is people's rights to vote, and Hong Kong's legislative system," Law told reporters.
Andrew Leung said on Tuesday night that he would defer Baggio Leung and Yau's oath-taking until the judicial review is complete — it is due to start on Nov. 3, but could last months.
Until that time they would not be able to enter the chamber, he said.
"This decision is painful but necessary. If I did not make it, Legco would stop functioning," he told reporters.
Outside the building, thousands of pro-Beijing supporters waved China's national flag and called Yau and Baggio Leung "scum," holding up photographs of them pierced with darts.
Last week's session ended abruptly when the council's contingent of pro-Beijing lawmakers sparked chaos by walking out of the chamber moments before Yau and Baggio Leung were set to retake their oaths, depriving the session of a quorum.
Comments will be moderated. Keep comments relevant to the article. Remarks containing abusive and obscene language, personal attacks of any kind or promotion will be removed and the user banned. Final decision will be at the discretion of the Taipei Times.