CCP official to attend intercity forum
'SUIT YOURSELVES': Taipei Mayor Ko Wen-je said that the Chinese Communist Party is sending an executive to show its 'sincerity,' as they outrank city officials in China
The Chinese Communist Party (CCP) is to send Shanghai Municipal Committee United Front Work Department Director Sha Hailin (沙海林) to attend this year's Taipei-Shanghai Forum, the Taipei City Government said yesterday.
Sha will be the highest-ranking Chinese official to visit Taiwan since the presidential handover on May 20, Taipei Mayor Ko Wen-je (柯文哲) said.
The annual forum, centered on the theme of "a vibrant city," is to be held in Taipei on Tuesday, with participants discussing issues such as healthcare systems, youth entrepreneurship and "smart" city infrastructure.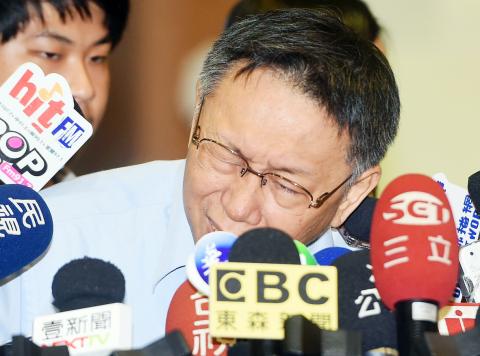 Taipei Mayor Ke Wen-je speaks to reporters before presiding over an education conference yesterday in Taipei.
Photo: Liao Chen-huei, Taipei Times
Reporters pressed Ko about the forum and Sha as the mayor attended an education-related event.
Asked why he accepted China's arrangement to send Sha, who is also a member of the CCP Shanghai Municipal Standing Committee, rather than Shanghai Mayor Yang Xiong (楊雄), Ko said that Yang is scheduled to visit the US from tomorrow to Sunday next week.
Yang's planned trip delayed progress on negotiations on who would represent Shanghai and resulted in a late announcement, Ko added.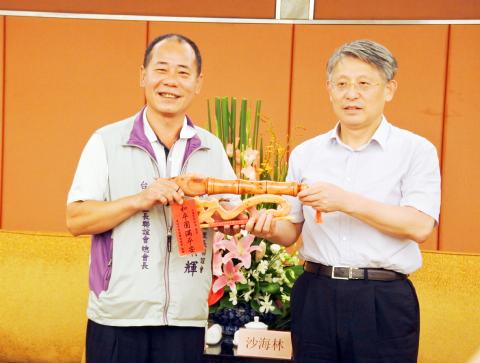 Taipei Borough Warden Association director Chin Jung-hui, left, presents a gift to Shanghai Municipal Committee United Front Work Department Director Sha Hailin on July 20 in Shanghai, China.
Photo: CNA
Asked why Shanghai did not choose one of its deputy mayors instead, Ko quoted the Shanghai Municipal Government as saying that it decided to send a higher-ranking official than the deputy mayor to show its "respect" for Taipei.
Ko said he had responded by saying: "Suit yourselves."
"It is their way of showing sincerity. In China, the [CCP] controls politics, so a party executive outranks a city official," Ko said, dismissing rumors that Yang has been avoiding him because the Taipei mayor's approval rating has been declining.
"After May 20, all exchanges with Chinese authorities from the provincial level down have come to a halt. So this will be the highest-level meeting since then," he said.
Ko declined to comment on whether Beijing's suspension of cross-strait exchanges, the CCP's decision to send Sha and Yang's absence were caused by President Tsai Ing-wen's (蔡英文) refusal to endorse the so-called "1992 consensus," saying he is not in a suitable position to comment on the issue.
The "1992 consensus," a term former Mainland Affairs Council chairman Su Chi (蘇起) admitted making up in 2000, refers to a tacit understanding between the Chinese Nationalist Party (KMT) and the CCP that both sides of the Taiwan Strait acknowledge there is "one China," with each side having its own interpretation of what "China" means.
Asked whether he is prepared for possible protests during Sha's visit, Ko said that Taiwan is accustomed to dealing with protests, and that it is the Chinese delegation, rather than him, who should be feeling uneasy about such a scenario.
Ko reiterated the "2015 new perspective" that he touted at last year's forum in Shanghai, which is based on "four reciprocal actions" — knowing, understanding, respecting and working with each other — and a motif that "the two sides of the Taiwan Strait are one family."
"It is better for the two sides to be one family than enemies. If they are willing to send people here, we should treat them with hospitality," he said.
Ko said that while he is the nominal host of the forum, any signing of memorandums or letters of intent during the forum is to be undertaken by one of his deputy mayors to ensure a balance in the ranks of officials on both sides.
He said he would not read too much into Sha's position, as the term "united front" has a negative connotation in Taiwan, but is commonplace in China.
The perceived angst surrounding Sha's title is due to "cultural differences," he said.
The news about Sha's visit sparked mixed reactions from Taipei city councilors.
Democratic Progressive Party (DPP) Taipei City Councilor Liu Yao-jen (劉耀仁) said that Yang's late notice about his absence was part of China's ploy to "test the waters" of Taiwanese politics after the DPP became the ruling party, adding that China's choice of Sha was meant to assess Taiwanese's reactions.
He urged Ko to stop talking of his "perspective," otherwise he would spark a backlash "much larger than he can handle."
KMT Taipei City Councilor Lee Hsin (李新) said that Taiwanese have nothing to fear about Sha's visit.
"Every nation in the world, including Taiwan, has its own 'united front' tactics — a way of propaganda aimed at shaping other nations' views of itself," Lee said.
"It is they who should be scared of our 'united front' tactics, not the other way around," he said.
Presidential Office spokesman Alex Huang (黃重諺) said that any form of exchange that can boost mutual understanding and interactions across the Taiwan Strait should be encouraged.
DPP spokesman Ruan Jhao-hsyung (阮昭雄) said that the party welcomes cross-strait exchanges to improve mutual understanding and consolidate mutual trust.
The DPP will respect Taipei's arrangements for the forum, he said.
Additional reporting by Su Fang-ho
Comments will be moderated. Keep comments relevant to the article. Remarks containing abusive and obscene language, personal attacks of any kind or promotion will be removed and the user banned. Final decision will be at the discretion of the Taipei Times.