Typhoon ravages Taitung, brings heavy rainfall
CASUALTIES: Three people were killed on Thursday, while 142 were reportedly injured yesterday, with a majority sustaining cuts to the head and limbs
Typhoon Nepartak ravaged Taitung yesterday, while pummeling much of the country with strong, gusty winds and heavy rain.
At 4:37am yesterday, a weather station recorded gusts of 205kph in Taitung City, which reached the highest level of 17 — referring to gusts that measure between 202kph and 220kph — on the extended Beaufort wind force scale, the Central Weather Bureau (CWB) said.
The previous record was recorded in 1955, when Typhoon Iris hit the nation.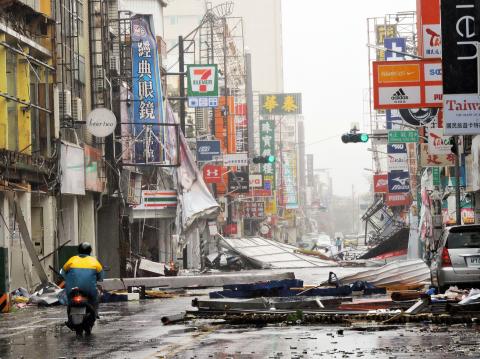 A person on a scooter yesterday navigates through the debris on Chunghua Road in Taitung City after the onslaught of Typhoon Nepartak.
Photo: Chang Tsun-wei, Taipei Times
At that time, gusts reached 186kph, the bureau said.
The first storm of this year's Pacific typhoon season made landfall at 5:50am yesterday in Taitung's mountainous Taimali Township (太麻里).
It then ravaged the county, toppling trees, ripping off rooftops, overturning cars on the streets and knocking down street signs and utility poles. The strong winds blew off the roof of a container house in Taimali, injuring a family of four. One female family member, reported to be in critical condition, was rushed to hospital.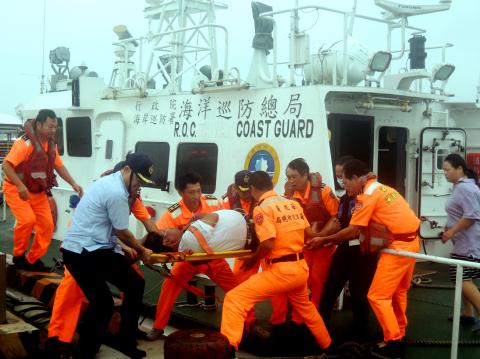 Coast guards yesterday carry a man from Hujing Island in the Penghu Archipelago who had a stroke during the onslaught of Typhoon Nepartak.
Photo: Liu Yu-ching, Taipei Times
At press time last night, 142 people were reportedly injured, mostly in Taitung.
The Taitung branch of Mackay Memorial Hospital and Taitung Christian Hospital activated emergency measures to take care of the wounded, most of whom sustained injuries to the head and limbs.
Most were cut by fallen glass or fell on the streets, hospital officials said.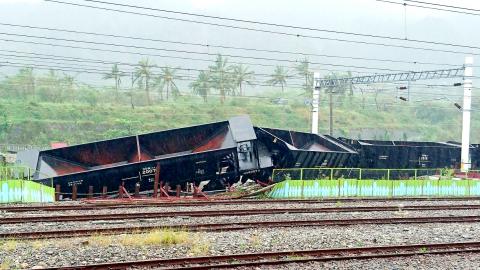 Train cars overturned by the strong winds brought by Typhoon Nepartak lie next to the railway tracks in Taitung County yesterday.
Photo: Wnat Hsiu-ting, Taipei Times
As of yesterday morning, the Taitung County Government's Fire Department had received more than 300 reports of fallen signboards and trees.
According to government statistics, there were three deaths reported as Nepartak approached Taiwan on Thursday.
One of them was a soldier based in the offshore county of Lienchiang, which consists mainly of the Matsu islands.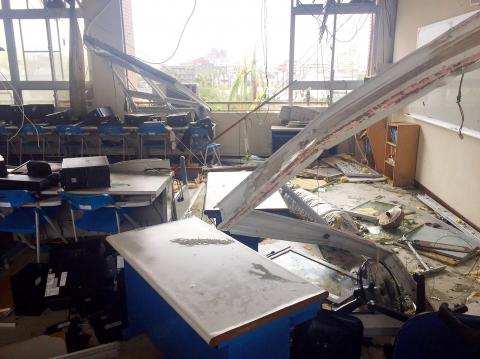 A classroom at Donghai Junior High School in Taitung City is left in a mess yesterday after Typhoon Nepartak passed through the area.
Photo: Chang Tsun-wei, Taipei Times
The soldier was fishing on the coast of Dongying (東引) islet in Penghu when he fell into the sea because of the strong winds.
His body was recovered yesterday morning, local authorities said.
At about noon on Thursday, a man was reported to have drowned near Cisingtan Beach (七星潭), a top tourist attraction in the eastern county of Hualien.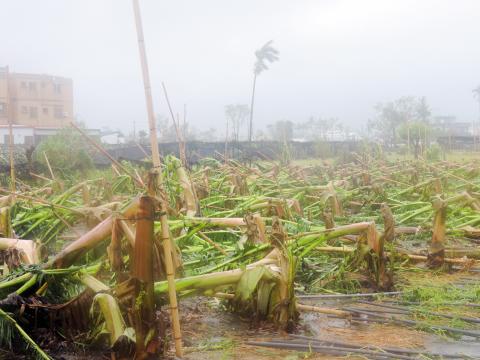 A field of banana trees in Taitung County is left destroyed yesterday after Typhoon Nepartak passed through the area.
Photo: Chang Tsun-wei, Taipei Times
The third fatality was a 71 year-old woman who died from severe wounds after being hit by a falling wardrobe in Taitung.
CWB said the eye of Typhoon Nepartak left land and entered the Taiwan Strait from Tainan's Jiangjun District (將軍) at 2:30pm, moving northwest at 12kph.
With a radius of 200km, the storm was carrying maximum sustained winds of 155kph, with gusts of up to 191kph.
While the typhoon was heading toward the outlying islands of Penghu and Kinmen, people there were advised to remain alert for strong winds and heavy rain brought by the storm.
Bureau forecaster Chen Yi-liang (陳怡良) said that although the wind and rain had abated, the volume of rainfall in Hualien, Taitung, Pingtung, Kaohsiung and Tainan was already as high as 40mm, with rain continuing to fall.
The bureau also warned of extreme torrential rain in Kaohsiung and the counties of Hualien, Taitung, Pingtung and Chiayi; and of torrential rain in Taichung and Tainan, and the counties of Yilan, Nantou and Yunlin.
Meanwhile, unscheduled short-haul train service resumed in northern Taiwan yesterday afternoon after train lines across the nation were shut down for much of the day because of the storm.
The Taiwan Railways Administration advised passengers to get the latest train information from its official Web site — www.railway.gov.tw — or through its two telephone hotlines — 02-2191-0096 and 0800-765888 — before traveling.
Premier Lin Chuan (林全) instructed the Ministry of National Defense and the Council of Agriculture to assist Taitung in recovery efforts after the devastation left by Nepartak.
Lin said the council should also pay close attention to the damage that the storm might have brought to the agricultural sector, while instructing the Ministry of Transportation and Communications to repair highways damaged during the typhoon as soon as possible.
President Tsai Ing-wen (蔡英文), in a separate inspection of the Central Emergency Operations Center in New Taipei City's Sindian District (新店), also instructed all concerned agencies and local governments to assist with reconstruction work and endeavor to ensure that the public is able to return to normal life as soon as possible.
Additional reporting by Loa Iok-sin and Stacy Hsu
Comments will be moderated. Keep comments relevant to the article. Remarks containing abusive and obscene language, personal attacks of any kind or promotion will be removed and the user banned. Final decision will be at the discretion of the Taipei Times.