Tsai touts 'drastic' reforms of military
TAKING CHARGE: The president said that she would not evade problems within the armed forces and would not shirk her responsibility as commander-in-chief
President Tsai Ing-wen (蔡英文) yesterday urged the military to stride forward at a steady pace amid public criticism over recent controversial incidents implicating military officers, pledging to not shirk her responsibility as commander-in-chief of the nation's armed forces and to push for drastic reforms.
"Over the past few days, some incidents occurred within the armed forces. I believe all of you are worried and, in the face of criticism from all sectors of society, upset or even feel dispirited just like me," Tsai said in a speech during a joint graduation ceremony of the Military Academy, Naval Academy, Air Force Academy, National Defense University and National Defense Medical Center in Kaohsiung yesterday morning.
Calling on the military to have the courage to face its mistakes and challenges, Tsai said the greater the frustration soldiers encounter, the larger steps they should take in their march forward.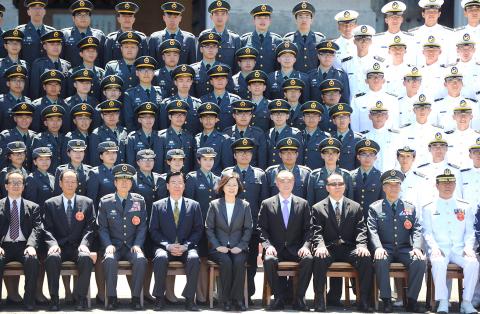 President Tsai Ing-wen, front center, attends a joint graduation ceremony at the National Defense University and National Defense Medical Center in Kaohsiung yesterday.
Photo: CNA
Tsai said she would not sugarcoat recent controversies involving the military and tell them that everything about the nation's armed forces is positive.
"Saying so while standing right here would make me an irresponsible commander-in-chief. I will not evade problems, nor will I shirk my responsibility. Our armed forces require reforms and they should be bold and drastic reforms," Tsai said.
Tsai's speech came on the heels of the navy's accidental launching of a locally developed Hsiung Feng III missile from a 500-tonne Chinchiang-class corvette at Zuoying Military Harbor in Kaohsiung during a drill on Friday last week.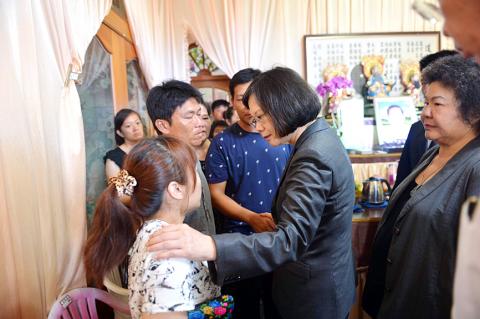 President Tsai Ing-wen, center, visits fishing boat captain Huang Wen-chung's relatives in Kaohsiung yesterday.
Photo: CNA
The missile struck a Taiwanese fishing boat, the Hsiang Li Sheng (翔利昇), operating in waters southeast of Penghu County in the Taiwan Strait, killing its captain, Huang Wen-chung (黃文忠), and injuring three crew members.
The missile blunder further fueled a public outcry directed at the military, which had faced an outpouring of criticism over the killing of a dog by marines at a military base late last month.
The president said the key problems facing the nation's armed forces include military officers' lack of strategic guidance, defense resources, the size of the army, arms and the gap between national defense construction and economic development.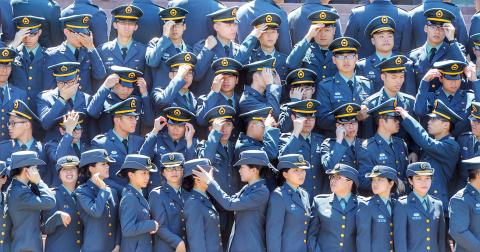 Students adjust their uniforms at a joint graduation ceremony at the National Defense University and National Defense Medical Center in Kaohsiung.
Photo: CNA
"We will also reform the military's system and culture. The superficial formality, waste of manpower and insufficiency are all focuses of our reform," Tsai said, vowing to make military officers gradually see changes in the armed forces' system.
Later yesterday, Tsai paid her respects to Huang's family in Kaohsiung, accompanied by National Security Council Secretary-General Joseph Wu (吳釗燮), Kaohsiung Mayor Chen Chu (陳菊) and Kaohsiung City Council Speaker Kang Yu-cheng (康裕成) of the Democratic Progressive Party.
Presidential Office spokesman Alex Huang (黃重諺) said Tsai, in her capacity as commander-in-chief, extended her sincerest apologies to Huang Wen-chung's wife and other family members, and vowed to ascertain the truth about the incident as soon as possible.
Alex Huang said Tsai told the victim's family that she has instructed the Ministry of National Defense and the Ministry of Justice to form an ad hoc group to investigate the incident.
As Huang Wen-chung was his household's main source of income, Tsai also asked Chen and the defense ministry to help the victim's family apply for state compensation, Alex Huang said.
Comments will be moderated. Keep comments relevant to the article. Remarks containing abusive and obscene language, personal attacks of any kind or promotion will be removed and the user banned. Final decision will be at the discretion of the Taipei Times.