Ma urged to honor watch list pledge
'LYING RASCAL': Wang Ting-yu presented a list of 55 of Ma's 'broken promises,' most famously his '6-3-3' pledge and a promise to donate half his salary if it was not achieved
Democratic Progressive Party (DPP) lawmakers yesterday urged President Ma Ying-jeou (馬英九) to place himself on the national departure watch list governed by the Classified National Security Information Protection Act (國家機密保護法) as promised, and called on the outgoing president to account for his broken promises.
At a news conference at the legislature, DPP Legislator Wang Ting-yu (王定宇) presented a list of 55 promises on which he said Ma has reneged since 2008, notably his "6-3-3" pledge from the 2008 presidential campaign and his promise to donate half of his salary should the "6-3-3" vow fail.
The "6-3-3" pledge refers to the goals of achieving annual GDP growth of 6 percent, annual per capita income of US$30,000 and an unemployment rate of less than 3 percent.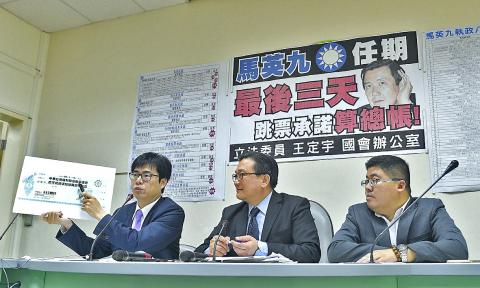 Democratic Progressive Party lawmakers present a list of President Ma Ying-jeou's "broken pledges" at a news conference in Taipei yesterday.
Photo: Chen Chih-chu, Taipei Times
"With only three days left before Ma leaves office, it is time to lay out his final tally. We tried to include all of Ma's 'bounced checks,' but there are simply too many, so we only listed 55 of them," Wang said.
In addition to the listed broken promises, Wang said Ma has yet to deliver on a pledge made by then-Presidential Office spokesman Wang Yu-chi (王郁琦) on his behalf on May 30, 2008, when he said Ma would place himself on a departure watch list under the Classified National Security Information Protection Act before his term expired.
"Citing Article 26 of the act, Wang Yu-chi said at the time that both the president and the vice president should be put on the departure watch list. He added that, despite the absence of precedents, Ma believed not even presidents should be exempted from the coverage of laws and that he would put himself on the list before leaving office," Wang Ting-yu said.
If Ma refuses to do so voluntarily, the Supreme Prosecutors' Office should uphold the law and do it for him, Wang Ting-yu said.
"The need to put Ma on the watch list does not imply that he has committed any crime, only that he has handled classified national security information," he said.
The article stipulates that people who exercise the original classification authority, handle classified information within the scope of official duty, retire or resign from the official positions mentioned in the act or have handled the transfer of classified information within three years should obtain prior approval before leaving the nation.
Quoting Premier Simon Chang (張善政) as describing Ma in an interview on Sunday as a "figure-oriented president," DPP Legislator Chen Chi-mai (陳其邁) said the outgoing president would most likely be remembered for his frequent citations of the number of nations and areas that have granted Taiwan visa-free or landing visa status, and the size of Itu Aba Island (Taiping Island, 太平島).
"If you ask people what the first number is that springs to their minds when thinking about Ma, it is undoubtedly '6-3-3.' Yet the president has failed to achieve any of the three goals," Chen said.
Chen said that average annual GDP growth under Ma's governance stands at 2.81 percent, far short of the targeted 6 percent and the 4.86 percent average recorded during former president Chen Shui-bian's (陳水扁) term.
In addition, the unemployment rate has never dropped below 3 percent and the annual per capita income last year was only US$19,451, Chen Chi-mai said.
"Ma repeatedly told the public that if his '6-3-3' check bounced, he would donate half of his salary to the United Way of Taiwan, to which he said he has made regular donations," he added.
However, records show that Ma donated only NT$70,000 (US$2,140) to the social welfare organization over the past eight years, he said, urging Ma to donate NT$22.778 million by Thursday next week to avoid going down in history as a "lying rascal."
Comments will be moderated. Keep comments relevant to the article. Remarks containing abusive and obscene language, personal attacks of any kind or promotion will be removed and the user banned. Final decision will be at the discretion of the Taipei Times.