Prosecutors list Wong as defendant
CONTENTIOUS SEARCH: Prosecutors raided Academia Sinica President Wong Chi-huey's office looking for evidence relating to the transfer of medication to OBI Pharma
Academia Sinica President Wong Chi-huey (翁啟惠) and OBI Pharma Inc (台灣浩鼎) chairman Michael Chang (張念慈) were yesterday both listed as defendants by prosecutors in a probe into insider trading allegations, while Ruentex Group (潤泰集團) chairman Samuel Yin (尹衍樑) and Wong's wife were released after being questioned.
Judicial officials intensified their investigation yesterday, conducting raids on Wong's office at Academia Sinica, the Wong family's residences and the offices of Ruentex Group-owned Chung Chia Co (中嘉公司).
The raids were headed up by the Taipei Shilin District Prosecutors' Office and the Ministry of Justice's Investigation Bureau (MJIB), with investigators seizing documents and other evidence at seven locations across the greater Taipei area.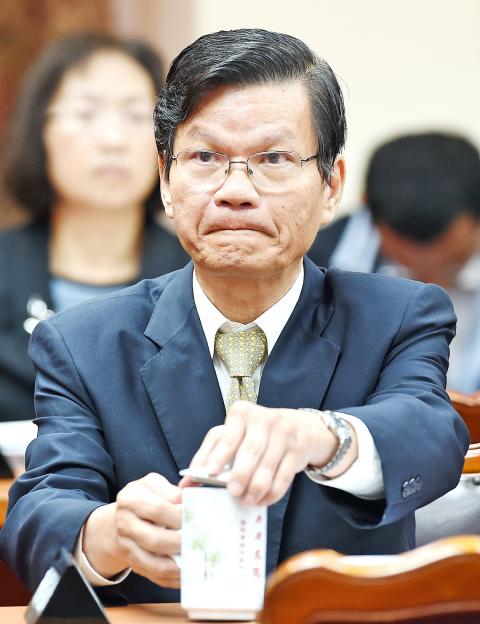 Academia Sinica President Wong Chi-huey places the lid on his tea cup during an appearance at the Legislature in Taipei to report on his involvement in the OBI Pharma Inc scandal on Monday this week.
Photo: Liao Chen-huei, Taipei Times
Wong was first summoned for questioning at the MJIB's Taipei Division Office yesterday afternoon, then taken to the Shilin District Prosecutors' Office in the evening for further questioning.
Prosecutors also questioned Wong's wife, Liu Ying-li (劉映理), for 40 minutes before she left the Shilin District Prosecutors' Office accompanied by an assistant.
Prosecutors listed Wong as a defendant in the case and said they are likely to charge him with breach of trust, reportedly based on testimony given by Yin.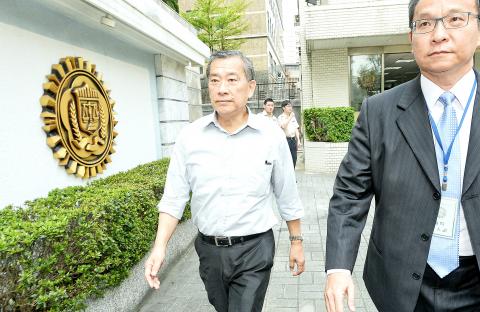 OBI Pharma Inc chairman Michael Chang, left, and his lawyer yesterday appear at the Investigation Bureau's Taipei Division Office for questioning about Chang's alleged involvement in insider trading.
Photo: Lin Cheng-kun, Taipei Times
Of the 11 people summoned for questioning yesterday, Michael Chang and OBI Pharma finance division manager Chang Sui-fen (張穗芬) were also listed as defendants on the same charges.
Prosecutors said the raids on Wong's office and Academia Sinica's National Center for Genome Medicine were focused on gathering documents, telecommunications records, financial statements, computer databases and other evidence relating to Academia Sinica's transfer of cancer-fighting medication to OBI Pharma.
The raids at Academia Sinica were contentious, because it was the first time in the nation's history the judiciary had searched the president's office at the prestigious institution and some saw the move as tarnishing the nation's highest academic research body.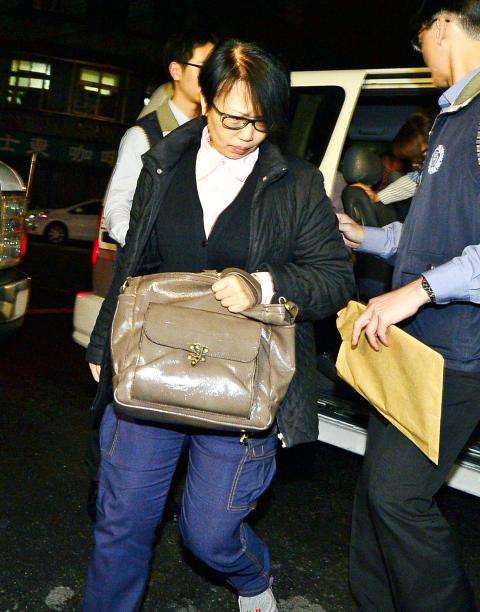 Police officers escort OBI Pharma Inc finance division manager Chang Sui-fen to the Shilin District Prosecutors' Office in Taipei for questioning on Friday last week.
Photo: Wang Yi-sung, Taipei Times
Wong returned from US last week, before attending meetings at the Presidential Office and answering questions at the legislature in Taipei in an effort clarify his role and dissociate himself from accusations of insider trading and other financial irregularities.
The breach of trust accusations leveled against Wong showed that prosecutors have opened another investigation into the case, since they were already investigating alleged insider trading.
However, Yin turning state witness and providing testimony against Wong and the other suspects caused controversy, as some political commentators accused Yin and his associates of being the real culprits in behind-the-scenes manipulation of the OBI Pharma share price.
Many people have also claimed the probe is political persecution of Wong, directed by senior government officials to undermine his reputation, and said it would derail the development of the nation's pharmaceutical industry.
Comments will be moderated. Keep comments relevant to the article. Remarks containing abusive and obscene language, personal attacks of any kind or promotion will be removed and the user banned. Final decision will be at the discretion of the Taipei Times.