Sun Yat-sen Memorial Hall renovation obstructs transitional justice: critics
A NT$1.16 billion (US$35.83 million) project approved by the Executive Yuan to refurbish the Sun Yat-sen Memorial Hall has been criticized as an attempt to consolidate Sun's (孫逸仙) status as the "founding father" of the Republic of China (ROC) and obstruct transitional justice.
The five-year project, approved on Jan. 29, aims to upgrade facilities, renovate archive repositories, relocate the office area and library, construct a modernized exhibition hall and redesign the park next to the hall.
According to the project's plan, archives and artifacts relating to Sun and founding figures of the ROC are shared memories of people across the Taiwan Strait, and the project is aimed at promoting research of Sun and Taiwan's culture industry, as well as bringing about peaceful cross-strait development.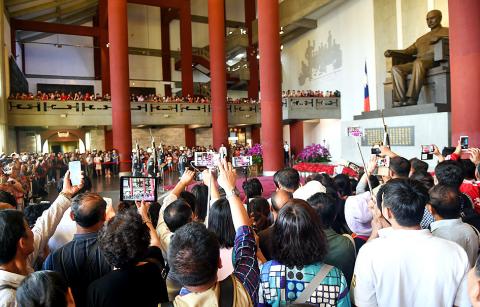 Tourists take photographs in Taipei's National Sun Yat-sen Memorial Hall in this file photo on Nov. 22 last year. A project to refurbish the hall has been criticized as an attempt to consolidate Sun's status as Republic of China founding father and obstruct transitional justice.
Photo: Chien Jung-fong, Taipei Times
During the administration of President Ma Ying-jeou (馬英九), the memorial hall has been one of the favorite attractions for Chinese tourists, who enjoy watching the changing of the guard and visiting an exhibition room displaying historical archives about Sun, the memorial hall said.
It was proposed that the Chinese name of the memorial hall, "National Founding Father Memorial Hall," be renamed "Sun Yat-sen Memorial Hall" as part of the "name rectification" campaign when former president Chen Shui-bian (陳水扁) was in office, but the proposal was dropped due to a lack of consensus.
Lee Hsiao-feng (李筱峰), a professor at the National Taipei University of Education's Graduate School of Taiwanese Culture, said the Ma administration, which approved the project only months before it is to step down on May 20, is anxious about Sun's status being undermined.
"However, the term 'national father,' as well as its images and a memorial hall, are a matter of transitional justice, which is about redressing whatever is undemocratic and complete the transition to democracy," Lee said.
The memorial hall could be renamed the "Sun Wen Memorial Hall," "Sun Yat-sen Memorial Hall" or "Memorial Hall of Revolutionary Martyrs," which is not about negating Sun's status, he said.
The memorial hall said it would respect different opinions, and that the plan, which was first submitted in 2014 to expand underground facilities, but was later rejected, was resubmitted last year following due procedure, rather than being forced through by Ma's administration.
The memorial hall's administration has to raise 32 percent of the project's funding, so it plans to charge an entrance fee of NT$50 and a NT$30 concession entrance fee beginning next year.
Meanwhile, the memorial hall said only three artifacts related to Sun — two calligraphy works and a letter written by him — housed by the memorial hall are authentic, and the rest are replicas, adding that it has redefined its objectives and plans to collect artifacts related to Sun.
Experts say the Chinese Nationalist Party (KMT) headquarters has a much more complete collection of authentic Sun artifacts, including the 7-million-character complete works of Sun, as well as clothing and furniture used by Sun, and even his teeth.
Comments will be moderated. Keep comments relevant to the article. Remarks containing abusive and obscene language, personal attacks of any kind or promotion will be removed and the user banned. Final decision will be at the discretion of the Taipei Times.