Gambia, China resume ties in lieu of Taiwan
VIABLE DIPLOMACY? The Gambia affair may signal the end of an unofficial truce between Taiwan and China on wooing each other's allies
The Ministry of Foreign Affairs (MOFA) yesterday expressed regret over the Gambia's decision to establish diplomatic ties with China, saying it would step up diplomatic efforts and stay vigilant against Chinese moves to obstruct Taiwan.
The ministry made the remarks in a statement issued after the Chinese Ministry of Foreign Affairs earlier yesterday said that it had formally resumed ties with the former Taiwanese ally — a move perceived by some critics as the end of an unofficial diplomatic truce between Taiwan and China.
The announcement was made after a meeting in the Chinese capital between Chinese Minister of Foreign Affairs Wang Yi (王毅) and his Gambian counterpart, Neneh Macdouall-Gaye.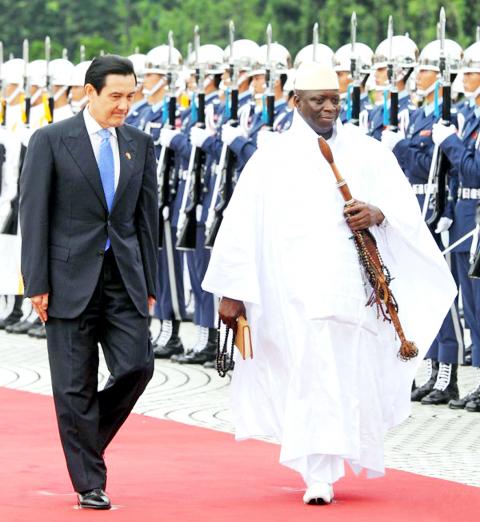 President Ma Ying-jeou, left, holds a welcome ceremony for Gambian President Yahya Jammeh in Taipei on June 26, 2012.
Photo: Wang Min-wei, Taipei Times
China had previously denied it had any intention of establishing diplomatic relations with Gambia — which abruptly severed its 18-year relationship with Taiwan on Nov. 14, 2013 — and said it was not involved in the decision.
"Two years and four months have passed since the Gambia unilaterally severed ties with Taiwan. We regret the Gambia's decision to establish diplomatic ties with China now," MOFA said in the statement.
It added that over the past seven years, the government has promoted President Ma Ying-jeou's (馬英九) "viable diplomacy" policy and that concrete achievements have been made in both Taiwan's ties with its major allies and international participation.
The ministry said it would continue to step up diplomatic efforts, remain vigilant against China's suppression of Taiwan in the international arena and defend Taiwan's national interests.
"Viable diplomacy" is a policy proposed by Ma in August 2008 during his first year in office. It calls for a halt to China's and Taiwan's attempts to woo each other's allies.
Minister of Foreign Affairs David Lin (林永樂), who is accompanying Ma on a seven-day visit to two of the nation's diplomatic allies in Central America, said the ministry had prior knowledge of communications between China and the Gambia.
"We will ask our overseas embassies to be on alert and keep a close watch over relevant developments," Lin said, adding that Taiwan's ties with its 22 diplomatic allies are solid and stable.
The Mainland Affairs Council also issued a statement saying it has expressed to China its "strong discontent" over its resumption of diplomatic ties with the Gambia.
"At about 1pm today, China's Taiwan Affairs Office notified us that it was to announce the resumption of ties later today, saying the decision was made due to Gambia's repeated requests and the 'concrete needs' in their bilateral relations," the council said.
The council said such a move by China runs counter to the direction in which both sides of the Taiwan Strait have tried to push their relations, which are marked by peaceful and stable development, mutual respect and friendly exchanges.
It also undermines the foundation of mutual trust between both sides and is set to impact on cross-strait ties, the council added.
Comments will be moderated. Keep comments relevant to the article. Remarks containing abusive and obscene language, personal attacks of any kind or promotion will be removed and the user banned. Final decision will be at the discretion of the Taipei Times.