Zhongxiao W Road reopens as demolition finishes early
'THINK SLOW, ACT QUICKLY': Taipei Mayor Ko Wen-je attributed the quick work to good preparation and said the experience should help the government in the future
Taipei's Zhongxiao W Road was reopened to traffic yesterday morning after work to tear down an overpass to the Zhongxiao Bridge (忠孝橋) was completed ahead of schedule.
However, authorities advised commuters to depart at least 20 minutes earlier or to use public transportation if they are required to pass through the area on their way to work tomorrow morning.
Taipei Department of Transportation Commissioner Chung Hui-yu (鍾慧諭), Public Works Department Director Peng Chen-sheng (彭振聲), Traffic Division head Wu Yao-nan (吳耀南) and other officials used a whistle to signal the reopening before traffic resumed at 8am yesterday.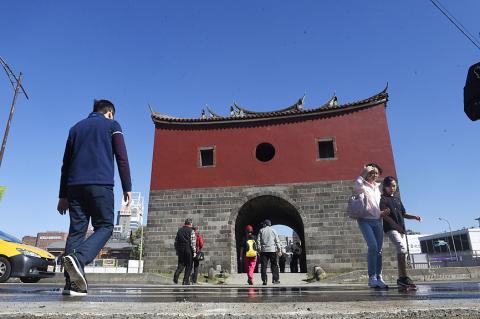 People cross the street in front of Taipei's North Gate yesterday after the reopening of Zhongxiao W Road.
Photo: Tsung Chang-chin, Taipei Times
Peng said a steel structure is to be built by Nov. 30 to fill in a gap in the bridge after the overpass is demolished, but the Public Works Department is in talks with the construction's contractor to move the completion date to July.
Once the structure is completed, the project is to enter its second phase, in which a bus station used by Kuo-kuang Motor Transportation Co (國光客運) is to be demolished.
As Zhongxiao W Road has been reduced from four lanes to three in each direction, people are advised to use public transportation or use the Jhongsing Bridge (中興橋) or Taipei Bridge (台北橋) when commuting to Taipei from New Taipei City, Chung said.
If traffic congestion extends to 3km, the department is to allow only large vehicles and motorcycles to directly exit from the Zhongxiao Bridge, while cars are to be directed through the Huanhe (環河) gateway, Chuang said, adding that if traffic backs up for 5km, cars are to be directed to the Jhongsing or Taipei bridges.
The department expects traffic in the area to stabilize after a week, she added.
Taipei Mayor Ko Wen-je (柯文哲) said he was satisfied with the demolition work being completed earlier than planned, adding that while work continues on the city's west area gateway project, the overpass had accomplished its mission and Taipei's North Gate (北門) is now once again visible, opening a new page in Taipei's history.
"Good preparation is the reason the demolition was successful and ended sooner than planned," Ko said, adding that the result could not have been accomplished without careful planning and precise execution.
He said his administration is following the mantra of "think slowly and act rapidly," adding that he hopes the government can learn from the success to make the city better.
Additional Reporting by I-chia Lee
Comments will be moderated. Keep comments relevant to the article. Remarks containing abusive and obscene language, personal attacks of any kind or promotion will be removed and the user banned. Final decision will be at the discretion of the Taipei Times.