ELECTIONS: Singer's 'forced apology' angers nation
WAY OUT: Following the release of a controversial video, a Taiwanese online magazine offered to buy the right to manage the 16-year-old Taiwanese K-pop starlet's career
A 16-year-old Taiwanese singer with a South Korean pop group inadvertently shot to the top of the nation's election agenda yesterday after she apologized in a YouTube video for holding a Republic of China (ROC) flag on a South Korean TV show, prompting anger in Taiwan as the nation voted for a new president.
The YouTube clip drew an angry response in Taiwan as netizens said Chou Tzu-yu (周子瑜), also known as Tzuyu, the only Taiwanese member of pop group TWICE, must have been forced to apologize by her South Korean bosses, who caved in under pressure from Chinese fans.
Netizens compared Tzuyu's video apology to hostage clips posted by the Islamic State group as Chou, wearing a turtleneck sweater and standing against a white tile background, said "there is only one China... I have always felt proud of being Chinese."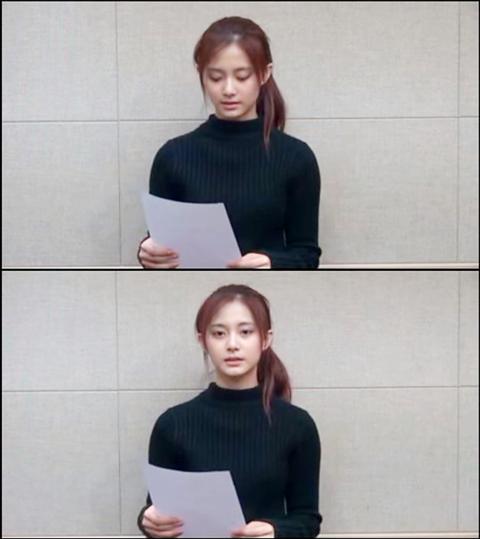 Chou Tzu-yu, a Taiwanese member of the South Korean pop group TWICE, apologizes in a YouTube video for holding a Republic of China flag on a South Korean TV show.
Photo: screen grab from YouTube
The apology came after her South Korean management company, JYP Entertainment Corp, said it was curtailing her commercial activities in China, apparently in response to accusations leveled by China-based Taiwanese singer Huang An (黃安), who claimed that Chou was a supporter of Taiwanese independence because she held a ROC flag on the South Korean variety show My Little Television.
Huang is notorious for tipping off Chinese authorities and netizens about Taiwanese he considers to be supporters of independence.
"JYP Entertainment has forced one of its stars to pander to China simply for profit," a Taiwanese netizen wrote.
"Huang may have an illness, but JYP Entertainment doesn't have to dance to his tune," another netizen wrote.
There was also anger on the streets of Taipei,with 70-year-old Liu Chao-chih saying: "She is just being used. We are proud to be Taiwanese. No one should be forced to say they're Chinese. We are not."
President Ma Ying-jeou (馬英九) and the three presidential candidates yesterday also weighed in on the controversy.
"She does not need to apologize and we support her," Ma said, adding that any ROC national who identifies with the country and holds its flag should be supported.
Democratic Progressive Party presidential candidate Tsai Ing-wen (蔡英文) said the incident "profoundly hurt the feelings of Taiwanese," calling on the nation to "unite in solidarity."
Chinese Nationalist Party (KMT) presidential candidate Eric Chu (朱立倫) condemned Huang and JYP for their actions, adding: "Our hearts are united in support of Chou."
People First Party presidential candidate James Soong (宋楚瑜) said he was "angered and disgusted that the government lacked the rigor to protect even a teenage child."
"It is the government's responsibility to protect the nation's patriotic citizens," Soong said.
The Ministry of Foreign Affairs yesterday said it has asked its representative office in South Korea to contact both Chou and JYP Entertainment to see if there are any problems it could help address and to express Taiwan's support for the singer.
The Mainland Affairs Council asked China to show restraint following the controversy.
"It is absolutely fair and justified for a Taiwanese to hold a national flag to show his or her love for the country, and we support such a patriotic act," the council said in a statement, adding that cross-strait exchanges should be based on mutual respect.
China's Taiwan Affairs Office responded by saying that the incident was being "used" by certain political forces in Taiwan to "stir up the feelings of people on both sides of the Taiwan Strait."
"Compatriots on both sides should be on high alert over this," it said in a statement carried by Chinese state media.
JYP Entertainment did not answer telephone calls seeking comment, but in a statement on its Chinese microblog, it said it was sorry for the "harm caused to our Chinese friends" and promised the company would "respect other nations' sovereignty."
JUKSY, a Taiwanese online fashion magazine, yesterday offered to buy the right to manage Chou's career from JYP for a maximum of NT$100 million (US$2.96 million).
The magazine, which says it has a readership of 1.15 million, said in a statement that its board of directors called a meeting to debate what they could do for Chou.
"We decided we would offer her a new possibility and another choice," the magazine said, adding it was willing to buy out her JYP Entertainment management contract.
"We have started drafting the agreement and have contacted JYP Entertainment about the buyout," it said, adding that it would do its best to bring Chou back to Taiwan so that she could pursue her career at home.
Comments will be moderated. Keep comments relevant to the article. Remarks containing abusive and obscene language, personal attacks of any kind or promotion will be removed and the user banned. Final decision will be at the discretion of the Taipei Times.