James Soong says he is the safest bet
Disregarding a mist of rain as well as a cold front, People First Party (PFP) presidential candidate James Soong (宋楚瑜) was yesterday determined to do all in his power to canvass votes for the PFP and its legislative candidates.
Earlier yesterday morning, during a campaign stop at the Lugang Tianhou Temple in Changhua County's Lugang Township (鹿港), Soong accepted every opportunity to sign his autograph and have his photograph taken with supporters in order to promote his party and presidential bid.
Soong said that he was the safest presidential choice for Taiwan and that citizens could rest assured that if he were elected president, cross-strait conflict would not resume and Taiwan would retain its democratic liberties.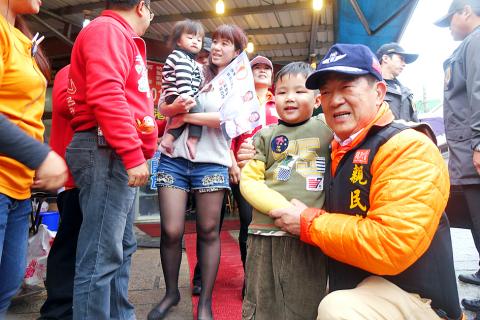 People First Party presidential candidate James Soong yesterday poses with a child during a final burst of campaigning at the Lugang Tianhou Temple in Changhua County.
Photo: Liu Hsiao-hsin, Taipei Times
Soong also revealed that he had been contacted by the US government and that he would also receive a visit from US officials.
He said that the nation must let the US know that it would stay on the middle path by electing a stable and solid head of state.
"Such a leader would play a role in maintaining the careful balance existing between the US, Japan and China, as well as offering to be a buffer," Soong said.
He said that by "buffer" he meant that Taiwan would be an anchor in terms of geopolitics, adding that it should also act as a buffer against time and change.
The ongoing changes in China cannot assuage Taiwanese concerns, Soong said, adding that this concern is why Taiwan should maintain its status as a free democracy.
When asked about the 18 parties vying for voters' support in the legislator-at-large vote, Soong said he was confident the PFP's votes would not be scattered.
However, the number of competing political parties highlights problems in Taiwan's political system, Soong said.
The Chinese National Party (KMT) and the Democratic Progressive Party should not overshadow the plurality of opinions in Taiwanese society, Soong said, adding that should he be elected into office, he would seek to negotiate with the heads of the parties.
There are many aspects in the current system that should be tweaked, he said.
Later yesterday, Soong headed to Beidou Township (北斗) to campaign alongside PFP legislative candidate Chen Chao-jung (陳朝容).
Both men stuck to their campaign plan, despite heavy rain during the last leg of the event.
Soong wrapped up the night with a large rally in Taipei, touting his competence and administrative experiences as a leader of state who is able to hold the steering wheel steadily.
Comments will be moderated. Keep comments relevant to the article. Remarks containing abusive and obscene language, personal attacks of any kind or promotion will be removed and the user banned. Final decision will be at the discretion of the Taipei Times.