Farglory boss gets suspended sentence
'SPEECHLESS': Supreme Prosecutors' Office officials had warned the court against leniency for Chao Teng-hsiung, whom they called an unrepentant opportunist
The High Court yesterday sentenced Farglory Land Development Co (遠雄建設) chairman Chao Teng-hsiung (趙藤雄) to two years in prison for paying bribes to secure contracts in three housing construction projects, with the sentence suspended for five years.
The suspended sentence means Chao does not have to serve jail time, but he was ordered to pay a fine of NT$200 million (US$6.1 million) and had his civil rights stripped for two years.
The verdict was final and cannot be appealed.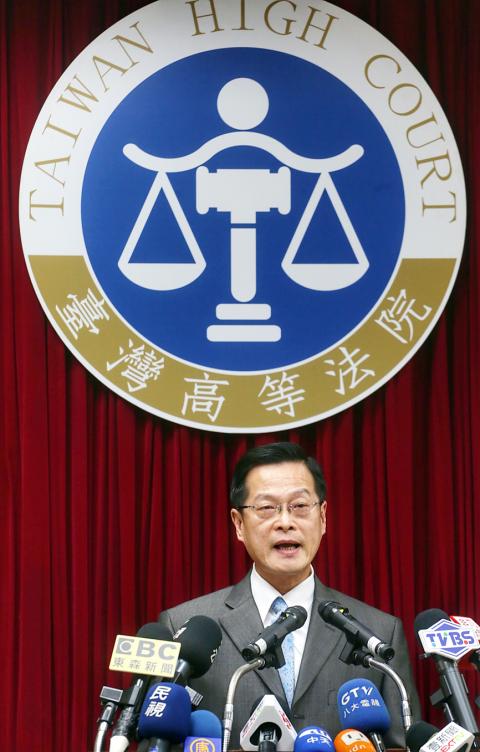 High Court Judge Chou Ting-wen announces yesterday in Taipei the ruling in a public housing case involving former Taoyuan County deputy commissioner Yeh Shih-wen and Farglory Land Development Co chairman Chao Teng-hsiung.
Photo: CNA
However, the same ruling lengthened the prison term for former Taoyuan County deputy commissioner Yeh Shih-wen (葉世文) to 21 years and levied a fine of NT$10 million.
Yeh can still appeal.
The judges cited Chao admitting his crime and pleading guilty to all charges during an extra hearing on the public housing project bribery case at the court on Dec. 10.
In the first ruling by the Taipei District Court in March, Chao was sentenced to four years and six months in prison, while Yeh received a 19-year jail term.
After the verdict, Chao issued a statement through a company spokesman thanking the court for giving him an opportunity for rehabilitation, saying that he has learned from his mistakes and will do good.
Local media reports said Yeh was surprised when Chao pleaded guilty to all charges earlier this month, with Chao turning state witness against Yeh.
Critics said that Chao and his legal team won over the judges with a plea bargain ploy, pleading guilty and asking for leniency, and admitting to having paid bribes to Yeh and other officials for Farglory to secure contracts to build public housing units in New Taipei City and then-Taoyuan County.
The High Court's verdict has caused a public furor, as many feel that the judicial system favors the wealthy, but severely punishes ordinary people.
Criticism has primarily focused on Chao getting off with a light penalty and not having to serve jail time, despite being found guilty of corruption.
Supreme Prosecutors' Office officials issued a statement saying that they were "speechless" when they learned of the verdict.
The statement said the office cautioned against leniency and a suspended sentence for Chao.
"Throughout most of the trial, Chao did not admit his guilt. He did so only to take advantage of the situation," it said.
"The process has been a significant waste of the judiciary's precious resources," it said.
Additional reporting by CNA
Comments will be moderated. Keep comments relevant to the article. Remarks containing abusive and obscene language, personal attacks of any kind or promotion will be removed and the user banned. Final decision will be at the discretion of the Taipei Times.