Firms warned as China lifts restrictions
HIDDEN MOTIVE: Some academics said the move, which will allow businesses from 24 industries to operate in most of China, is a strategy to drain Taiwan's talent and capital
Academics yesterday urged caution toward Beijing's relaxation of restrictions on Taiwan-based businesses, citing political and business risks, as well as its potential to drain Taiwan's capital and talent.
China's Taiwan Affairs Office (TAO) on Wednesday announced that many restrictions on the licensing of privately or individually owned Taiwanese businesses are to be lifted next year.
Previously, Chinese authorities only permitted Taiwanese-owned businesses from the retail and restaurant industries to operate in China, but the new rules are to permit privately owned businesses from 24 different industries, including advertising and packaging services, the TAO said.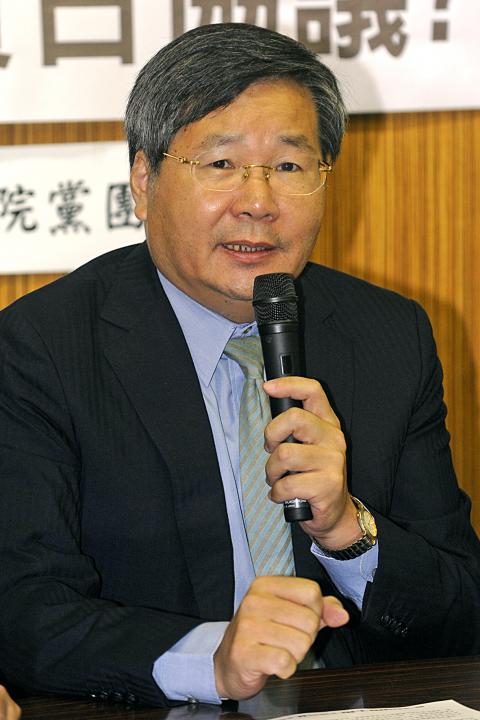 Former Taiwan Solidarity Union (TSU) legislator Hsu Chung-hsin speaks at an event on Sept. 4 last year.
Photo: Chen Chih-chu, Taipei Times
The area in which Taiwanese businesses are allowed to operate will be drastically expanded from nine provinces and cities to almost all of China, excluding Xinjiang, Gansu and Qinghai provinces, as well as Inner Mongolia and Tibet, the TAO said, adding that Taiwanese businesses would also no longer be limited to having a maximum of 10 employees and 500m2 of business space.
National Cheng Kung University law professor Hsu Chun-hsin (許忠信), who is a former legislator of the Taiwan Solidarity Union, said the lifting of restrictions is a Chinese strategy to drain Taiwan's small and medium businesses of capital and talent.
The policy is also an alternative to the trade in service and goods agreements, whose future had been called into question by the public backlash against it, Hsu said.
"While many will be tempted to start businesses in China, my experience as a lawmaker made me familiar with many cases of Taiwanese entrepreneurs who were blindsided by hostile takeovers and lost everything," he said. "Private operators are no doubt even less protected than their predecessors."
National Central University economics professor Chiou Jiunn-rong (邱俊榮) was also reserved about the announcement, saying: "The yielding of benefits is only superficial."
Only the most well-connected Taiwanese corporations could gain direct access to customers in China, and those customers consist almost entirely of major Chinese corporations, he said, adding that the announcement is "an attempt to influence the coming election."
Economic Democracy Union convener Lai Chung-chiang (賴中強) warned that the lifting of restrictions is a reaction to the stonewalling of the trade in service and goods agreements by the legislature, designed to drain Taiwan's talent and capital while increasing dependence.
It is also possible that China intends to utilize Taiwanese capital and talent for its own "One Belt, One Road" project, Lai said.
"China is a highly volatile investment environment due to its justice system, tax codes and investment management practices," he said, adding that Taiwanese business owners frequently lose their enterprises, or even their freedom, in China.
"The promotion of the market is the cause of Taiwan's current economic woes … the government should take measures to prevent more of Taiwan's technological advantages from falling into Chinese hands," Democratic Progressive Party Legislator Lee Chun-yi (李俊俋) said.
Comments will be moderated. Keep comments relevant to the article. Remarks containing abusive and obscene language, personal attacks of any kind or promotion will be removed and the user banned. Final decision will be at the discretion of the Taipei Times.