Taiwanese beauty queen suspended for refusing to wear 'Chinese Taipei' sash
Taiwan's representative to this year's Miss Earth contest yesterday expressed gratitude to her fans after she was ejected from the pageant for refusing to wear a sash that read "Chinese Taipei" and instead wearing one marked "Taiwan ROC."
"I feel very appreciative to all the people who have encouraged me. Now that I have been suspended from the contest and have returned to my hotel, I have had more time to think it over," the 22-year-old Ting Wen-yin (丁文茵) said on Facebook.
"Despite all these difficulties, I still feel grateful that this contest made me more mature and gave me a broader view of the world," she wrote.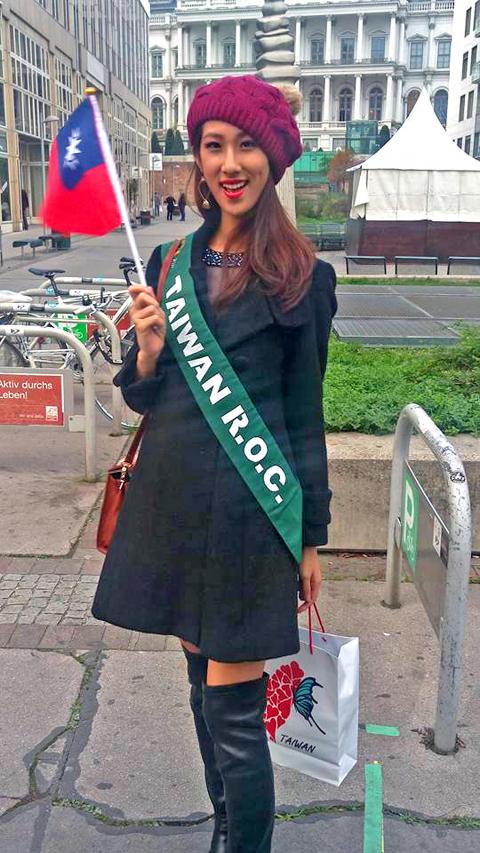 Taiwan's Ting Wen-yin poses with her "Taiwan ROC" sash in Vienna on Saturday.
Photo: Screenshot from Facebook
Ting, who was representing Taiwan at the Miss Earth pageant in Vienna, two days earlier revealed that she originally wore a sash given to her by the organizers upon her arrival in Vienna that read "Taiwan ROC" — referring to Taiwan's formal name, the Republic of China.
However, the organizers later asked Ting to replace her sash with another that read "Chinese Taipei" — the name used in most international events because of pressure from China — claiming that the original sash was misprinted by the event staff, Ting said.
Insisting that she was born in Taiwan and was representing Taiwan, Ting refused to change her sash and was banned from attending the pageant on Monday, while photographers were told not to take her picture, she added.
Ministry of Foreign Affairs spokeswoman Eleanor Wang (王珮玲) said that Ting was forced to replace her sash due to pressure from China.
Wang said that Taiwan's Chinese International Beauty Pageants Association (中華國際選美發展交流協會), which sent Ting to Vienna, told the ministry that Ting would continue to compete in the pageant using the name "Chinese Taipei."
Founded in 2001, the Miss Earth pageant is held to promote environmental awareness, empower women worldwide and support international environmental organizations.
This year's competition, which had 87 contestants, runs from Wednesday last week to Dec. 5, according to the event's Web site.
The winner of the pageant is to serve as an ambassador in environmental protection campaigns worldwide.
Comments will be moderated. Keep comments relevant to the article. Remarks containing abusive and obscene language, personal attacks of any kind or promotion will be removed and the user banned. Final decision will be at the discretion of the Taipei Times.