Wei Chuan board approves Matsusei sale
Wei Chuan Foods Corp (味全) yesterday announced that its board of directors has approved the sale of the Matsusei supermarket chain (松青超市) in a move to stem losses it is suffering from its retail unit.
Wei Chuan, operated by Ting Hsin International Group (頂新集團), said in a filing with the Taiwan Stock Exchange that it would sell Matsusei to Chuan Lian Enterprise Co Ltd (全聯實業) for NT$450 million (US$13.68 million).
Chuan Lian, which operates the nation's largest supermarket chain, Pxmart (全聯福利中心), is to acquire Matsusei's 65 stores, including equipment, assets and brand trademark, further cementing its position as the nation's top supermarket chain operator.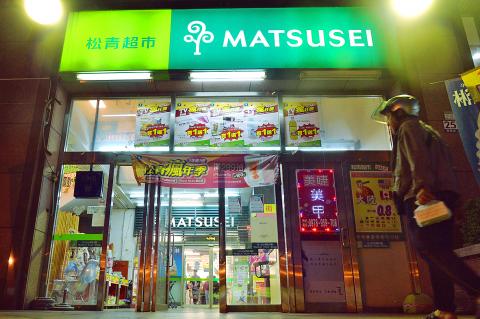 A branch of the Matsusei Supermarket chain is pictured yesterday evening in Taipei.
Photo: CNA
However, the terms of the deal do not include Matsusei's current inventories, Wei Chuan said.
Pxmart operates 746 stores in Taiwan, of which more than 700 offer fresh produce. Its takeover of Matsusei is likely to bring the figure to well above 800 after the company completes resource integration.
Since its establishment in 1986, Matsusei's sales performance has never met expectations in the saturated local market.
In addition, continued operating losses widened markedly in the past two years due to the severity of the food safety crisis, Wei Chuan said in a statement.
Matsusei was caught up in last year's boycott movement against businesses owned by Ting Hsin, a processed foods conglomerate that had drawn the public's ire by putting tainted cooking oil on the market.
Wei Chuan yesterday said that it could no longer sustain Matsusei's operations, adding that it lacks the resources to initiate the required business transformation plans for the ailing chain.
The company has pledged to ensure the interest of the 790 workers employed at Matsusei. It also plans to negotiate with Pxmart to offer employees reassignment and compensation terms that are more favorable than what is required by labor laws.
Wei Chuan said it is to focus on its core food and beverages businesses in Taiwan and China.
Founded in 1998, Pxmart has evolved from a government-run low-priced grocery chain catering only to military and public sector workers to a supermarket giant.
In May, the company estimated sales to exceed NT$800 billion this year and outlined plans to be listed on the local bourse in the future.
Pxmart's most recent major acquisitions date back to 2007, when it purchased 12 supermarkets operated by the Taipei Agricultural Products Marketing Co (台北農產公司).
Matsusei stores are expected to close their doors after Dec. 31.
Comments will be moderated. Keep comments relevant to the article. Remarks containing abusive and obscene language, personal attacks of any kind or promotion will be removed and the user banned. Final decision will be at the discretion of the Taipei Times.