New lead in investigation of Peng Wan-ru murder
There were signs of progress in the investigation into the murder of prominent women's-rights activist Peng Wan-ru (彭婉如) 19 years ago as the Kaohsiung District Prosecutors' Office yesterday said they are investigating a taxi driver after forensic evidence showed that he matched six fingerprint characteristics of the main suspect.
Peng, then-director of the Democratic Progressive Party's (DPP) department of women's affairs, was reported missing after she left Kaohsiung's Jianmei Hotel by taxi after attending a DPP provisional national party congress on Nov. 30, 1996. Her body was found in Kaohsiung's Niaosong District (鳥松) on Dec. 3.
While previous investigations had identified a taxi driver as a possible suspect, surveillance footage of the taxi had been blurry and the taxi's license plate number could not be seen clearly, police said.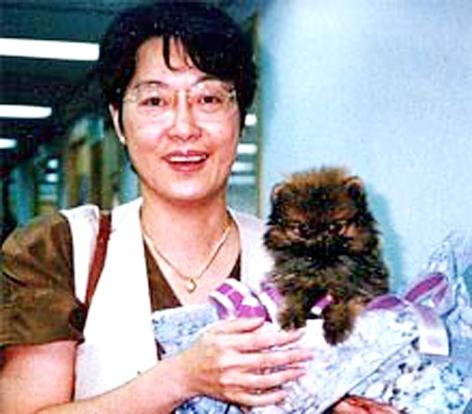 Former director of the Democratic Progressive Party's Department of Women's Affairs Peng Wan-ru is pictured in an undated photograph.
Photo: Screen grab from the Internet
More than 130,000 taxi drivers in the five counties and cities in the south were fingerprinted, but to no avail, the police said.
Police said that the Criminal Investigation Bureau (CIB) had recently received tips from an ex-girlfriend of a man surnamed Yang (楊), saying that Yang claimed to have killed Peng.
Yang, who turns 50 this year, had been a taxi driver in the Kaohsiung area two decades ago, but moved to the Taichung area a decade ago.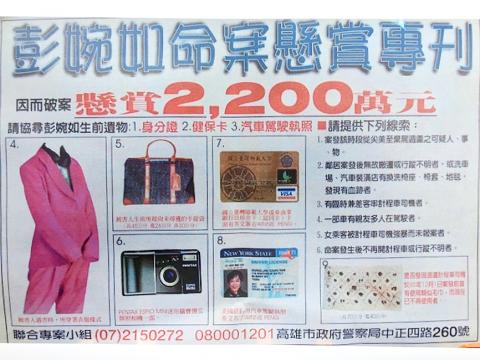 A leaflet asking the public for help in connection to the murder of Peng Wan-ru from the time of the incident is shown in an undated photograph.
Photo: CNA
He was recently detained for driving under the influence of alcohol, police said.
CIB Director Liu Po-liang (劉柏良) yesterday said that while Yang did not match the DNA samples collected from the crime scene, he matched six characteristics of the primary suspect's fingerprints.
Usually, cross-analysis of finger prints needs a match of at least 12 characteristics, but leeway can be allowed — 10 characteristics — if the fingerprint is unique, Liu said, adding that Yang, having matched six characteristics, required further investigation.
Accordingly, the Kaohsiung District Prosecutors' Office said Yang has not been confirmed as the primary suspect.
New information on the case surfaces every couple of years and investigators are committed to looking into information as it arises, it said.
Meanwhile, Peng Wan-ju Foundation president Lin Shih-chia (林世嘉) yesterday said that the police's devotion to cracking the case is to be commended and she hoped similar tragedies could be avoided.
DPP Tainan City Councilor Tang Pi-e (唐碧娥) yesterday said she only wished she had stopped Peng on that fateful day 19 years ago, as she was one of the people sending her off at the hotel as Peng got in the taxi.
Noting Peng's day of death is coming up in 19 days, Tangsaid she hoped the culprit could be apprehended on that day.
DPP spokesperson Cheng Yun-peng (鄭運鵬) yesteday praised Peng's contribution to women's rights, adding that many people in the DPP has missed her a lot.
Cheng said that so far, prosecutors and the police have not confirmed the reports, however, if there are new developments, he and all the concerned friends would hope the long-time mystery could be solved as soon as possible.
Additional reporting by Loa Iok-sin and Wang Chieh
Comments will be moderated. Keep comments relevant to the article. Remarks containing abusive and obscene language, personal attacks of any kind or promotion will be removed and the user banned. Final decision will be at the discretion of the Taipei Times.