MAC releases Ma-Xi meeting transcript
LEVERAGE: During the closed-door meeting, Ma said that Chinese military drills and Taiwan's inability to participate in international organizations fueled the 'opposition'
The Mainland Affairs Council (MAC) yesterday released a transcript of President Ma Ying-jeou's (馬英九) conversation with Chinese President Xi Jinping (習近平) at their closed-door meeting in Singapore on Saturday, as the landmark meeting continues to be marred by accusations of backroom dealings and the erosion of Taiwan's sovereignty claims.
Ma delivered a 20-minute speech that addressed five areas: creating sustainable cross-strait peace and prosperity based on the so-called "1992 consensus"; reducing hostility and tackling disputes peacefully; expanding cross-strait exchanges to create win-win scenarios; establishing a cross-strait hotline for urgent issues; and reinvigorating the Zhonghua minzu (Chinese ethnic group, 中華民族) through cross-strait cooperation.
The "1992 consensus" refers to a tacit understanding reached during cross-strait talks in 1992 that both Taiwan and China acknowledge that there is "one China," with each side having its own interpretation of what "China" means.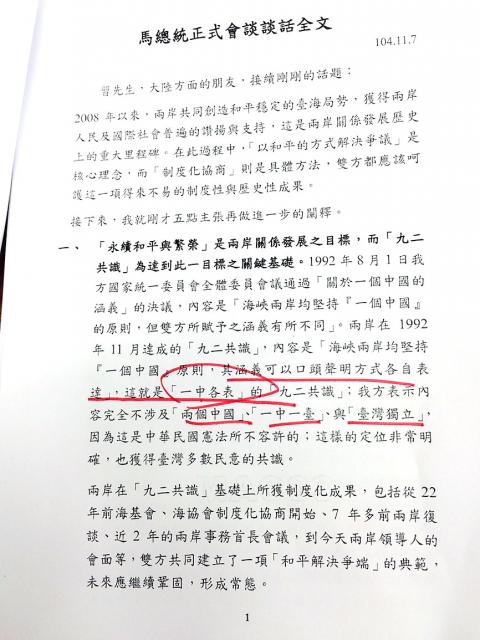 A full transcript of the content of President Ma Ying-jeou's discussion with Chinese President Xi Jinping, shown to the legislative committee by the Mainland Affairs Council in Taipei yesterday.
Photo: CNA
Former Mainland Affairs Council chairman Su Chi (蘇起) in 2006 admitted that he made up the term in 2000 while still in office, but it remains the Chinese Nationalist Party's (KMT) cornerstone for dialogue with China.
"On Aug. 1, 1992, our [now-defunct] National Unification Council unanimously passed a resolution regarding the meaning of 'one China': both sides of the Taiwan Strait will adhere to the 'one China' principle, but will have different definitions of the term," Ma said, according to the transcript.
Ma went on to say that "the '1992 consensus' reached by the two sides in November 1992 stipulates that both sides of the Taiwan Strait will adhere to the 'one China' principle, but can verbally state their respective interpretations of what the term means."
Taiwan's interpretation does not include the terms "two Chinas," "one China, one Taiwan" or "Taiwanese independence," all of which are prohibited by the Republic of China (ROC) Constitution, Ma said.
"This position is rather unequivocal and is supported by the majority of Taiwanese," Ma said.
The transcript was released after Ma defended his omission of the "different interpretations" component, which he often touts, when discussing the "1992 consensus" during his opening remarks at the meeting by saying it was mentioned during the closed-door session.
Ma said he brought up the Constitution twice with Xi, as well as one mention each of the ROC and "one China, different interpretations."
Ma also mentioned the Constitution when speaking of the 1991 abolishment of the Temporary Provisions Effective During the Period of Communist Rebellion (動員戡亂時期臨時條款), putting an end to the government treating the People's Republic of China as a rebellious entity.
That was followed by the implementation of the Act Governing Relations Between the People of the Taiwan Area and the Mainland Area (臺灣地區與大陸地區人民關係條例) in 1992, which institutionalized cross-strait negotiations, Ma said.
Regarding Chinese military deployments targeting Taiwan, Ma said that since the 23 cross-strait pacts signed by his administration were based on "peace" and were designed to help "maintain peace," they could all be deemed peace treaties in a broad sense.
"I would like to explain to Mr Xi that recent media reports of [Chinese] military exercises at the Zhurihe training base and missiles [aimed at Taiwan] have given opposition parties leverage to criticize cross-strait ties," Ma said.
"If possible, some well-intended actions by your side should help abate this sort of unnecessary criticism," Ma added.
Turning to the growing predicaments faced by Taiwan in participating in international events, Ma said meaningful participation in the international community has always been the Taiwanese public's greatest aspiration.
"The viable diplomatic platform promoted by our side over the past seven years has helped to create a virtuous cycle in cross-strait relations," Ma said.
"However, this cycle has yet to reach its full potential, as evidenced by the UN recently refusing Taiwanese carrying [ROC] passports entry to its headquarters," Ma added.
Impediments have also been encountered by Taiwanese specialists seeking to attend meetings held by non-governmental organizations and by the government in its attempts to join bilateral or multilateral economic and trade discussions.
"These circumstances have created a negative perception of Taiwanese, especially those considered to be in the social elite. Both sides should work to reduce hostility and confrontation, beginning from this area," Ma said.
Ma concluded his speech by urging both sides of the Taiwan Strait to cooperate to create a brighter future for future generations.
Comments will be moderated. Keep comments relevant to the article. Remarks containing abusive and obscene language, personal attacks of any kind or promotion will be removed and the user banned. Final decision will be at the discretion of the Taipei Times.