Saudi suggests pilgrims at fault, Iran indignant
STAMPEDE: Iranian leaders expressed outrage at the deaths of 131 Iranians at the 'hajj' and suggested that Riyadh was incapable of managing the event
Saudi Arabia, under growing pressure to account for a stampede that killed more than 700 people at Thursday's hajjj, yesterday suggested that pilgrims failing to follow crowd control rules bore some blame for the worst such disaster in 25 years.
The kingdom's regional rival, Iran, expressed outrage at the deaths of 131 of its nationals at the world's largest annual gathering of people, and politicians in Tehran suggested Riyadh was incapable of managing the event.
"Death to the Saudi dynasty," hundreds of demonstrators chanted at a protest in Tehran..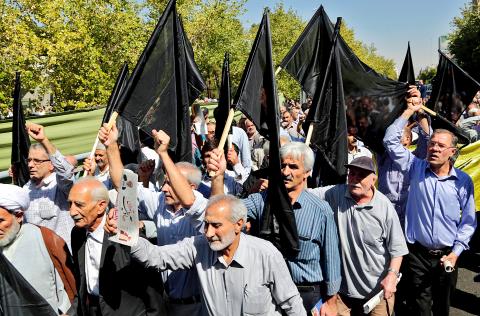 Iranians wave black flags in a show of solidarity with those killed in Thursday's stampede in Mecca, during a protest in Tehran yesterday condemning Saudi Arabia for its role in the tragedy.
Photo: EPA
Saudi Minister of Health Khalid al-Falih said an investigation would be conducted rapidly and a final toll of dead and wounded calculated. At least 863 pilgrims were injured.
"The investigations into the incident of the stampede that took place today [Thursday] in Mina, which was perhaps because some pilgrims moved without following instructions by the relevant authorities, will be fast and will be announced as has happened in other incidents," Falih said in a statement.
Falih's comments were likely to be seen by the kingdom's critics as an attempt to deflect responsibility for the incident: Safety during hajjj is politically sensitive for the kingdom's Al Saud Dynasty, since the ruling family presents itself internationally as the guardian of orthodox Islam and custodian of its holiest places in Mecca and Medina.
With photographs of piles of the dead circulating on social media and pilgrims frantically searching for missing compatriots, the effort to uncover the facts and assign blame was likely to grow more acute and possibly more political.
The disaster appeared to put pilgrims on edge.
"It is simply scary to hear how people crushed one another," said Hakim, from Morocco. "More frightening is that we do not know how it happened."
A pilgrim who asked to be identified only as Abu Abdallah said security forces appeared on high alert after the deaths.
"What happened is a tragedy and many people ... are terrified, but in the end we can only pursue our hajj duties," he said.
Saudi King Salman ordered a review of hajj plans after the disaster, in which two big groups of pilgrims collided at a crossroads in Mina, a few kilometers east of Mecca, on their way to performing the "stoning of the devil" ritual at Jamarat.
Iranian President Hassan Rouhani, in New York to attend the UN General Assembly, echoed Supreme Leader Ayatollah Ali Khamenei in blaming Riyadh for the incident.
"I ask the Saudi Arabian government to take responsibility for this catastrophe and fulfil its legal and Islamic duties in this regard," Rouhani said in a statement published on the state news agency IRNA.
Iranian state television said the demonstrators in Tehran were showing their anger at "Saudi incapability and incompetence to run the hajj."
"The world will not accept excuses like the weather was hot or the pilgrims were disorganized," Tehran Friday prayer leader Mohammed Emami-Kashani was quoted as saying by Fars news agency.
Iranian Deputy Foreign Minister Hossein Amir Abdollahian also called "Riyadh's negligence inexcusable" and announced a committee has been established to look into the incident.
Iranians pilgrims who survived the deadly incident described Saudi's response as "too little, too late," Iran's state run Press TV said. They said the rescuers arrived at the scene two hours after the incident and started collecting dead bodies first instead of helping the injured.
Saudi Arabian Ministry of the Interior spokesman Major General Mansour Turki was quoted in Saudi media yesterday as saying the security forces had immediately responded and begun to rescue those who fell in the crush.
Comments will be moderated. Keep comments relevant to the article. Remarks containing abusive and obscene language, personal attacks of any kind or promotion will be removed and the user banned. Final decision will be at the discretion of the Taipei Times.