Hung takes a break, denies giving up
'SECLUSION': Hung Hsiu-chu's campaign team said she was taking time off to reflect, not because of the return of the president's confidant, King Pu-tsung, or that she is ill
A late-night Facebook post by Chinese Nationalist Party (KMT) presidential candidate Hung Hsiu-chu (洪秀柱) on Wednesday, which said she was taking a temporary break from her campaign schedule to think, has whipped up online speculation that she was giving up her candidacy.
However, her campaign team was quick to tell an impromptu press conference yesterday that Hung is "absolutely not withdrawing from the election."
Spokesperson Wang Hong-wei (王鴻薇), said that there is no question about Hung continuing as the KMT's presidential candidate.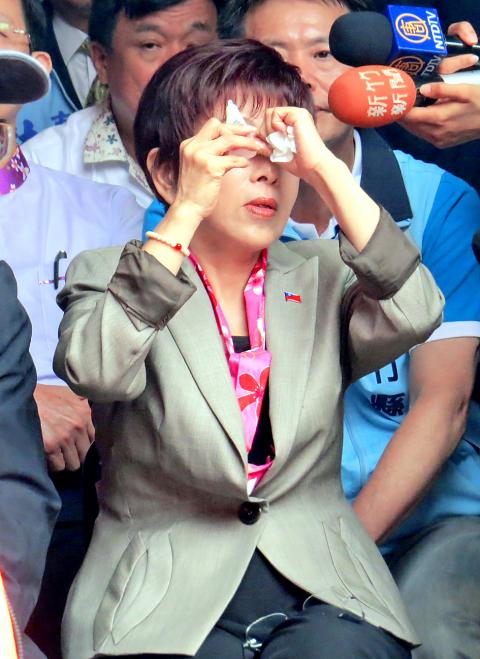 Chinese Nationalist Party (KMT) presidential candidate Hung Hsiu-chu rubs incense smoke from her eyes during a visit to an Yimin Temple in Hsinchu County on Wednesday.
Photo: Chang Chia-Ming, Taipei Times
"As senior party members, including Vice President Wu Deng-yih (吳敦義) and Legislative Speaker Wang Jin-pyng (王金平), have shown, they fully support Hung," she said.
"The reason Hung is temporarily halting her campaign activities is that she hopes to have time to think over plans for a policy debate, legislative support for her proposed policies and how to integrate local support," she said.
Hung will be back on Wednesday next week at the latest to attend a campaign event presided over by KMT Chairman Eric Chu (朱立倫), she added.
At about 10:30pm on Wednesday, Hung wrote on Facebook that there have been both "warm support and hardships during the election process."
"There are also some major problems concerning the nation's future that urgently need clarification," Hung wrote. "Therefore, I have decided to temporarily stop my dizzying daily round of activities to reflect, so that I can continue to march forward courageously, bear the heavy responsibility and not let the public down."
"I will present a comprehensive report to the public after my period of contemplation," she added.
Hung's words quickly spawned a string of guesses and questions online, with many relating her decision to go into "seclusion" to recent revelations that former National Security Council Secretary-General King Pu-tsung (金溥聰), widely believed to be President Ma Ying-jeou's (馬英九) most trusted confidant, has been appointed a Presidential Office senior adviser to help Ma through the election period.
However, some believe that her planned disappearance starting yesterday — when China celebrated the 70th anniversary of the end of World War II with a massive military parade — was not a coincidence, especially as former vice president Lien Chan (連戰) and other pro-unification figures, many of whom have voiced their support for Hung, were among Beijing's invited guests.
Wang Hong-wei rejected both conjectures, saying it has "absolutely nothing to do with King," citing Hung's comment that she "has not been in [contact] with King for more than six months."
Neither is the Facebook post related to Lien's attendance at the Beijing parade, the spokesperson said, adding that Hung would later post on Facebook her views about Lien's move.
Asked about Hung's physical wellbeing — given rumors that Hung might withdraw because of health problems following reports in July that she had breast cancer and had undergone treatment — Wang Hong-wei said the KMT candidate is in perfect health.
Reporters also asked about the seeming lack of communication between Hung's team and KMT headquarters.
Several media outlets reported that when they asked the Presidential Office and KMT headquarters about Hung's Facebook post, officials said they were shocked and perplexed by the announcement.
Wang Hong-wei said Hung's decision to stop her daily travels "is part of the campaign schedule so [we] did not give headquarters special notice."
"However, at an intraparty meeting on Monday, where KMT Secretary-General Lee Shu-chuan (李四川) was present, they talked about it," she said.
Hsu Chiao-hsin (徐巧芯), another spokesperson for Hung, said that KMT headquarters might not have been told about the decision itself, but Hung had informed them that she would prefer to "go her own way" concerning the election campaign.
Chu and Wang Jin-pyng said they did not know about the Facebook post beforehand.
Comments will be moderated. Keep comments relevant to the article. Remarks containing abusive and obscene language, personal attacks of any kind or promotion will be removed and the user banned. Final decision will be at the discretion of the Taipei Times.