Dead baby discovered in garbage bag
HSINCHU TRAGEDY: Closed-circuit TV footage appeared to show the father entering the mother's residence early in the morning and placing the female infant on a deck chair
A female infant was found dead and wrapped in a black garbage bag by her mother yesterday morning, the Hsinchu City Police Department said.
Police said that the mother found the body on a deck chair beside the front porch of her house.
Police said the dead infant was fathered by a 37-year-old man surnamed Chen (陳), who does not live with the 40 year-old mother, surnamed Lin (林).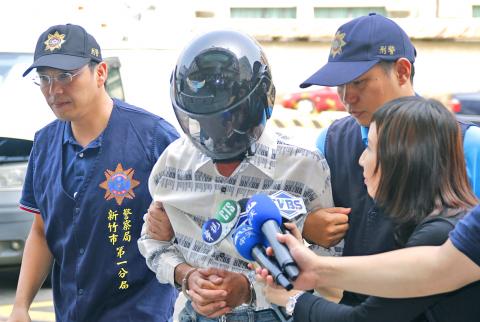 Father and suspected killer of a one-year-old child, surnamed Chen, center, is escorted into custody by two police officers in Hsinchu yesterday.
Photo: CNA
Chen had visited Lin on Sunday last week at her residence on Jhonghe Road and asked to take the infant back to his residence in Siangshan District (香山), saying that he had not seen the child in a long time, police said.
Lin said she had visited Chen and the infant over the following 10 days and found nothing wrong with the child.
Police said that at 7am yesterday, Lin found the dead body of the infant on the deck chair.
Closed-circuit TV footage taken near the residence appeared to show Chen entering Lin's residence early in the morning and placing the infant on the deck chair, police said. It was impossible to determine from the footage whether the infant was alive at the time.
Chen was later seen on closed-circuit TV heading south on the West Coast Expressway after officers failed to find him at his residence, police said, adding that Chen was picked up in Dongshih Township (東石), Chiayi County, at about noon yesterday and would be detained in Hsinchu.
Lin did not often socialize with her neighbors, but they would sometimes hear Lin arguing with her husband, they said.
Separately, a man surnamed Ho (何) that police suspect of being involved in the death of a child in Hsinchu County's Chutung Township (竹東) was detained on the orders of the Hsinchu District Court at 1am yesterday morning, while his 17-year-old wife, surnamed Peng (彭), was ordered to be taken into custody by a juvenile court.
As Ho is suspected of attempting to collude with other suspects in the case, he has been forbidden visits, police said.
Police said Ho, 34, left the family home after a fight with Peng.
Peng then also left the house and entrusted the care of both their children — a two-year-old boy and a one-year-old girl — to her husband's relatives.
The boy was found dead and apparently covered in injuries on Wednesday, police said, adding that he seemed to be well under the ideal weight for a child his age.
The female child was alive, but suffering from kidney failure apparently caused by dehydration.
Autopsy results on the male child showed severe fracturing to the back of his skull and internal hemorrhaging, the Hsinchu District Prosecutors' Office said.
Investigators now consider the wounds to be the primary cause of death and not starvation as was previously thought, the office said.
Prosecutors said that if Ho is convicted he could face life in prison.
Additional reporting by Tsai Meng-shang, Lin Chin, Lee Hsin-fang and CNA
Comments will be moderated. Keep comments relevant to the article. Remarks containing abusive and obscene language, personal attacks of any kind or promotion will be removed and the user banned. Final decision will be at the discretion of the Taipei Times.