Hung's nomination can not be withheld: KMT
DEGREE OF UNCERTAINTY: The KMT was responding to a 'Next Magazine' story that alleges that the party is reconsidering Hung amid questions over her degree
Chinese Nationalist Party (KMT) spokesperson Yang Wei-chung (楊偉中) yesterday said that it is "absolutely impossible" for any change to be made to the party's decision to nominate Deputy Legislative Speaker Hung Hsiu-chu (洪秀柱) as its presidential candidate, after Next Magazine reported that Hung's nomination might be at risk as her master's degree has been called into question.
The latest edition of the magazine, published yesterday, said that because Hung is facing questions over the authenticity of her degree, combined with her and her team's discord with the party leadership, her nomination might be questioned before the party congress on July 19, where the nomination is to be finalized.
The magazine quoted a party source as saying that the degree issue would open the party to charges of deceiving the electorate, and called on the party to reconsider Hung's nomination or the KMT's integrity would be compromised.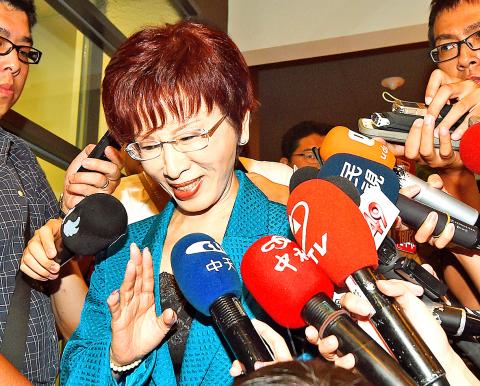 Legislative Speaker Hung Hsiu-chu yesterday attends a book launch in Taipei yesterday. Hung refused to comment on a lawsuit against political commentator Wen Shen, whom Hung has accused of defaming her father.
Photo: Liao Chen-huei, Taipei Times
World Economics Society president Bert Lim (林建山) was a Control Yuan member nominee in September last year, until it was found that the think tank leader's doctorate was a fake.
The party member was quoted by the magazine as saying that Lim withdrew from the nomination immediately after, and because the moral standards required of presidential candidates are higher than for Control Yuan members, Hung should do the right thing lest the party's legislative candidates also suffer as a result.
Another party official was quoted by the magazine as saying that since Hung has a tendency to antagonize people, it was to be expected that she would not have the party's support in controversies such as this, but because the party's Central Standing Committee has approved her candidacy and the party leadership has prepared a place for her, it is unlikely that Hung's nomination would be witheld.
Yang yesterday denied the KMT was "trying to keep a distance from Hung" or intending to "alter the nomination" as the magazine reported, saying that because Hung has provided the relevant documents and a clear explanation, any malicious distortion of the facts should come to an end.
Hung reiterated that her diploma is real, emphasizing that people would see it more clearly "as time goes by."
She said that allegations her nomination would be withheld were groundless.
Hung spokesperson Jack Yu (游梓翔) said her team has commissioned lawyers to take legal actions against commentator Clara Chou (周玉蔻) — who first brought up the degree issue on a political talk show — and Next Magazine's president, editor-in-chief and the three reporters who wrote the report.
Hung's campaign team held a press conference yesterday afternoon, inviting National Taiwan Sport University vice president Chang Szu-min (張思敏), Hung's classmate at Northeast Missouri State University's graduate program, to testify to the authenticity of her master's degree.
Chang said there was no part-time graduate program in Taiwan 25 years ago, and they had spent two summers and one winter in the US for the degree.
"The classes were all taught by foreign teachers, and there were also teaching assistants who helped interpret if we could not understand," he said.
Chang added that he had completed a doctorate program at another university in the US after obtaining the master's degree, which means that the degree was accepted in the US.
Another commentator against whom Hung has pledged to take legal action is Wen Shen (溫紳), who said that Hung's father, who was jailed for two-and-a-half years during the White Terror era, had been a "snitch" who had informed on his fellow prisoners.
Hung choked up when talking with a radio host about the matter on Tuesday night, saying that her father, now deceased, was not able to defend himself.
"Does the election have to be like this?" she asked.
"I can endure the criticism against me, taking it as a kind of practice [for a better bearing], but not calumny against my father and ancestors," Hung said yesterday.
Meanwhile, on the matter of whether Hung is to visit the US, President Ma Ying-jeou (馬英九) said that flying to Washington to exchange views with the US over cross-strait issues is not a must for a presidential aspirant and a decision should be made as to whether it would boost their campaign.
KMT Chairman Eric Chu (朱立倫) on Saturday said Hung might visit the US, but Hung later the same day said it was up to her to decide whether she would make any visit, which local media called "a slap in the face" for Chu.
Ma yesterday said the question of whether a candidate should embark on such a trip is up to them.
"If someone considers it necessary to explain his or her policy [to the US], so be it. If someone does not feel the need, then it is not necessary to go. It is hard to say whether a presidential candidate must go. It also depends on whether time permits," Ma said.
In this case, people see things in different ways, but for a candidate, it would be a primary concern whether such a trip would boost his or her campaign, Ma said.
Citing his experience as an example, Ma said he did not visit Washington when he was campaigning for the 2008 presidential election or for re-election in 2012.
Ma said he visited Washington, where he met with then-US deputy secretary of state Robert Zoellick, in 2006 in the capacity of Taipei mayor, but that was two years before the presidential election and at the time, he had not decided to run for president.
In other developments, Tainan City Councilor Hsieh Lung-chieh (謝龍介) of the KMT took aim at Tainan Mayor William Lai (賴清德) over whether Lai's master's degree from Harvard University is authentic.
"I took classes according to Harvard's regulations, completed all the courses, passed the written exams and finished a thesis to obtain the degree," Lai, a Democratic Progressive Party member, said in response. "Relevant information about the degree can be found on Harvard's Web site."
Additional reporting by Shih Hsiu-chuan and Loa Iok-sin
Comments will be moderated. Keep comments relevant to the article. Remarks containing abusive and obscene language, personal attacks of any kind or promotion will be removed and the user banned. Final decision will be at the discretion of the Taipei Times.