Too soon to scrap death penalty: Ma
SOCIAL CONSENSUS? A three-year-old opinion poll was used to back President Ma Ying-jeou's view that society is not ready to abandon capital punishment
President Ma Ying-jeou (馬英九) yesterday said the government cannot abolish capital punishment because society needs time to reach a consensus on the issue, according to Presidential Office spokesman Charles Chen (陳以信).
Chen's remarks came after some observers interpreted a comment by Ma a day earlier as a sign that his administration might be considering abolishing the death penalty.
Asked about increased calls against ending the death penalty after an attack on an eight-year-old girl in a school bathroom in Taipei's Beitou District (北投) on Friday, Ma said that two views he described as "opposing" have been debated for some time: Some people believe that capital punishment does not deter crime, while others believe that abolishing the death penalty would encourage crime.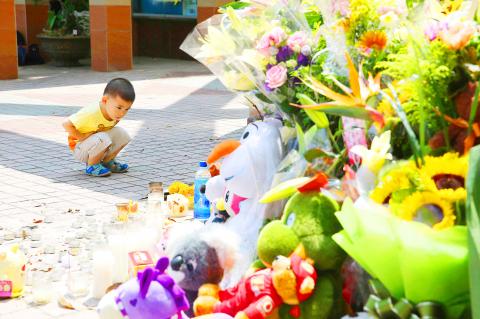 A boy yesterday looks at flowers, toys and candles left at an elementary school in Taipei's Beitou District where an eight-year-old girl was fatally wounded by an assailant on Friday.
Photo: CNA
"I think we better observe this for some more time," Ma said.
Chen yesterday quoted Ma as saying that the government is unable to scrap capital punishment at the moment, but would continue to work toward reducing its application.
When meeting recently with a British parliamentary group in favor of the abolition of the death penalty, Ma said that the majority of Taiwanese are against ending capital punishment, Chen said.
The president also referred to a 2012 Ministry of Justice poll in which 76.7 percent of respondents opposed scrapping the death penalty, while more than 85 percent believe that abolishing the death penalty would affect public security, Chen said.
Meanwhile, the Democratic Progressive Party (DPP) said that further dialogue with those who advocate abolishing capital punishment is needed in the wake of the slaying of the second-grader.
Every child is the darling of their parents and the party was saddened by the tragedy, DPP spokesman Wang Min-sheng (王閔生) said, adding that all children should be able to study in an environment free from fear.
Complex and serious social problems were behind the killing, not just the issue of campus security, Wang said.
On the abolition of the death penalty, there are still deficiencies in the complementary measures of the current law, and also different views in society regarding the issue, he said.
"We need to have further dialogue and communication," he said.
The suspect in the slaying, Kung Chung-an (龔重安), 29, reportedly said he was under great pressure and suffering from auditory hallucinations at the time of the incident.
His elder brother said Kung moved out of the family home five years ago.
He did not know how a previously normal person could turn into a killer, the brother added.
Comments will be moderated. Keep comments relevant to the article. Remarks containing abusive and obscene language, personal attacks of any kind or promotion will be removed and the user banned. Final decision will be at the discretion of the Taipei Times.