Court delivers harsher sentences in Hung case
'DELAYED JUSTICE': Hung's family said the ruling was 'mostly acceptable,' but were shocked that Major General Shen Wei-chih's previous guilty verdict had been reversed
The High Court yesterday reversed a previous ruling that found Major General Shen Wei-chih (沈威志) guilty in the 2013 death of army corporal Hung Chung-chiu (洪仲丘), but delivered harsher sentences to several other military officials involved.
The ruling found 15 out of a total of 18 defendants guilty of abusing their power and sentenced them to between three months and three years in prison.
Among those found guilty, nine of the defendants saw their term behind bars increase, in contrast with an earlier ruling by the Taoyuan District Court in March last year, which sparked a public outcry because it was seen as too lenient.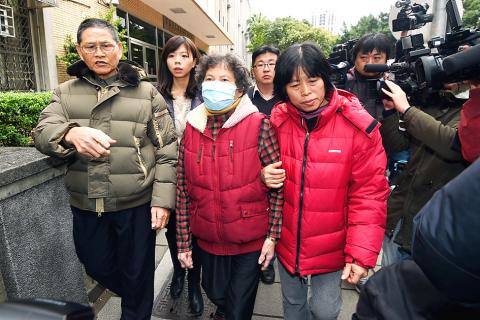 Relatives of deceased army corporal Hung Chung-chiu yesterday exit the Taiwan High Court in Taipei yesterday after it reversed a previous ruling that found Major General Shen Wei-chih culpable for Hung's death.
Photo: Lo Pei-der, Taipei Times
Hung collapsed from heatstroke after being forced to perform a series of strenuous exercises in a confinement facility on July 3, 2013, and died a day later in hospital.
The death of the 24-year-old conscript led to a string of protests demanding better protection of human rights within the military, including a rally in Taipei that drew more than 200,000 people.
Hung's trial continued to receive close media scrutiny after the case was moved from military courts to the civilian judiciary system amid public pressure.
Members of Hung's family — including his sister, Hung Tzu-yung (洪慈庸), his mother, Hu Su-chen (胡素真), and uncle, Hu Shih-ho (胡世和) — yesterday said that the verdict was mostly "acceptable" and expressed their hope for it to serve as a warning against people who abuse their power in public authority.
However, Hung's family members said they were shocked to hear that the ruling on Shen was overturned, adding that they were considering an appeal.
Hu Shih-ho said that Shen should not be exonerated, because the brigade commander ignored Hung Chung-chiu's pleas for help.
"He saw the text message crying for help, but still allowed Chung-chiu to remain locked up in the confinement facility," Hu said.
In the verdict, Shen was said to have made only "administrative mistakes" and was cleared of all charges. He was originally sentenced to six months in prison on charges of abusing his powers to confine Hung Chung-chiu.
Former 542nd brigade deputy commander Colonel Ho Chiang-chung (何江中) and former company commander Major Hsu Shin-cheng (徐信正) received the harshest sentences, three years in prison, followed by Staff Sergeant Fan Tso-hsien (范佐憲), who received a sentence of two years and eight months.
Ho had been sentenced to eight months in the previous ruling, while both Hsu and Fan were previously sentenced to six months in prison.
Former vice company director Captain Liu Yen-chun (劉延俊) and First Sergeant Chen Yi-jen (陳以人) were both sentenced to two years in prison in yesterday's verdict, in contrast with their previous six-month sentences.
First Lieutenant Kao Yu-lung's (郭毓龍) sentence was extended from three months to eight.
Hu Su-chen said the Hung family was willing to forgive the defendants as long as they show remorse.
"Most of them are young people after all," Hu Su-chen said.
Hung Tzu-yung said the increased sentences represented "delayed justice" for her brother's death, adding that the rulings were in accordance with the expectations of the public.
The young corporal's death led to the resignation of then-minister of national defense Kao Hua-chu (高華柱), and a series of reforms to the military's judicial process.
Comments will be moderated. Keep comments relevant to the article. Remarks containing abusive and obscene language, personal attacks of any kind or promotion will be removed and the user banned. Final decision will be at the discretion of the Taipei Times.