Bill lowers threshold for political party subsidies
The legislature passed an amendment to the Civil Servants Election and Recall Act (公職人員選舉罷免法) yesterday that lowered the threshold for the percentage of the vote political parties need to garner to receive government subsidies.
The threshold for government subsidies for parties' campaign funding has been lowered from 5 percent to 3.5 percent of the votes a political party garners for legislators-at-large and overseas legislators, in the next legislative election.
"The subsidy ... shall be granted to the political party at a rate of NT$50 per vote every year" until the next legislative election, the amended act states.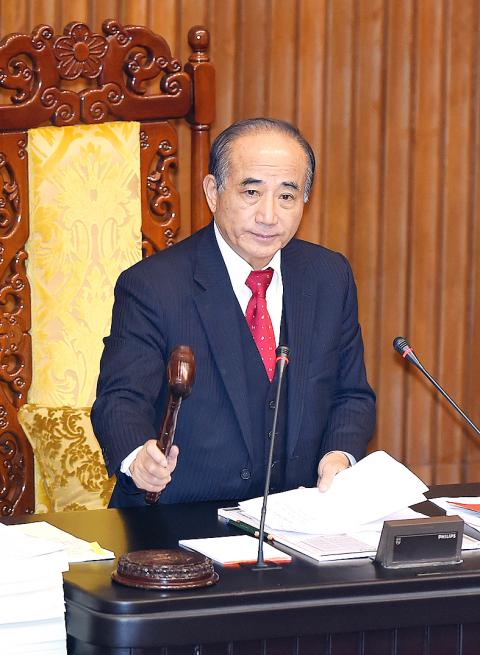 Legislative Speaker Wang Jin-pyng strikes a gavel yesterday following the third reading of the amended Civil Servants Election and Recall Act.
Photo: Liao Chen-hui, Taipei Times
The amendment was proposed by the Taiwan Solidarity Union (TSU), who had earlier called for much lower thresholds of 1 percent or 3 percent, but compromised at 3.5 percent after encountering unyielding resistance from the Chinese Nationalist Party (KMT).
According to the statistical information provided by the Central Election Committee, the KMT, the Democratic Progressive Party (DPP), the TSU and the People First Party are the only four parties — with 44.55 percent, 34.62 percent, 8.96 percent and 5.49 percent of the vote obtained respectively — to have received subsidies following the 2012 legislative election.
With the lowering of the threshold, the Green Party and the New Party, which received 1.74 percent and 1.49 percent of the vote in 2012 respectively, would still not be subsidized if their percentage of the vote remains the same in the next legislative election.
"While the TSU did receive the subsidy, we believe that the lowering of the threshold is crucial for the survival and the participation of smaller political parties, which are mostly public-benefit-oriented," TSU Legislator Lai Chen-chang (賴振昌) said. "It is a major step forward in the move toward more pluralistic politics."
Comments will be moderated. Keep comments relevant to the article. Remarks containing abusive and obscene language, personal attacks of any kind or promotion will be removed and the user banned. Final decision will be at the discretion of the Taipei Times.