KMT elects Eric Chu as chairman
'RESPECTING DIFFERENCES': The new party leader reiterated his plan for cross-strait relations when replying to a congratulatory letter from Chinese President Xi Jinping
New Taipei City Mayor Eric Chu (朱立倫) was elected chairman of the Chinese Nationalist Party (KMT) yesterday with 196,830 votes, or 99.61 percent of all ballots cast, the highest in terms of percentage of votes obtained since the party first chose its leader by popular vote among party members in 2000.
The turnout from 349,374 party members eligible to vote was 56.34 percent, about the same as the six previous leadership polls, KMT headquarters said.
Chu — the only candidate — surpassed the 97.07 percent of votes former vice president Lien Chan (連戰) garnered in 2001 and 94.18 percent that President Ma Ying-jeou (馬英九) received in 2009.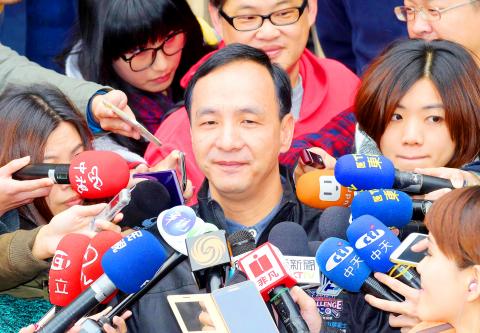 New Taipei City Mayor Eric Chu, center, speaks to journalists after voting in the Chinese Nationalist Party's (KMT) chairmanship election in New Taipei City yesterday.
Photo: AFP
Ma and Lien were also unopposed in their respective elections.
The poll was held due to Ma having resigned from the post following the party's rout in last year's Nov. 29 nine-in-one elections.
Chu is to be sworn in tomorrow and announce his appointments for party officials, including up to seven vice chairmen.
After casting his ballot, Chu, was asked by a reporter whether his lack of leverage in the Executive Yuan and the legislature would put him in a less advantageous position than his predecessors.
Chu said he was fine with a weak chairmanship, but the party would have its heyday under his leadership.
Chu said he would elaborate on his platforms on issues of public concern tomorrow.
Former Taichung mayor Jason Hu (胡志強), who is to become vice president of Want Want China Times Group (旺旺中時) next month, declined to say whether he would continue to serve as vice chairman if Chu appoints him.
Vice President Wu Den-yih (吳敦義), also asked about the vice chairmanship, said: "No."
According to data provided by KMT headquarters, voter turnout in Taipei was 38.91 percent, the lowest among the nation's 22 cities and counties, while the highest voter turnout was in New Taipei City, with 71.61 percent.
KMT party members in Greater Kaohsiung were not as enthusiastic about the vote, with turnout at 48.47 percent — placing the municipality in the list of six cities and counties where turnout was lower than 50 percent. The remaining four were Taitung County at 40.45 percent, Miaoli County with 43.26 percent, Hualien County at 46.29 percent and Penghu County with 48.63 percent.
Late last night, Chinese President Xi Jinping (習近平), in his capacity as secretary-general of the Chinese Communist Party (CCP), sent a letter of congratulations to Chu, in which he expressed his wish for both sides to stick to the so-called "1992 consensus" and to a position against Taiwanese independence, to further the peaceful development of cross-strait relations.
In Chu's reply, he praised the progress made in cross-strait relations over the past six years on the basis of the consensus, and said he hoped that the two parties could broaden exchanges to assist the sustainable development of peace and prosperity on both sides of the Taiwan Strait.
Chu reiterated a formula he proposed when meeting with China's Taiwan Affairs Office Minister Zhang Zhijun (張志軍) during Zhang's visit to Taiwan in June last year, which called for both sides to "seek common ground while respecting differences" (求同尊異), which he said revised the idea that both sides should "seek common ground while setting aside differences" (求同存異).
"Although people on both sides of the strait are Zhonghua minzu [中華民族, "Chinese ethnicity"], we should seek common ground and respect differences to reduce the psychological distance between the two sides," Chu said.
Comments will be moderated. Keep comments relevant to the article. Remarks containing abusive and obscene language, personal attacks of any kind or promotion will be removed and the user banned. Final decision will be at the discretion of the Taipei Times.