Japanese voters re-elect Abe in low poll turnout
Japanese Prime Minister Shinzo Abe won comfortable re-election yesterday in a snap poll he had billed as a referendum on his economic policies after early success faded into a recession.
However, a low turnout from unenthusiastic voters beset by heavy snowfall across much of the nation could cast doubt on the endorsement he will claim for "Abenomics" — his signature plan to resurrect the country's flaccid economy.
Media exit polls shortly after voting finished showed his ruling Liberal Democratic Party of Japan (LDP) and its junior partner, Komeito, had swept the ballot, with an unassailable two-thirds majority in the lower house of parliament that will give them the power to override the upper house.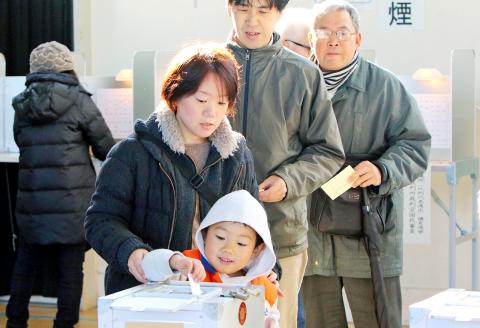 A boy yesterday helps his mother cast a vote in Japan's general election at a polling station in Tokyo.
Photo: AFP
TV Asahi said the pairing had won 333 of the 475 seats, while TBS put the figure at 328.
The online version of the Nikkei Shimbun newspaper said the LDP alone had won between 290 and 310 seats, and was "on course to secure the two thirds [317 seats] in the chamber with coalition partner Komeito."
"This victory will enhance Abe's political capital and allow him to tackle tough issues more comfortably," University of Niigata Prefecture politics professor Yoshinobu Yamamoto said.
Abe, 60, was only halfway through his four-year term when he called the vote last month.
Abe has been criticized for not being bold enough in taking on the vested interests that are the real key to reversing nearly two decades of economic underperformance.
His fresh four-year mandate may stiffen his resolve for economic reforms and see off opposition from within his ill-disciplined LDP, a party given to bouts of regicide.
However, with only 34.98 percent of voters casting ballots by 6pm, there might be questions over whether this really is an endorsement, or just the default reaction of an electorate numbed by a lack of viable alternatives.
The turnout at 6pm was down 6.79 points from the 2012 election.
However, early voting — which was completed by Saturday — was up by almost a tenth from the previous poll, to approximately 13 million ballots, according to the government.
Japanese Chief Cabinet Secretary Yoshihide Suga dismissed quibbles over the low turnout.
"We don't know which party will benefit from a low turnout rate, so we think we received [a mandate from voters]," he told TBS.
"The prime minister feels very strongly about pulling Japan out of deflation and revitalizing the Japanese economy," he said.
Voters polled in the run up to the ballot were uninspired by the choices on offer.
Only two-thirds of respondents told Kyodo News last week that they were interested in the election.
Many Japanese have been left bitterly disappointed by three years under the Democratic Party of Japan from 2009, which saw three emasculated prime ministers and a series of policy flops.
Comments will be moderated. Keep comments relevant to the article. Remarks containing abusive and obscene language, personal attacks of any kind or promotion will be removed and the user banned. Final decision will be at the discretion of the Taipei Times.