KMT targets Ko's 'denial' of 1992 consensus
A victory by independent candidate Ko Wen-je (柯文哲) in the Taipei mayoral election would hamper cross-strait relations and restrict the role that the city plays on the international stage because of his "denial" of the "1992 consensus," Chinese Nationalist Party (KMT) spokesman Charles Chen (陳以信) said yesterday.
Chen made the remarks one day after China's Taiwan Affairs Office (TAO) Minister Zhang Zhijun (張志軍) said that he hoped "everyone" would recognize the "1992 consensus" in response to questions about Ko.
The "1992 consensus," a term that former Mainland Affairs Council chairman Su Chi (蘇起) admitted to making up in 2000, is an alleged agreement reached by Taipei and Beijing that there is "one China, with each side having its own interpretation."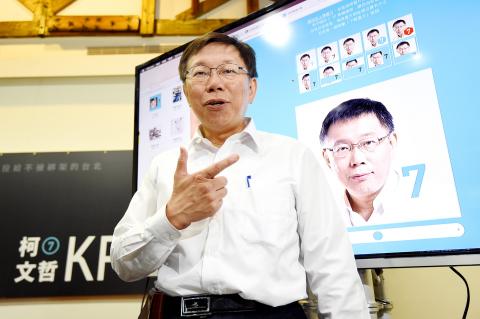 Independent Taipei mayoral candidate Ko Wen-je holds a press conference in the city yesterday, calling on his supporters to change their Facebook photographs to a photograph of his candidate number, seven.
Photo: George Tsorng, Taipei Times
Whether Beijing accepts the idea has always been viewed with suspicion in Taiwan, since it has never recognized the existence of the Republic of China.
Many Taiwanese dispute that such a consensus was reached.
According to a Central News Agency (CNA) report from Beijing on Tuesday, Zhang commented on the elections on Saturday.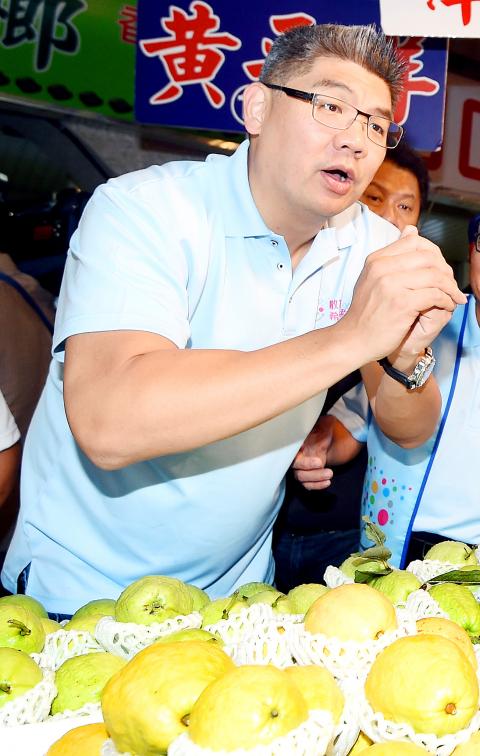 Chinese Nationalist Party (KMT) Taipei mayoral candidate Sean Lien canvasses for votes at Shilin Market in Shilin District yesterday.
Photo: Chu Pei-hsiung, Taipei Times
The TAO has been closely watching election developments and looks forward to the results on Saturday night, Zhang said, according to the CNA report.
Zhang said whatever the outcome may be, he was optimistic about the future of cross-strait relations because both sides aspire for peaceful development.
According to the report, Zhang appeared to refrain from commenting directly about Ko when he was asked about prospects of interaction between Ko and China if he is elected, saying that Shanghai and Taipei have maintained good relations and cooperation, and that the question can only be answered after the elections.
Zhang was then asked whether China hoped Ko would recognize the "1992 consensus," and Zhang replied that the "1992 consensus" is the basis of cross-strait relations and that he hoped that it could be accepted by everyone to ensure cross-strait relations would continue to move forward.
When asked to respond to Zhang's comments on Tuesday, Ko told reporters that his main concern was "what is the content of the '1992 consensus?'"
Ko said he was opposed to putting people in a pigeonhole by asking them whether they like something or not without telling them what it is.
"At least at this moment, the Republic of China is my bottom line," Ko said.
Although there is no need to involve cross-strait issues in the election, Ko said he would always air his views on matters of public interest.
Ko said he was confident about his understanding of China and the Chinese because he has visited the country 18 times.
"China is poised to become the word's largest economy and geographically, it close to Taiwan. Whether Taiwan likes it or not, China is [a country] Taiwan needs to engage with," he said.
Ko said he supports continuous cross-strait exchanges and signing the trade in services and goods agreement, but is also concerned about the lack of transparency in such negotiations and worries that these cross-strait exchanges are only benefiting the privileged few, rather than the general public.
If he is elected, Ko said the city government will continue to hold the Taipei-Shanghai City Forum, an annual event first held in 2010, with the same "frequency and depth" to observe "policy continuity."
When it comes to further engagement, Ko said his policy would be guided by four principles: that both sides would "understand each other better, be charitable to each other, respect each other and cooperate with each other."
Meanwhile, Chen issued a press release saying that the independent candidate's denial of the existence of the "1992 consensus" would have "grave consequences" for Taipei if he were elected mayor.
"Just imagine how a Taipei mayor who refuses to accept the '1992 consensus' can develop cross-strait city exchanges. How can this mayor continue to advance exchanges between Taipei and Shanghai under the Taipei-Shanghai City Forum? How can he elevate the relationship between Taipei and Hong Kong?" Chen said.
As the 2016 World Design Capital, Taipei is to stage a series of design-related events that year and the following year, it is to host the World University Games, Chen said.
"Could Ko's rejection of the '1992 consensus' result in a boycott of these events by mainland China?" Chen said.
The TAO issued a statement later on Tuesday evening saying that China never makes comments about candidates running in Taiwanese elections, while reiterating the importance of the "1992 consensus" as the basis for cross-strait relations.
At a press conference yesterday morning, TAO spokesperson Ma Xiaoguang (馬曉光) said that the core element of the consensus reached by the Straits Exchange Foundation and China's Association for Relations Across the Taiwan Strait following their meeting in Hong Kong in 1992 is that "each side of the [Taiwan] Strait expresses verbally its insistence on the 'one China' principle."
Comments will be moderated. Keep comments relevant to the article. Remarks containing abusive and obscene language, personal attacks of any kind or promotion will be removed and the user banned. Final decision will be at the discretion of the Taipei Times.