FDA orders recall of cooking oil
CLAMPDOWN: The food authority said the latest tainted oil scare implicated 363 firms, while the chairman of three of the alleged source companies has resigned
The Food and Drug Administration (FDA) yesterday ordered Cheng I Food Co (正義股份) to recall 68 of its cooking oil products — suspected of being tainted with oil meant for animal feed — from shelves nationwide, as the latest oil scandal continues to snowball and has involved 363 firms nationwide.
"Thirty-seven of the oil products are believed to have been manufactured with animal feed oil that Cheng I Food purchased from Greater Kaohsiung-based Hsin Hao Corp (鑫好企業) between Feb. 25 and Wednesday, while the remaining 31 items are lard-based products produced by Cheng I Food before Feb. 25," FDA Interim Director-General Chiang Yu-mei (姜郁美) told a press conference outside a legislative meeting yesterday afternoon.
Chiang said the administration's preliminary investigation discovered that the potentially tainted oil products had been sold to 363 firms nationwide, but declined to name any of them.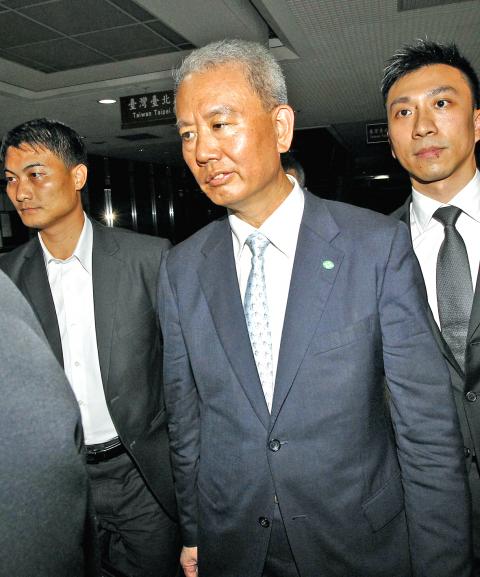 Wei Ying-chun, chairman of Ting Hsin International Group, Cheng I Food and Wei Chuan Foods, leaves the Taipei District Prosecutors' Office on May 9. Wei resigned yesterday from the chairmanship of all three companies.
Photo: Lo Pei-der, Taipei Times
All the implicated companies are required to report to local health authorities on the quantity of suspect oil they have purchased and the foodstuffs they have manufactured with it by 6pm today, or they could face a fine ranging from NT$30,000 to NT$3 million (US$985 to NT$98,587), Chiang said.
"In addition, those who fail to take the problematic items off the shelves in their entirety before midnight on Tuesday will be subject to a much higher fine, from NT$60,000 to NT$50 million," she said.
Chiang reiterated that health authorities would not fine Cheng I Food until they obtain substantial evidence from the Greater Tainan District Prosecutors' Office, which is in charge of the criminal investigation into the oil scare.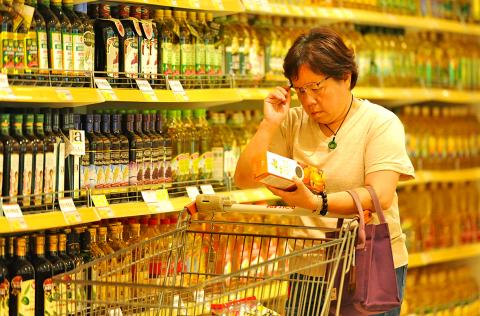 A shopper in a Greater Kaohsiung supermarket scrutinizes a label yesterday.
Photo: Chang Chia-ming, Taipei Times
Nevertheless, a number of household-name brands yesterday voluntarily acknowledged that they had fallen victim to the oil scare, including food conglomerate Wowprime Group (王品集團), food and seasonings manufacturer Ve Wong Corp (味王) and hotel chain Fullon Hotels and Resorts (福容大飯店).
"Wowprime has always held our ingredients suppliers to the highest standards and has been entrusting certified inspection teams to assess our food's quality each year... We are deeply frustrated and saddened to see our company engulfed in this food scare because of its usage of Cheng I's lard oil before Sept. 11," the company said in a statement.
Wowprime stopped using locally manufactured lard on Sept. 11 after a recycled-oil scandal involving cooking oil maker Chang Guann Co (強冠企業) broke earlier that month.
Ve Wong Corp also issued a statement yesterday, saying that it had used Cheng I Food's problematic oil to manufacture the seasonings for its "chilli smoked chicken-flavored noodles" on Oct. 3, offering consumers full refunds on the product.
Fullon Hotels and Resorts, which owns 13 hotels nationwide, apologized to the public for having unknowingly used the allegedly contaminated oil and announced that it would start rendering its own lard.
In related developments, Vice Minister of Health and Welfare Hsu Ming-neng (許銘能) yesterday pledged to inspect all of the nation's 600 oil manufacturers within a month.
He also issued an apology to the companies affected, but added that the ministry has made its best effort to prevent food safety irregularities.
The Ministry of Education also raised the number of schools that have used Cheng I Food's potentially tainted oil to 52, from 37 on Wednesday.
The ministry said it has requested that these schools immediately stop using any of the 68 products that have been ordered off shelves.
Wei Ying-chun (魏應充), chairman of Cheng I Food and Wei Chuan Foods Corp (味全食品), resigned from the companies yesterday amid the scandal.
Wei blamed himself for the group's food scares which started last year, according to a group statement.
"I am willing to be a lifelong volunteer in contributing to the nation's food safety," Wei said in the statement.
However, other than through the statement, Wei has not appeared in public, with the companies' parent group Ting Hsin International Group (頂新國際集團) refusing to hold an official press conference to face the media.
Additional reporting by Amy Su
Comments will be moderated. Keep comments relevant to the article. Remarks containing abusive and obscene language, personal attacks of any kind or promotion will be removed and the user banned. Final decision will be at the discretion of the Taipei Times.