Hong Kong edible oil imports halted
OIL SCANDAL: Imports from China and Macau are to be inspected batch-by-batch after oil Chang Guann bought from Hong Kong was discovered to be meant for animals
Taiwan has halted imports of edible lard oil from Hong Kong indefinitely, and other cooking oil products from Hong Kong, China and Macau will be inspected batch-by-batch at the border starting today, the Food and Drug Administration (FDA) announced yesterday.
FDA Deputy Director-General Chiang Yu-mei (姜郁美) made the announcement one day after Hong Kong's Centre for Food Safety confirmed that the 87.72 tonnes of lard oil listed as for human consumption that were sold to Greater Kaohsiung oil manufacturer Chang Guann Co (強冠企業) by Hong Kong-based Globalway Corp Ltd (金寶運貿易) this year were actually meant for animal use only.
The feed oil was provided by Hong Kong-based oil maker Po Yuen Grease Co (寶源油脂公司), the center said.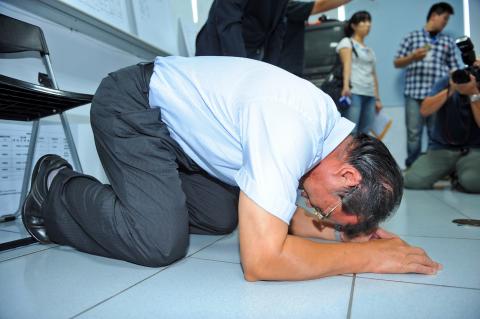 Chang Guann Co chairman Yeh Wen-hsiang kneels down to apologize to the public for the company's involvement in the ongoing waste oil scandal, at a press conference in Greater Kaohsiung yesterday.
Photo: Chang Chung-yi, Taipei Times
"Statistics showed that Chang Guann had imported 56 batches of lard oil weighing 2,385.1 tonnes in total from Hong Kong since 2008, about 300 tonnes of which were purchased from Globalway Corp between 2011 and this year," Chiang said.
Chiang said that because the survey reports for the 300 tonnes of imported lard were all provided by the same notary company, Eagle View Co Ltd, the country would no longer accept survey reports issued by notary firms for food products imported from the three areas.
"From now on, only reports provided by local health authorities will be accepted," Chiang said, adding that Chang Guann was the only Taiwanese firm that had bought lard from Globalway Corp.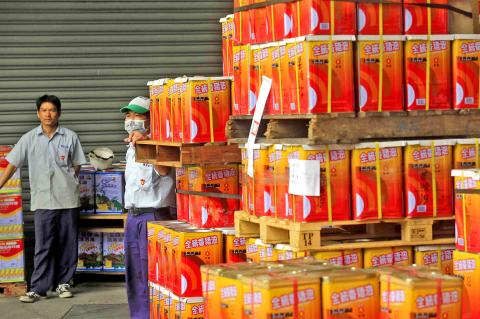 Two men stand next to pallets of recalled oil cans containing fragrant lard oil produced by Chang Guann Co in Taipei yesterday.
Photo: CNA
The FDA yesterday also listed 24 more commercial-use edible lard products manufactured by Chang Guann that were suspected of containing the alleged animal feed oil from Hong Kong.
"The administration and Greater Kaohsiung Government's Department of Health inspected Chang Guann's suspended factory in Greater Kaohsiung yesterday morning and sealed all lard oil believed to be contaminated with the feed oil," the FDA's Northern Center section head Wu Ming-mei (吳明美) said.
Wu said that since Chang Guann had mixed the 87.72 tonnes of lard from Po Yuen with the more than 800 tonnes of lard oil it imported from Japan this year, everything had to be sealed.
Food companies that have purchased the 24 lard products are requested to report to local health authorities within 24 hours, or they could face fines of between NT$30,000 and NT$3 million (US$998 and NT$99,800) under Article 7 of the Act Governing Food Safety and Sanitation (食品安全衛生管理法), Wu said.
Separately yesterday, Chang Guann chairman Yeh Wen-hsiang (葉文祥) denied any prior knowledge of the actual contents of the oil products his company had purchased from Kuo Lieh-cheng (郭烈成), the owner of an unlicensed Pingtung County company, and from Globalway Corp.
Yeh said he did not know Kuo because he was only in charge of the firm's import and international businesses, while procurement of domestic raw materials was the responsibility of the company's deputy general-manager, Tai Chi-chuan (戴啟川).
As for Chang Guann's business dealings with Globalway Corp, Yeh said the product he had ordered was edible lard.
He acknowledged only that he had failed in his obligation to safeguard the quality of his products for the consumers, while attributing the oil scare to the government's failure to strictly regulate food raw materials.
"I plan to seek compensation from Kuo and Globalway Corp. The money, along with my firm's remaining assets of about NT$400 million, will all be used to reimburse companies affected by the incident for their losses," Yeh said.
Yeh made a show of drinking a cup of oil his firm produced before kneeling down on the ground and bowing in front of reporters.
After listening to a report on the oil scandal at the Executive Yuan yesterday, Premier Jiang Yi-huah (江宜樺) reiterated the government's determination to crack down on food safety irregularities that he said has taken a serious toll on Taiwan's food industry and the nation's hard-earned reputation as a "Kingdom of Delicacies."
"We solemnly deplore such unlawful acts and will subject the culprits to the severest penalties," Jiang said.
In related developments, tourism industry insiders yesterday said that the number of Chinese tourists visiting Taiwan during China's Oct. 1-7 National Day holidays could drop by 20 percent due to the recent food scare involving adulterated edible oil.
The Travel Quality Assurance Association said Chinese tourists, especially those planning to travel in lower-budget groups, have shown the greatest concern among tourists of all nationalities, adding that the association has received many calls from Chinese tourists who are mainly worried about quality of their meals.
To prevent sales performances from being affected by the scandal, some pastry stores selling pineapple cakes and other traditional Taiwanese snacks have also listed the ingredients of their products on their Web sites in an effort to rebuild consumer confidence.
Last year, about 20,000 Chinese group tourists visited Taiwan during China's National Day holiday.
In response to industry worries, the Tourism Bureau said it has started to inspect restaurants frequently visited by Chinese tourists.
Additional reporting by CNA
Comments will be moderated. Keep comments relevant to the article. Remarks containing abusive and obscene language, personal attacks of any kind or promotion will be removed and the user banned. Final decision will be at the discretion of the Taipei Times.