Education minister resigns over scandal
PAPER PLAGUE: Chiang Wei-ling said he stepped down to protect his reputation and the ministry's from fallout over a peer review scam allegedly run by a local academic
Minister of Education Chiang Wei-ling (蔣偉寧) resigned yesterday amid an uproar over his alleged connection to an academic who has had dozens of his papers retracted from an international journal due to suspected manipulation of the peer-review process.
"After reflection overnight, in order to safeguard my own reputation ... I have decided to resign as education minister," Chiang told a press conference in Taipei.
Chiang said he will return to his teaching post at National Central University. He was president of the university in Taoyuan County's Jhongli Township (中壢) before joining the Cabinet in February 2012.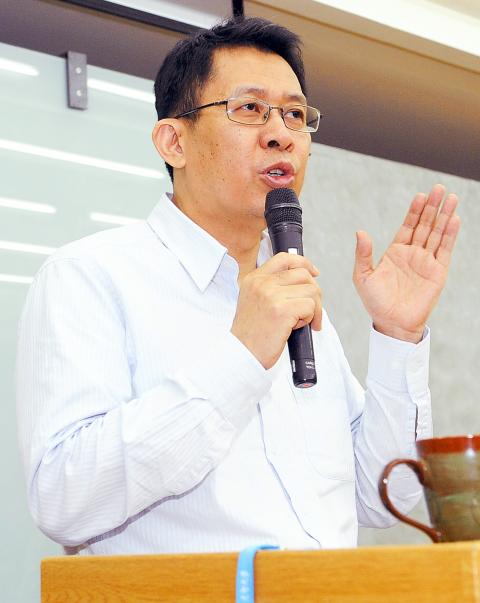 Minister of Education Chiang Wei-ling announces his resignation at a press conference in Taipei yesterday.
Photo: Chen Chih-chu, Taipei Times
Chiang said he decided to resign not only for the sake of his own reputation, but to prevent the scandal from disrupting the Ministry of Education's operations, given the wave of public criticism triggered by last week's announcement by the Journal of Vibration and Control's publisher that it was recalling 60 papers contributed by Chen Chen-yuan (陳震遠), whom it accused of creating false e-mail accounts to give his work favorable peer reviews.
Chiang was listed as a coauthor on five of the papers published in the journal that were retracted earlier this month by US-based SAGE Publications.
The Washington Post on Friday quoted SAGE spokesman Daniel Sherman as saying that: "In some instances, real academic names were used and we believe e-mail addresses were set up for assumed and fabricated identities at genuine institutions."
"We believe some of the coauthors may be innocent parties as they may not have had anything to do with the submission process or may not have known they were co-authors on the papers," he said.
Chen, also known as Peter Chen, resigned as an associate professor at National Pingtung University of Education in February, several months after the launch of a probe into claims of a "peer review ring."
Chiang, who worked at National Central University when the papers were written, said after the scandal erupted that he had no knowledge of Chen's actions. However, there were immediate calls from the media, officials and Chiang's former colleagues for him to resign.
His resignation has been accepted by Premier Jiang Yi-huah (江宜樺), Executive Yuan spokesman Sun Lih-Chyun (孫立群) said.
Vice Minister of Education Chen Der-hwa (陳德華) will take over as acting education minister until a formal replacement is named, Sun said.
Presidential Office spokesman Ma Wei-kuo (馬瑋國) said President Ma Ying-jeou (馬英九) respected Chiang's decision and appreciated his efforts to reform the pre-school and vocational education systems and promote the government's 12-year education program.
Meanwhile, Democratic Progressive Party spokesperson Huang Di-ying (黃帝穎) said further investigation of the scandal is needed, adding that Ma and the premier owe the public an apology for appointing Chiang to the position.
"In addition to probing the academic papers, we think that judicial and administrative investigations should also be opened because fraud is a criminal act and Chiang has changed his story repeatedly over the past four days, which implies that he lied," Huang said.
Huang said if a dissertation in which Chiang was listed as a coauthor were funded by the government, Chiang could be guilty of fraud and forgery of documents, charges that carry a possible prison term of up to five years each.
Taiwan Solidarity Union Chairman Huang Kun-huei (黃昆輝) also condemned Chiang and said that the implementation of his key policy during his tenure as minister — the 12-year national education program — should be suspended so that it can be overhauled.
The Pingtung District Prosecutors' Office said it has launched an investigation into the allegations against Chen, adding that he could face forgery charges if the allegations are true.
Additional reporting by Chris Wang, Diane Baker and AFP
Comments will be moderated. Keep comments relevant to the article. Remarks containing abusive and obscene language, personal attacks of any kind or promotion will be removed and the user banned. Final decision will be at the discretion of the Taipei Times.