Chen Wei-ting tries to join HK rallies, denied entry
Sunflower movement leader Chen Wei-ting (陳為廷) was denied entry to Hong Kong yesterday after he tried to go to the former British colony to participate in the pro-democracy movement there.
After returning to Taiwan Taoyuan International Airport, Chen recounted his experience, saying that immigration officers had taken him aside while he was passing through customs at Hong Kong International Airport and led him to a small room.
Chen said the officials told him that his "Taiwan compatriot's travel document" (台胞證) — a permit issued by Chinese authorities allowing Taiwanese to travel to China that can also be used to enter Hong Kong — had been nullified.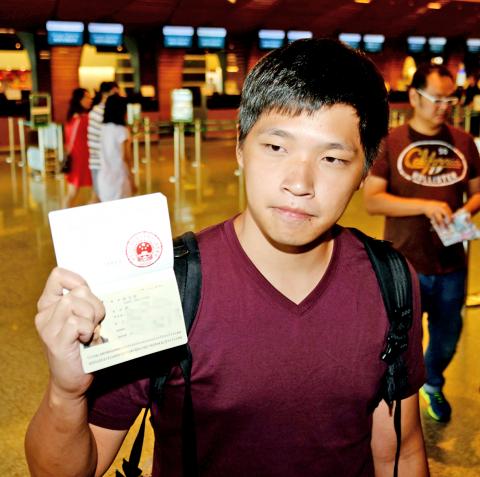 Student activist Chen Wei-ting at Taiwan Taoyuan International Airport yesterday holds up a travel document allowing Taiwanese to enter Hong Kong, intending to participate in a rally in Hong Kong. He was denied entry on arrival and returned to Taiwan yesterday evening.
Photo: CNA
However, Chen said the document was not due to expire until 2018.
The Sunflower leader said the officials searched him, which added to his feeling that he was being treated like a terrorist.
He was then escorted by the officers onto a flight bound for Taiwan that departed at 5:45pm and arrived at Taoyuan International Airport at about 7:30pm.
Prior to departing from the Taoyuan airport at 2pm yesterday, Chen said he was going to Hong Kong to join in activists' fight for democracy.
"I hope that Beijing and the Hong Kong government will not try to block the interaction and exchanges between civic groups in Taiwan and in Hong Kong," he said. "If Hong Kong decides to deport me, I will have no choice but to come back, but I'd like to see how the Mainland Affairs Council will react, since it once said that it would try to give me a hand in such matters."
Chen was referring to Hong Kong authorities' denial of visa applications filed by himself and his fellow Taiwan March cofounders Lin Fei-fan (林飛帆) and Huang Kuo-chang (黃國昌) last week.
The trio had intended to join pro-democracy demonstrations taking place in the territory.
Despite their failure to get visas, Chen decided to travel to Hong Kong anyway using his "Taiwan compatriot's travel document."
Lin and Huang could not accompany him, as they do not have the travel permit.
Chinese dissident Wang Dan (王丹), who is living in exile in Taiwan, expressed support for Chen's efforts on Facebook, writing: "Although he was denied a visa, Chen still decided to go to Hong Kong [yesterday]. He may not be allowed into Hong Kong, but our friends in Hong Kong should get a clear message: Those who participated in Taiwan's Sunflower movement will be standing firmly together with the force for democracy in Hong Kong."
"The demonstration on July 1 [tomorrow] is coming — Hong Kongers, you are not alone," Wang posted.
Additional reporting by Yao Chi-hsiu
Comments will be moderated. Keep comments relevant to the article. Remarks containing abusive and obscene language, personal attacks of any kind or promotion will be removed and the user banned. Final decision will be at the discretion of the Taipei Times.