Packed day for Zhang, but media kept at arm's length
The media were shut out of yesterday's meeting between China's Taiwan Affairs Office (TAO) Minister Zhang Zhijun (張志軍) and New Taipei City Mayor Eric Chu (朱立倫), which had been scheduled to be held before cameras.
Instead, Zhang and Chu met for 40 minutes behind closed doors.
A city official, who was not authorized to speak for the city government, told the Taipei Times that the TAO demanded that the Zhang-Chu talk be held away from cameras to prevent a possible reccurrence of what it called the "[Greater Tainan Mayor] William Lai (賴清德) incident in Shanghai," referring to Lai's statement during a visit to Shanghai that the future of Taiwan is a matter to be determined by its 23 million people.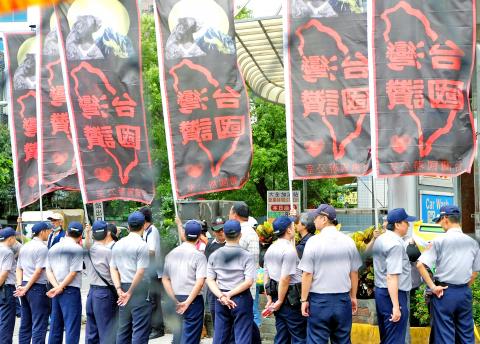 Activists yesterday display Taiwan independence flags outside a venue in New Taipei City as China's Taiwan Affairs Office Minister Zhang Zhijun attends a meeting.
Photo: Sam Yet, AFP
Zhang made a few short remarks after the meeting without taking questions from reporters, as he has done since arriving on Wednesday.
He praised the facilities in Tucheng (土城) and Sijhih (汐止) districts that provide care services for elderly people and children that he visited earlier in the day.
Both sides of the Taiwan Strait should promote exchanges in the fields of care services for the elderly and children, Zhang said, adding that the focus of future cross-strait economic cooperation should be extended to small and medium-sized (SMEs) enterprises without overlooking the needs of big businesses.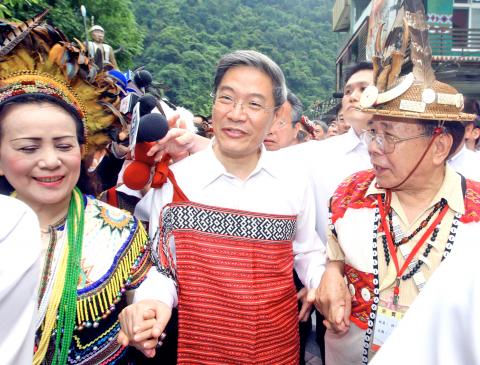 China's Taiwan Affairs Office Minister Zhang Zhijun, center, wears a piece of traditional Aboriginal clothing yesterday during a visit to Wulai in New Taipei City.
Photo: CNA
Zhang later visiting the Vigor Kobo bakery, where he sat down with several SME leaders, along with Mainland Affairs Council Deputy Minister Chang Hsien-yao (張顯耀) and Economic Development Director Yeh Hui-ching (葉惠青).
"I am here to listen to what SMEs [businesspeople] have to say, your ideas and suggestions, hoping that this would be helpful to promote cross-strait economic and trade exchanges and to benefit SME," Zhang told the business leaders.
Zhang said the potential for SMEs on both sides of the strait was "unlimited," as long as both sides take the right path of cooperation.
The discussions focused on difficulties that SME entrepreneurs said they have encountered when investing in China.
Zhang then headed to Wulai (烏來), where he met Aboriginal representatives and promised some elderly Atayals that China would do more to promote Aboriginal villages in Taiwan as tourism destinations for Chinese tourists.
Zhang's engagements with elderly people, children, SMEs leaders and some Atayals were open to a small number of "lucky" journalists.
On several occasions, reporters squabbled with council officials and police officers they said were impeding them from doing their job.
At the nursing center in Tucheng, the council and the city government initially insisted that only six of the 26 reporters who arrived on a bus provided by the council for the media covering Zhang's visit would be allowed inside the center when Zhang and the mayor chatted with residents over lunch.
The officials only backed off after the repeated arguments with reporters.
Zhang also held a closed-door discussion last night with about 11 academics, mostly well-known unification activists, including New Revolutionary Alliance (新同盟會) president Hsu Li-nong (許歷農), a retired general, and Shih Hsin University professor Wang Hsiao-po (王曉波).
Comments will be moderated. Keep comments relevant to the article. Remarks containing abusive and obscene language, personal attacks of any kind or promotion will be removed and the user banned. Final decision will be at the discretion of the Taipei Times.