Protesters lament low price for land
Paiwan residents from Taitung County's Daren Township (達仁) yesterday demonstrated outside the Executive Yuan in Taipei, protesting the government's attempt to buy Aboriginal land at prices as low as NT$68 per square meter.
"Land represents life in our culture, and it is not considered an honorable thing for us to sell land that has been passed down from generation to generation," former Daren mayor Chang Chin-sheng (張金生) said during the protest. "We understand the government wants our land for a road project. However unwillingly, we know we should sell the land to the government — but can you at least offer us a reasonable price?"
Chang was referring to a project by the Directorate-General of Highways to widen and improve Provincial Highway No. 9, which passes through the township.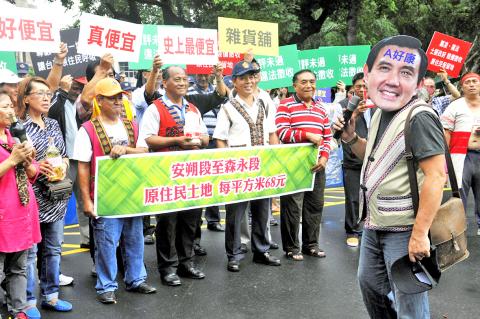 Paiwan residents of Taitung County's Daren Township demonstrate yesterday outside the Executive Yuan in Taipei.
Photo: George Tsorng, Taipei Times
"The government has taken away much of our land, and the Forestry Bureau's logging in the mountains has caused mudslides," Chang said. "We no longer have much of our traditional land left, how can you try to buy more at such a low price?"
Chang added that Taiwan Power Co (台電) paid NT$3,000 per square meter to build power supply facilities in the township.
Another protester, Hou Chin-chu (侯金助), said that it is especially unacceptable that the agency "threatened" landowners with forcible expropriation if they refuse to sell their land at the price offered by July 9.
Chen Ying (陳瑩), director of the Democratic Progressive Party's Department of Aboriginal Affairs, accused the government of failing to follow proper legal procedure in negotiating with the locals.
"According to the Aboriginal Basic Act (原住民族基本法), the government needs to negotiate with the entire community when it wants to do something in a traditional Aboriginal domain," said Chen, a Puyuma and a native of Taitung County. "However, no such negotiation took place before the agency made its decision."
Representatives from the protesters later met with Cabinet Deputy Secretary-General Hsiao Chia-chi (蕭家淇), who agreed to make concessions.
"I will ask the Taitung County Government, which has the power to decide the purchase price, to reconsider its price proposal," Hsiao said. "I will also ask the Ministry of Transportation and Communications to avoid causing any damage in the environment during the construction and to postpone the deadline, as well as call a meeting to explain the details of the project to landowners before the new deadline."
Comments will be moderated. Keep comments relevant to the article. Remarks containing abusive and obscene language, personal attacks of any kind or promotion will be removed and the user banned. Final decision will be at the discretion of the Taipei Times.