Critics link division judge's axing to Wang decision
'WARNING': Members of the opposition said Chang's removal was to make an example of her and to warn judges to be involved in Wang Jin-pyng's second trial
Chang Yu-feng (張瑜鳳), the division chief judge who oversaw a case involving Legislative Speaker Wang Jin-pyng (王金平) at the Taipei District Court, was removed from the panel of chief judges, sparking speculation yesterday that she was being punished for ruling against the Chinese Nationalist Party (KMT).
In a Judicial Yuan review of all chief judges on Wednesday, Chang was removed by a seven to four vote due to what the committee said was a "poor performance." She was the only one who failed to pass the review, which involved 34 judges.
"The composition of the review committee is just and objective, and the review process is fair and transparent," the Judicial Yuan said.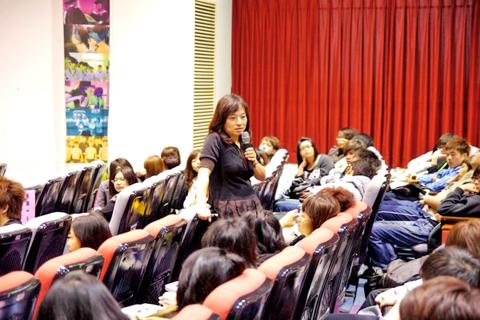 Judge Chang Yu-feng, the division chief judge who oversaw a case involving Legislative Speaker Wang Jin-pyng, speaks in Changhua County in an undated photo. Critics said Chang's recent axing was politically motivated.
Photo: Chien Li-chung, Taipei Times
The Democratic Progressive Party (DPP) yesterday said Chang's removal was to make an example of her and shows the KMT's intention to interfere with Wang's second trial.
Chang was the chief judge in a trial that ruled on Sept. 13 last year in favor of Wang's provisional injunction seeking to retain his KMT membership and position as head of the legislature.
"It seems that [Chang's removal] is overtime for the 'September strife' between (President) Ma Ying-jeou (馬英九) and Wang, and apparently a political crackdown," DPP spokesperson Huang Di-ying (黃帝穎) told a press conference yesterday.
The "September strife" was a political crisis last year, in which Ma and the KMT accused Wang of being involved in illegal lobbying of the judiciary and tried to revoke his KMT membership, invalidate his status as a KMT legislator-at-large and as legislative speaker.
The timing and motive of Chang's removal is suspicious and intriguing, DPP caucus Director-General Tsai Chi-chang (蔡其昌) said.
"We wonder why all chief judges subject to committee review were able to pass without seeing a vote, while Chang was the only one whose performance was decided by a ballot," Tsai said.
Tsai said the removal took place two days before the second trial in the Wang case at the Taiwan High Court and "appeared to be an attempt warn to judges who handle the case in the future."
The Judicial Yuan is responsible for offering an explanation about the decision to remove Chang and tell the public that it did not interfere in the process, DPP Legislator Chen Chi-mai (陳其邁) said. "If the Judicial Yuan fails to do so, the incident will very likely further damage the judicial system, which has been hampered by its bad reputation as various public opinion polls have shown that most Taiwanese do not trust the system."
KMT Legislator Lo Shu-lei (羅淑蕾) said clarification is needed.
"The Ministry of Justice or the Judicial Yuan has to clarify the reason [for Chang's removal]," Lo said. "What wrong did [Chang] do? Is her axing because she upheld justice and ruled in favor of Wang? This is just going too far. Has the nation's judicial institution become a place for political duels?"
KMT Legislator Tsai Chin-lung (蔡錦隆) said that "there is room for imagination."
"Won't [the review result] make people think that there is some sort of political scheme at work? It is certainly weird that there was only one in 34 [presiding judges who were reviewed and got axed]," Tsai Chin-lung said.
KMT-commissioned attorney Lo Min-ton (羅明通) said the situation is not within a commissioned lawyer's purview, so they have nothing to say about Chang's removal.
"It is inappropriate for me to comment on this matter," Wang said in response to media queries.
Additional reporting by Alison Hsiao
Comments will be moderated. Keep comments relevant to the article. Remarks containing abusive and obscene language, personal attacks of any kind or promotion will be removed and the user banned. Final decision will be at the discretion of the Taipei Times.