Schriver urges US to stay out of 2016 Taiwan polls
SWISS STANCE: The ex-US deputy assistant secretary of state for Asia warned against a repeat of Washington's perceived picking of sides in Taiwan's 2012 presidential election
A former top US government official has warned US President Barack Obama's administration about interfering with or putting its "thumb on the scale" during Taiwan's next presidential election.
"It would behoove us to be truly neutral in words and deeds and actions in Taiwan's electoral process," former US deputy assistant secretary of state for Asia Randall Schriver said.
Schriver was alluding to an incident during the 2012 election in which a "senior US official" reportedly called the Financial Times and said Washington had "distinct doubts" that Democratic Progressive Party (DPP) candidate Tsai Ing-wen (蔡英文) was "willing and able" to maintain stability in cross-strait relations.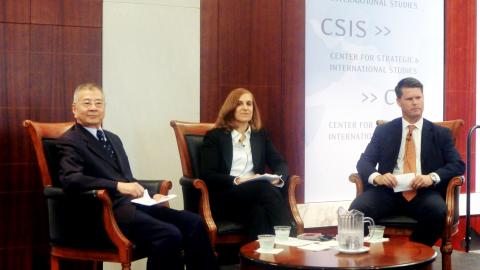 Former US deputy assistant secretary of state for Asia and Project 2049 Institute president Randall Schriver, right, attends a conference about the Taiwan Relations Act at the Center for Strategic and International Studies in Washington on Monday.
Photo: CNA
Many condemned the call as a blatant effort to undermine Tsai's candidacy and said it cost her some support among voters.
Schriver, who now heads the Project 2049 Institute, said that during the next presidential election in Taiwan in 2016, "it is important that the [US] administration not repeat their mistake of the last election when it looked as though they were putting their thumb on the scale in favor of one party."
He made the remarks at a conference on Taiwan co-organized by the Center for Strategic and International Studies and the Brookings Institution. The event was opened by Taipei Economic and Cultural Representative Office Representative Shen Lyu-shun (沈呂巡) and featured former minister of defense Andrew Yang (楊念祖) as a speaker.
At the conference, Schriver said staying neutral was "an important challenge for this [US] administration given the experiences in 2012."
He said the upcoming election would be competitive and "we might very well be in a position where we have to deal with a Democratic Progressive Party government."
Schriver also said it was possible that President Ma Ying-jeou (馬英九) would meet with Chinese President Xi Jinping (習近平) before the end of Ma's second, final term in office.
"I don't think it is entirely out of the question," Schriver said.
However, he added that "it would be a failure of US policy" if Ma meets with Xi before talking with Obama.
Under the complex diplomatic rules that dictate the US-Taiwan relationship, Ma is not allowed to visit Washington and never speaks directly with top US officials.
Nevertheless, Schriver said a Ma-Xi summit was not "outlandish," and that Ma and Obama could talk by telephone before the summit.
He said that given what was happening on the other side of the Strait, there was still a need for the US to give security assurances and facilitate arms sales to Taiwan.
A new arms sale would make a "political statement and [send a] signal," Schriver said.
He said that Washington had handled Taipei's failed bid to buy F-16C/D jets from it "poorly," adding that the Obama administration had been disingenuous in many aspects of the attempted procurement.
Schriver said some in Washington did not think Taiwan needed the jets as they are too vulnerable to Chinese missiles, "but we don't apply that standard to anybody else."
"I don't see how we can sell F-35s to Japan and yet we won't consider selling F-16C/Ds to Taiwan because they would be vulnerable to PRC [People's Republic of China] cruise missiles. Taiwan had done much more in terms of hardening and shelters and we are talking about a vulnerability that would only come into play in the most catastrophic situation," he said. "This is a multi-mission platform that could be used in a variety of ways short of combat."
Schriver said the US should also help Taiwan build indigenous submarines, urging Washington to be "out in front" on this matter and play a "very positive part" in the nation's submarine program, since "these are badly needed systems."
Schriver said the US' Taiwan policy seems to be based on assumptions that are "fundamentally flawed," in particular Washington's apparent belief that it knows how to solve the Taiwan-China dilemma.
"I don't think we know," he said. "If you look at the polls, the [number of] people who say: 'Status quo now, independence later' continues to grow. [While the number of] people who say 'status quo now, unification later' continues to sink."
"The notion that this is on a glide path and we can all have confidence in a soft landing, I don't agree with that," Schriver added.
Comments will be moderated. Keep comments relevant to the article. Remarks containing abusive and obscene language, personal attacks of any kind or promotion will be removed and the user banned. Final decision will be at the discretion of the Taipei Times.