Almost 70% back scrapping power plant: poll
More than 60 percent of respondents said they would vote in a proposed national referendum on the Fourth Nuclear Power Plant in New Taipei City's (新北市) Gongliao District (貢寮) and almost 70 percent of those polled supported the suspension of construction and operations at the controversial power plant, a survey released yesterday showed.
The survey, conducted by Taiwan Thinktank from Feb. 2 until Monday, found that a majority of the respondents favored the anti-nuclear cause and stood on the opposite side to the government, which supports completing construction of the power plant.
When asked if they would vote in the referendum, 63.4 percent said they would vote and 18.7 percent said if they would if they could. If the referendum failed, 74.1 percent of those polled said the government should still suspend construction of the plant.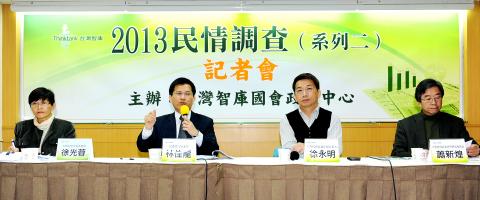 Democratic Progressive Party Legislator Lin Chia-lung, second left, speaks at a press conference in Taipei yesterday organized by Taiwan Thinktank to announce the results of an opinion poll.
Photo: Chang Chia-ming, Taipei Times
Almost 70 percent of respondents said they would vote "yes" in the Chinese Nationalist Party (KMT)-proposed referendum, which would ask voters if construction and operations of the power plant should be suspended, with 16.6 percent saying they would vote "no" and 13.9 percent undecided.
Respondents were also suspicious of the government and state-owned Taiwan Power Co (Taipower, 台電), with 84.3 percent saying the government had not provided the public with sufficient information on nuclear energy and 66.5 percent saying that Taipower and the Atomic Energy Council were no longer credible sources of information.
The poll also found that more than 80 percent were concerned that a nuclear disaster could happen in Taiwan and 72.7 percent of those polled said they supported the nationwide anti-nuclear demonstration held on Saturday that attracted an estimated 200,000 participants.
People's concerns about nuclear safety were so strong that 71.6 percent said they would still oppose completing the construction of the plant even if electricity prices would have to increase by 10 percent as the government has claimed.
Asked about the Referendum Act (公民投票法), 63.2 percent said the current threshold is unreasonably high and 63 percent said they would apply for absentee voting if the mechanism is adopted in the referendum.
Meanwhile, respondents also said they were unfamiliar with and lacked confidence in Premier Jiang Yi-huah (江宜樺), who was inaugurated last month, with 40.3 percent saying that Jiang would not be able to turn the economy around and 51.6 percent saying that they were not confident about the Premier's pension reform plans.
Jiang's approval rating was 23.7 percent, with a disapproval rating of 38.3 percent, while 38 percent said they had no opinion.
When asked about who they would support as the KMT's presidential candidate in 2016, 36.2 percent favored New Taipei City Mayor Eric Chu (朱立倫) and 29 percent said they had no opinion.
Legislative Speaker Wang Jin-pyng (王金平) ranked second with 13.6 percent support, while Taichung Mayor Jason Hu (胡志強) was third with 8.7 percent.
Jiang garnered just 1.7 percent, behind Taipei Mayor Hau Lung-bin's (郝龍斌) 6.2 percent and Vice President Wu Den-yih's (吳敦義) 4.6 percent.
The survey collected 1,074 valid samples with a margin of error of 3 percentage points.
Comments will be moderated. Keep comments relevant to the article. Remarks containing abusive and obscene language, personal attacks of any kind or promotion will be removed and the user banned. Final decision will be at the discretion of the Taipei Times.