Vatican prepares for papal election
The Vatican yesterday installed a special chimney on the Sistine Chapel from which white smoke will signal the election of a new pope as cardinals prepare for the historic vote next week after Pope Benedict XVI's resignation.
The conclave of 115 "cardinal electors" is to begin on Tuesday under Michelangelo's famous frescoes to choose the 266th pope, following the abrupt end to Benedict's eight-year papacy, which was often overshadowed by scandals.
Archbishop of Paris Andre Vingt-Trois said in an interview that there were about "half a dozen possible candidates."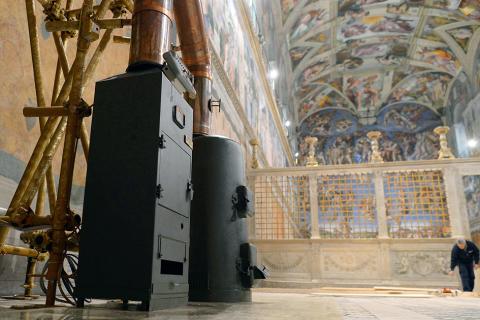 The stoves that are to be used to burn the ballots during the next conclave, left, are placed inside the Sistine Chapel at the Vatican City in Rome, Italy, on Friday.
Photo: EPA
Archbishop of Milan Angelo Scola is seen as one favorite, along with Canada's Marc Ouellet and Brazil's Odilo Scherer.
"The problem with this conclave is that there is no early frontrunner like Joseph Ratzinger in 2005," said John Allen, a Vatican expert at the National Catholic Reporter, a US weekly.
Archbishop of Manila Luis Antonio Tagle, a youthful and popular cardinal, has also been mentioned as a possible.
"If there was a direct election among the 1.2 billion Catholics in the world, he would win by a landslide, but that is not how the church works," Allen said.
The decision on the date of the conclave was taken on Friday at one of a series of closed-door meetings held by cardinals over the past week to discuss the many challenges facing the next pope.
Meanwhile, Vatican workers have put the final touches on preparations for the Sistine Chapel, blacking out windows to prevent any spying on the conclave and installing scrambling devices to prevent any communication with the outside world.
Under the rules of a centuries-old tradition, cardinals have to swear a solemn oath not to reveal any details of their deliberations on pain of excommunication and the Sistine Chapel will be swept for recording devices.
No one except the "cardinal electors" — cardinals below the threshold age of 80 — can be present during the two daily rounds of voting, which will start with a first vote late on Tuesday.
A two-thirds majority is required.
One of the most visited sites in the world, with up to 20,000 tourists a day, the Sistine Chapel features one of art history's most famous scenes, depicting God stretching out his arm to touch Adam's hand and give him life.
The chapel is now off limits to visitors.
Comments will be moderated. Keep comments relevant to the article. Remarks containing abusive and obscene language, personal attacks of any kind or promotion will be removed and the user banned. Final decision will be at the discretion of the Taipei Times.