Chinese protest over news censorship
FREEDOM OF SPEECH: Taiwanese are closely watching the rare development in Guangzhou, amid fears of increasing Chinese influence over Taiwanese media
Protesters yesterday gathered at the Guangzhou headquarters of a Chinese newspaper at the center of a censorship row, in a rare demonstration of public support for media freedom in the country, with both the Taiwanese government and the leaders of a student movement against Chinese influence in local media closely watching the developments.
Hundreds of people, including students and white-collar workers, gathered outside the Southern Weekly's office, holding signs and shouting slogans calling for freedom of speech, political reform, constitutional governance and democracy.
The demonstration came after censors on Thursday last week blocked a New Year article in the popular liberal newspaper calling for the realization of a "dream of constitutionalism in China" to protect people's rights.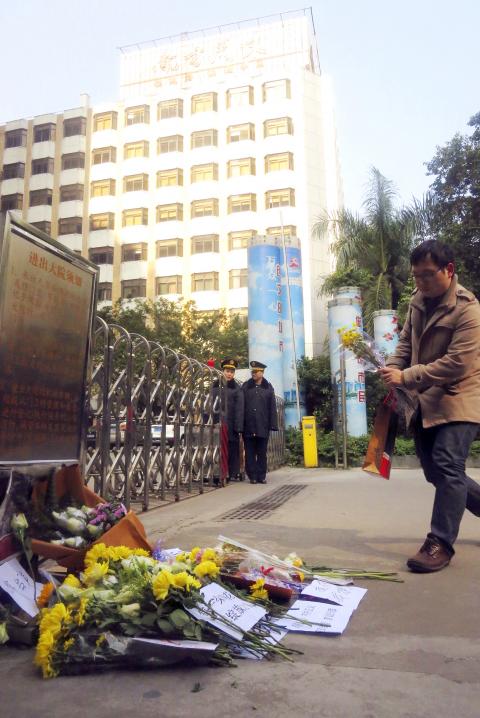 A man lays a bouquet of chrysanthemums in front of the headquarters of Southern Weekly newspaper in Guangzhou, Guangdong Province, China, yesterday.
Photo: Reuters
"I feel that the ordinary people must awaken," one of the protesters, Yuan Fengchu, said by telephone. "The people are starting to realize that their rights have been taken away by the Communist Party and they are feeling that they are constantly oppressed."
Another protester, Guangzhou writer and activist Wu Wei (吳偉), who goes by the pen name Ye Du (野渡), said the protest marked a rare instance in which Chinese were making overt calls for political freedom since large-scale pro-democracy demonstrations were crushed in a military crackdown in Beijing's Tiananmen Square in 1989.
"In other cities, we've seen people march, but most of the time they are protesting environmental pollution or people's livelihood issues," Wu said. "Here, they are asking for political rights, the right to protest. The Southern Weekly incident has provided an opportunity for citizens to voice their desires."
Demonstrators gather outside the headquarters of Southern Weekly newspaper in Guangzhou, Guangdong province yesterday.
Photo: Reuters
Last week's act of censorship caused journalists and their supporters, including students at nearby Sun Yat-sen University, to write open letters expressing their outrage.
"Our yielding and our silence have not brought a return of our freedom," Hong Kong University's China Media Project quoted the students as saying in their petition on Sunday. "Quite the opposite, it has brought the untempered intrusion and infiltration of rights by [government] power."
The protests had turned into a real-time melee in the blogosphere on Sunday. The newspaper's economics and environmental news staff appeared to say they were on strike, while editors loyal to the government shut down or took control of the paper's official microblogs. One widely distributed staff declaration with 90 signatures said the publication's microblogs were no longer authentic.
Searches for "Southern Weekly" on one popular microblogging site were blocked yesterday.
The crackdown on freedom of expression comes despite pledges of change from the new Chinese Communist Party (CCP) leadership, headed by Chinese Vice President Xi Jinping (習近平), which has promised a more open style of governance since the party congress in November.
A Chinese-language editorial in the state-run Global Times, which has links to the CCP, said China was determined to maintain the status quo when it came to the media.
"No matter whether these people [angered by the censorship] are happy or not, common sense says it is impossible to have the kind of 'free media' they dream of under China's social and political systems today," it said. "The media will by no means become a 'political special area' in China."
The media would "undoubtedly be a loser" if it sought to fight the government, it said.
The commentary did not run in the paper's English-language edition.
The editiorial followed an open letter from Southern Weekly staff which — in an unusually vocal response to authorities' censorship — called for the resignation of Guangdong provincial propaganda official Tuo Zhen (庹震), who was said to have removed the weekly's article and replaced it with a different version.
Eighteen Chinese academics, including legal professors, economists, historians and writers, have also signed an open letter calling for Tuo's dismissal. Peking University law professor He Weifang (賀衛方), who was among the signers, said the newspaper needed to be defended from censorship.
"The Southern Weekly is known as a newspaper that exposes the truth, but after Tuo Zhen arrived in Guangdong, he constantly put pressure on the paper. We need to let him know that he can't do this," He said. "This incident is a test to see if the new leadership is determined to push trhough political reforms."
Yesterday's protests also took on a Taiwanese element, with calls for the singing of a song that decades ago served as a clarion call for the democratic movement in Taiwan.
According to posts on microblogging site Sina Weibo, organizers have invited supporters to gather at Guangzhou Parkway at noon tomorrow to show their support by singing the song Beautiful Island (美麗島), one of the key inspirational songs used by the pro-democracy movement in Taiwan during authoritarian rule.
The Chinese authorities prohibited the song in 1980.
Taiwanese youths were also paying attention to what was happening in Guangzhou.
Lin Fei-fan (林飛帆), one of the student leaders in the recent wave of Taiwanese protests against the monopolization of and growing Chinese influence in local media, told the Taipei Times that the movement was closely watching developments surrounding the Southern Weekly incident.
Lin said that although there was no direct link between the student those who signed the petition at the Chinese universities on Sunday, he hoped that both sides could inspire and learn from each other.
"No matter what, the movements from both sides will serve as an inspiration for one another," he said.
Lin also said the Chinese had an interest in ensuring that freedoms in Taiwan were not undermined by Beijing's influence.
"Although Taiwan enjoys freedom of the press and democracy, they are weakening at the moment. As they fight for their own freedom, Chinese students should seek to prevent this from occurring in Taiwan," he said.
"Chinese students are very brave in fighting despite being under very strict government control," he said, adding that state control over the media and limits to freedom were much more stringent in China.
Lin said he hoped that Chinese would continue to fight for their rights and that people who desire freedom would unite.
"Taiwanese students will support them, always," he said.
Mainland Affairs Council Minister Wang Yu-chi (王郁琦) said the council was paying attention to the issue of press freedom in China and had invited Chinese journalists to visit Taiwan, adding that the council hoped they would be influenced by the country's freedoms.
Additional reporting by Shelley Shan
Comments will be moderated. Keep comments relevant to the article. Remarks containing abusive and obscene language, personal attacks of any kind or promotion will be removed and the user banned. Final decision will be at the discretion of the Taipei Times.