Six on death row executed: ministry
JUSTICE? A ministry official said the six inmates had murdered women or children using very cruel methods, including setting fire to a home which took innocent lives
Six convicts on death row were executed yesterday, the Ministry of Justice announced last night.
The executions were carried out a day after Minister of Justice Tseng Yung-fu (曾勇夫) signed orders giving the final go-ahead to carry out the death sentences given to the six individuals.
Tseng Si-ru (曾思儒) and Hung Ming-tsung (洪明聰) were executed in Taipei Prison; Chen Chin-huo (陳金火) and Kwang Teh-chiang (廣德強) in Greater Taichung Prison; Huang Hsien-cheng (黃賢正) in Greater Tainan Prison; and Tai Te-ying (戴德穎) in Greater Kaohsiung Prison, Deputy Minister of Justice Chen Shou-huang (陳守煌) told a press conference.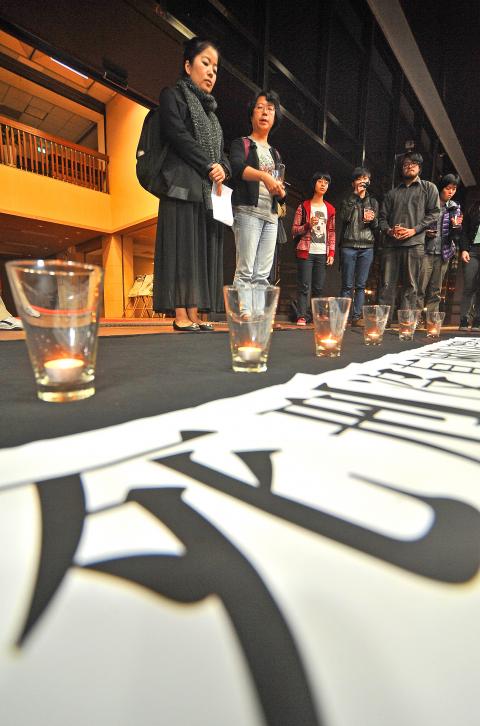 Protesters hold a candlelight vigil outside the Ministry of Justice in Taipei last night after the ministry announced that six death-row prisoners had been executed.
Photo: Liu Hsin-de, Taipei Times
Chen Shou-huang said the six who were executed had murdered women or children using very cruel methods, including setting fire to a home that killed innocent lives.
Chen Chin-huo and Kwang were sentenced to death for killing a female insurance agent and chopping up and eating parts of her body in 2004 in then-Taichung County.
Tseng Si-ru, a former Taipei County senior-high school teacher, was convicted of killing a female colleague after she caught him burgling her home in 2002.
Hung set fire to the home of in-laws, killing his brother-in-law and his brother-in-law's three children in 2003 in then-Taipei County.
Tai killed his girlfriend's father by stabbing him 26 times and severely wounded his girlfriend's mother in 2006 in Kaohsiung.
Huang, who served a prison term for killing his ex-wife, murdered two other men five days after he was released on parole in 2005.
According to the ministry, Chen Chin-huo, Tai and Tseng Si-ru had signed documents donating their organs, but Tai was a hepatitis B carrier and Tseng Si-ru retracted his promise at the last minute. Only Chen Chin-huo's organs were used.
Tseng Yung-fu, who took office in 2010, resumed capital punishment in Taiwan after a moratorium of more than four years. Since then, the minister has signed nine execution orders, not including the orders for the latest six. With yesterday's executions, the number of death row inmates now stands at 55, according to the ministry.
Chen Shou-huang said there are still a number of countries that carry out capital punishment, including Japan and most Asian countries.
Various surveys over the years also show support for the death penalty in Taiwan. In a survey by the ministry released in July, 76.7 percent of respondents supported the death penalty.
Late last night, members of the Taiwan Alliance to End the Death Penalty held a demonstration in front of the ministry to protest the executions.
They lit up and placed six candles representing the six prisoners who were executed on a piece of black cloth and waved a white banner that read: "Capital punishment has not achieved the effect of stopping crime."
Capital punishment is the cheapest method, but also the least effective, in stopping crime, alliance executive director Lin Hsin-yi (林欣怡) said.
If the government really wanted to put a stop to crime, it should not look to capital punishment as the cure; instead, it should strive to quickly and efficiently solve crimes and mete out appropriate punishments, Lin said.
Only then would there be an effective deterrent to crime, Lin said.
Additional reporting by CNA and staff writer
Comments will be moderated. Keep comments relevant to the article. Remarks containing abusive and obscene language, personal attacks of any kind or promotion will be removed and the user banned. Final decision will be at the discretion of the Taipei Times.