Next Media employees stage protest
'LIAR': Employees railed against the secrecy behind the deal to sell the group and demanded talks to ensure protection of employees' rights and editorial freedom
Media activists, supporters and employees of Next Media Group's (壹傳媒集團) four Taiwanese media outlets staged a demonstration outside the group's headquarters in Taipei yesterday, accusing management of lying while urging the prospective buyers to respect editorial independence.
Despite the cold weather and pouring rain, more than 100 Next Media employees held up signs and chanted in unison: "We want our Apple, down with intervention."
Since Hong Kong Media mogul Jimmy Lai (黎智英) announced that he was selling his four outlets in Taiwan — the Apple Daily, the Sharp Daily, Next Magazine and Next TV — for NT$17.5 billion (US$600 million), the deal has drawn a lot of attention.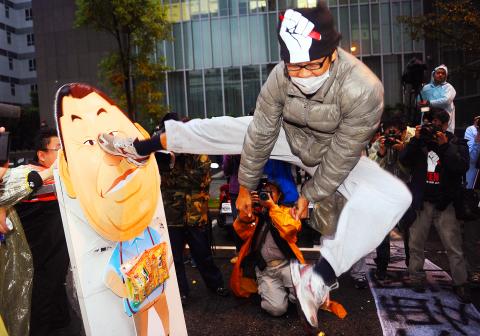 A disgruntled Apple Daily employee kicks an image of Next Media chairman Jimmy Lai during a protest organized by the newspaper's labor union outside the company's headquarters in Taipei's Neihu District yesterday.
Photo: Chang Chia-ming, Taipei Times
"When the boss wants to sell the group, he sells it without consulting or even telling us. When they want to sign the contract in Hong Kong, they unilaterally make that decision. Now that they want to postpone the signing, they call it off. What about us, the employees," Apple Daily reporter Huang Yang-ming (黃揚明) asked.
"How long are they going to deceive us? We are employees of the group, but the only way we learned that Next Media Group would be sold was when we saw it on the news," he said.
Apple Daily Union president Tsai Jih-yun (蔡日雲) accused management of lying to employees and asked Lai, Next Media Group executive director Cassian Cheung (張嘉聲) and Chinatrust Charity Foundation chairman Jeffrey Koo Jr (辜仲諒), who is one of the potential buyers, to apologize to the group's employees.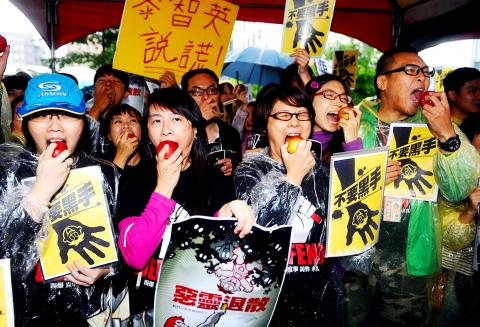 Apple Daily employees eat apples at a protest organized by the paper's labor union outside the publication's headquarters in Taipei's Neihu District yesterday, saying they want apples, not behind-the-scenes manipulators.
Photo: Chang Chia-ming, Taipei Times
Tsai said that when the rumor first emerged that Want Want China Times Group (旺旺中時集團) chairman Tsai Eng-meng (蔡衍明) was one of the three major investors in the deal to buy Next Media, Lai, Cheung and Koo all denied it.
Lai went as far as saying that allowing Tsai Eng-meng to buy Next Media would be a humiliation to him.
"Now that it has been proven that Tsai Eng-meng is one of the investors, [it emerges that] Lai has not only lied to his employees, but has also humiliated himself," Tsai Jih-yun said.
"We therefore ask the three men who have lied to Next Media employees to apologize," Tsai added.
She called on management, as well as the prospective buyers, to meet with representatives from the union to discuss matters relating to protecting employees' rights and editorial independence.
Tsai Jih-yun said the union has made the request many times, but management has repeatedly ignored their demand.
Next Media employees are particularly worried about interference in news reporting and editing after learning that Tsai Eng-meng would be one of the new owners, given the tycoon's record with the media outlets under his Want Want China Times Media Group.
"We're concerned about editorial independence, as Tsai Eng-meng has a history of interfering in news reporting. Freedom and independence in the editorial room are the core of a news outlet," an Apple Daily employee surnamed Hsiao (蕭) said.
Next TV Union president Cheng Yi-ping (鄭一平) said it was intolerable that Next Media employees have to learn about the latest progress in plans to sell the group via other media outlets, instead of being informed directly by management.
"The Next TV Union has two demands for the management," he said. "First, we demand more transparency, and second, we urge management to hold talks with the union immediately."
Prior to yesterday's demonstration, hundreds of Next Media employees and media reform activists staged an overnight candlelit rally outside the group's headquarters.
Next Media spokesman Chang Hsiu-cher (張修哲) said that Next Media and the buyers were set to wrap up the deal and ink a contract yesterday, but the signing of the contract has been postponed.
The consortium, led by Koo, also includes Formosa Plastics Group (台塑集團) chairman William Wong (王文淵).
Formosa Plastics Group yesterday said issues such as whether the deal would go through and when the contract would be signed depend on Koo because the Financial Supervisory Commission has said that Koo should cut his proposed shareholding to less than 20 percent. A report by the Chinese-language United Daily News said that the trio had reached an initial agreement on Wednesday in which Koo and Wong would each hold 34 percent of the shares, while Tsai Eng-meng would hold the remaining 32 percent.
When asked whether there would be a fourth buyer in the deal, Formosa Plastics Group said "it really doesn't know."
Comments will be moderated. Keep comments relevant to the article. Remarks containing abusive and obscene language, personal attacks of any kind or promotion will be removed and the user banned. Final decision will be at the discretion of the Taipei Times.