Justin Lee charged with rapes, invasion of privacy
Socialite Justin Lee (李宗瑞) was charged yesterday with sexually assaulting 28 women and filming the acts, with prosecutors asking for a combined sentence of 30 years in prison for all the offenses.
The Taipei District Prosecutors' Office indicted Lee on six charges of aggravated forcible rape, 12 charges of forcible rape, 10 charges of intercourse with an unconscious person and 17 charges of invasion of privacy.
Office spokesman Huang Mo-hsin (黃謀信) told a press conference that Lee was suspected of drugging a number of women in several luxury nightclubs in Taipei since August 2009, taking them home and raping them while they were unconscious.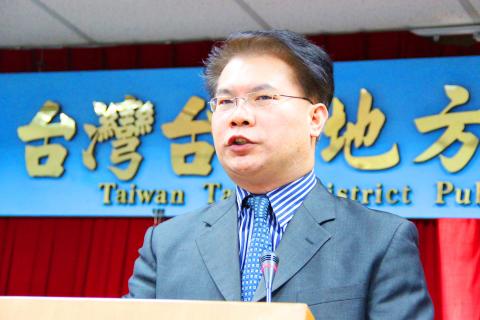 Taipei District Prosecutors' Office spokesman Huang Mo-hsin yesterday announces the indictment of Justin Lee on sexual offenses charges in Taipei.
Photo: CNA
Several women were also allegedly taken to Lee's home and raped after getting drunk at nightclubs, Huang added.
Suspecting Lee of filming the attacks, prosecutors said that based on video files seized from Lee's computers, they were able to identify 32 women — 28 of whom were sexually assaulted by Lee, while four engaged in consensual sex with Lee.
Huang said prosecutors had found 18 of the victims — 17 of whom had testified against Lee in questioning by prosecutors.
Describing Lee as "immoral," Huang said the socialite had denied sexually assaulting the women and had shown no regret during the investigation.
While Lee had said he was sorry for filming the encounters, he also insisted that the women had engaged in sexual acts with him consensually, Huang said.
He added that Lee used "cheap" and derogatory words in court to describe the victims.
Prosecutors have recommended that Lee be sentenced to a combined 30 years in prison for all the offenses. If calculated separately, the applicable jail terms for all of the charges would add up to 209 years.
The most serious charge, aggravated forcible rape, carries a 10-year jail term, while forcible rape and intercourse with an unconscious person each carry six-year prison terms.
However, since none of Lee's alleged offenses carry a life sentence, the maximum sentence allowed by law for the offenses is 30 years.
The 27-year-old Lee, who turned himself in to prosecutors on Aug. 23 after spending more than three weeks on the run, was taken into custody following a hearing at the Taipei District Court.
Some of the videos and photographs — believed to be stills taken from the videos — were posted on the Internet shortly after Lee went on the run.
Huang said prosecutors are still looking for the person responsible for posting the sexually explicit photographs and videos on the Internet.
According to media reports, some of the videos showed women being assaulted despite resisting Lee's advances and some being raped while they were unconscious.
Additional reporting by CNA
Comments will be moderated. Keep comments relevant to the article. Remarks containing abusive and obscene language, personal attacks of any kind or promotion will be removed and the user banned. Final decision will be at the discretion of the Taipei Times.