Lin Yi-shih released on NT$50m bail
MONEY, MONEY, MONEY: The release of the former Cabinet secretary-general drew a mixture of outrage and support from lawmakers — and ironic comments from netizens
Former Executive Yuan secretary-general Lin Yi-shih (林益世) was released on NT$50 million (US$1.7 million) yesterday afternoon.
Lin, who has been detained by prosecutors since July 2, was granted bail early yesterday by the Taipei District Court following his indictment on corruption-related charges on Thursday, but he was not released immediately because he failed to come up with the required amount at the time.
Lin is accused of demanding and accepting bribes, concealing illegal gains and keeping unaccountable assets, according to the Supreme Prosecutors' Office Special Investigation Division (SID).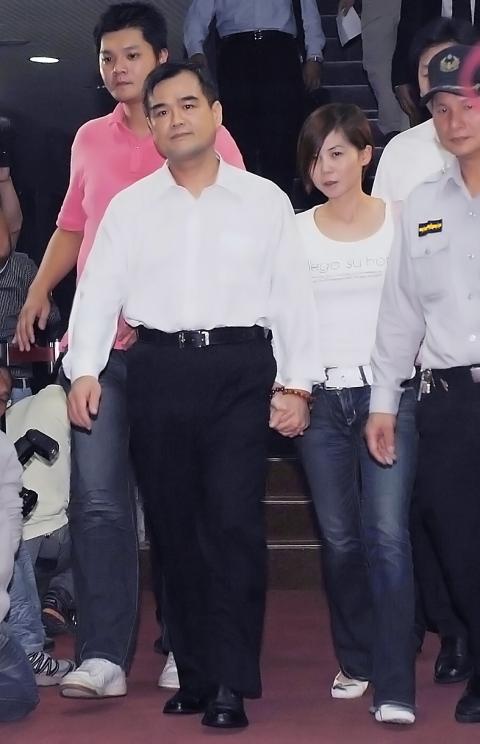 Former Cabinet secretary-general Lin Yi-shih and his wife walk out of the Taipei District Court yesterday after he was released on NT$50 million bail.
Photo: Lo Pei-der, Taipei Times
Lin's release sparked an outcry from Democratic Progressive Party (DPP) lawmakers.
"Taiwan's judiciary is morally bankrupt," DPP Legislator Cheng Li-chiun (鄭麗君) said.
DPP Legislator Chao Tien-lin (趙天麟) described it as "iron-clad evidence of political interference in the judicial process."
Some netizens also reacted to reports that Lin's family was able to come up with NT$50 million for bail within 20 hours.
"For most people, it would take 100 years to round up that amount," one netizen commented.
"Has the government gone crazy?" another wrote. "Corrupt people can post money to be released on bail?"
A netizen using the name "ming_ray" said: "No wonder Mr Ma Ying-jeou promised to make people feel good about the economy within one month. Now we have the state coffers earning NT$50 million. This is quite a good, credible promise!"
Chinese Nationalist Party (KMT) Legislator Lo Shu-lei (羅淑蕾), who has frequently drawn the party's ire with her comments, said: "The KMT government should not dig its own grave just to protect Lin."
"The SID should publicly explain the many questions surrounding the case, or else the public will have no confidence in the judiciary," Lo said.
KMT caucus whip Wu Yu-sheng (吳育昇), on the other hand, said that DPP members involved in corruption cases such as Yunlin County Commissioner Su Chih-fen (蘇治芬) and DPP Legislator Chen Ming-wen (陳明文) had also been released upon posting bail, adding that there was no difference in treatment between pan-blue and pan-green politicians.
Lin's case came to light on June 27 when a local magazine reported that he helped Kaohsiung-based Ti Yung Co (地勇選礦公司地勇選礦公司) to secure a slag treatment contract from a subsidiary of China Steel Corp (CSC, 中鋼) in 2010, when Lin was serving as a KMT legislator.
In return, Ti Yung owner Chen Chi-hsiang (陳啟祥) gave Lin NT$63 million, the indictment read.
The magazine reported that Lin demanded a further NT$83 million from Chen early this year after he was appointed Cabinet secretary-general.
When Chen refused to pay up, Lin allegedly pressured CSC, a listed company in which the government has a controlling stake, to stop supplying slag to Ti Yung.
Lin's mother, Shen Juo-lan (沈若蘭), who allegedly received the bribe along with Lin, was indicted as another principal offender in the case, according to the indictment.
Lin's wife, Peng Ai-chia (彭愛佳), and his two maternal uncles — Shen Huan-yao (沈煥瑤) and Shen Huan-chang (沈煥璋) — were charged with money laundering for concealing the bribe on behalf of Lin, the indictment said.
Chen, who gave testimony against Lin as a witness for the prosecutors in the investigation, was under investigation in a separate case by the Kaohsiung District Prosecutors' Office.
Additional reporting by Chien Li -chung
Comments will be moderated. Keep comments relevant to the article. Remarks containing abusive and obscene language, personal attacks of any kind or promotion will be removed and the user banned. Final decision will be at the discretion of the Taipei Times.