A-bian transferred to hospital despite family's objections
Former president Chen Shui-bian (陳水扁) was yesterday transferred to Taipei Veterans General Hospital (TVGH) from Taoyuan General Hospital for further check-ups and treatments. The transfer to the TVGH was met with objections by Chen's family, who said the hospital was "politically affiliated" with the Chinese Nationalist Party (KMT).
Chen Chih-chung (陳致中), his son, said the family would prefer that the former president be taken to Mackay Memorial Hospital in Taipei or to a hospital in southern Taiwan.
Chen Shui-bian, who arrived at the TVGH at 7:30am yesterday, refused to undergo a magnetic resonance imaging (MRI) test that the TVGH has arranged for him.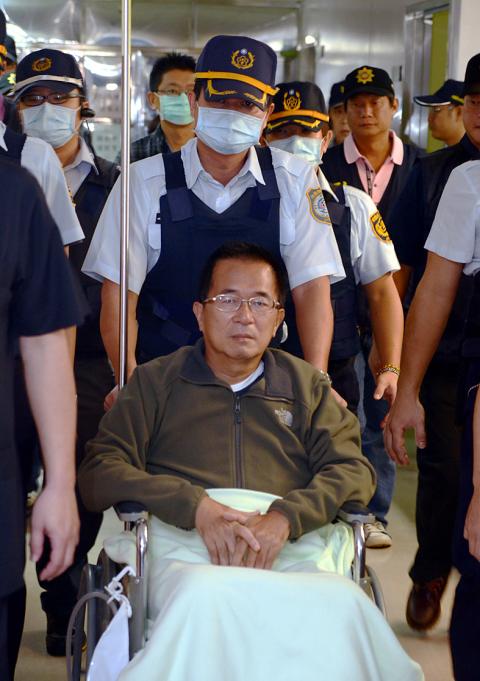 Former president Chen Shui-bian is escorted by police yesterday as he is transferred from Taoyuan General Hospital to Taipei.
Photo: CNA
Chen Shui-bian later agreed to take the medical tests only after being comforted by TVGH physician Kuo Cheng-deng (郭正典) — who, at the request of the Chen family, has previously visited the former president at the Taoyuan General Hospital to examine his condition — in which Kuo said he would accompany the former president during the whole medical process.
Chen Tain-hsiung (陳天雄), TVGH's vice superintendent, said the hospital has assigned a team comprising at least 10 urologists, neurologists and psychiatrists to examine the former president.
The examination would focus on his brain, cerebrovascular system and urinary tract using non-invasive methods such as MRI scans and ultrasounds, Chen Tain-hsiung said.
The former president, who is serving a 17-and-a-half-year sentence for corruption, was admitted to Taoyuan General Hospital on Sept. 12 after complaining of having difficulty urinating.
An MRI conducted at the Taoyuan hospital showed he had had a minor stroke.
Based on a recommendation by the Taoyuan General Hospital, the Ministry of Justice decided to transfer him to a different medical center for further examination.
Separately yesterday, human rights activists Hans Wahl and Harreld Dinkins, who arrived in Taipei to access the state of Chen Shui-bian's human rights, held a press conference before leaving the country.
Dinkins said he was shocked by Chen's slurred and unfocused speech and the unusual level of fatigue he showed during their 20–minute-long exchanges.
They also expressed concern over the selection of the TVGH because they had doubts over the facility's independence given that it is a military hospital. In response to the Chen's objections, Taipei Prison said in a statement yesterday that the TVGH has no political affiliation, adding that the hospital was selected mainly because it has advanced equipment and services, pointing out that former president Lee Teng-hui (李登輝) has also been treated at the hospital.
Comments will be moderated. Keep comments relevant to the article. Remarks containing abusive and obscene language, personal attacks of any kind or promotion will be removed and the user banned. Final decision will be at the discretion of the Taipei Times.