Tsai ahead of Ma in latest 'Liberty Times' survey
NUMERICALLY SPEAKING: The DPP candidate held a lead over the president in some traditionally pan-blue areas, while Ma was ahead of his rival in pan-green Chiayi
Democratic Progressive Party (DPP) Chairperson and presidential candidate Tsai Ing-wen (蔡英文) enjoyed a lead of 4.5 percentage points over President Ma Ying-jeou (馬英九) in the latest poll by the Chinese-language Liberty Times (the Taipei Times' sister newspaper).
The telephone survey, conducted on Monday and Tuesday by the Liberty Times' polling center based on a random sampling of 1,014 people, found Tsai had a support rate of 31.66 percent against Ma's 27.12 percent, while 41.22 percent were undecided.
Tsai held a smaller lead over Ma of the Chinese Nationalist Party (KMT) in the Liberty Times' poll last month, in which her support rate was 3.2 percentage points higher than Ma's.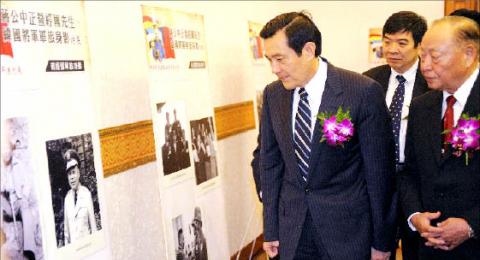 President Ma Ying-jeou, left, looks at photographs of former president Chiang Ching-kuo in Taipei yesterday at the opening of an exhibition about the military service of Chiang, his father Chiang Kai-shek and brother Chiang Wei-kuo.
Photo: George Tsorng, Taipei Times
According to the latest poll, Tsai enjoys a lead over Ma in traditional pan-blue strongholds, including Taipei, New Taipei City (新北市) and Keelung.
Tsai's support in Taipei was 37.1 percent, while Ma's was 29.84 percent.
In New Taipei City, Tsai had 36.99 percent to Ma's 27.75 percent, and in Keelung, she had 33.3 percent compared with Ma's 22.22 percent.
In the crucial area of central Taiwan, Ma and Tsai held separate leads in different areas, the poll showed.
Tsai's 36.61 percent was 10.72 points ahead of Ma's 25.89 percent in Greater Taichung, but the president's 28.07 percent was 7.02 points ahead of Tsai's 21.05 percent in Changhua County. In Nantou County, Ma led with 44.44 percent, 16.67 points higher than Tsai's 27.77 percent.
In Taoyuan, Hsinchu and Miaoli, Ma had a firm lead over Tsai, while the DPP candidate enjoyed the same lead over the president in the Yunlin, Tainan, Kaohsiung and Pingtung areas, the poll showed.
Ma garnered a rating of 32.43 percent in Chiayi against Tsai's 27.03 percent, making Chiayi the only place in the south where the president led.
On the performance of the Ma government over the past three years, the poll showed that 37.08 percent were satisfied or very satisfied, while 35.3 percent said they were dissatisfied or found it unsatisfactory.
Breaking down voter support by age, the poll showed that among first-time voters aged 20 to 29, Tsai had 36.11 percent, 11.11 points ahead of Ma's 25 percent.
Ma led Tsai in the 40-to-49 and above-70 age groups, representing an increase from the poll conducted last month, when Ma only outranked Tsai in the 40-to-49 age group.
In terms of gender, the latest poll suggested Ma received a greater amount of support from women voters with 29.41 percent, leading Tsai's 26.29 percent. Tsai, meanwhile, maintained her lead among male voters with 37.87 percent versus Ma's 24.47 percent.
The poll had a 3.08 percent margin of error.
DPP spokesperson Chen Chi-mai (陳其邁) said the poll was an indicator that the Ma administration had failed to inspire confidence, adding that the problem likely came from public discontent with social welfare and economic issues.
Chen said the DPP's internal polls showed a small increase in DPP support in the Taipei-New Taipei City-Keelung areas, where the KMT usually holds an advantage.
This suggested that an increasing number of voters who voted for Ma in 2008 now support the DPP because of public dissatisfaction with the Ma administration, he added.
Ma's campaign office shrugged off the results, with spokesperson Lee Chia-fei (李佳霏) saying the office would use the poll as a reference, but the president would attract voters with sound policies and governance. Lee said several recent polls showed that Ma enjoyed a steady lead over Tsai, including among younger voters aged 20 to 24.
"Unlike DPP Chairperson Tsai, we will not accuse any news media or organizations of collaborating with political parties when the [poll] results do not favor President Ma," she said.
ADDITIONAL REPORTING BY PENG HSIEN-CHUN
Comments will be moderated. Keep comments relevant to the article. Remarks containing abusive and obscene language, personal attacks of any kind or promotion will be removed and the user banned. Final decision will be at the discretion of the Taipei Times.